The Portland Palate
Review and Photos by James Fereira
After 29 months of writing food reviews on individual restaurants, I found myself having a need to shake things up. I wanted to do something different. It came upon me that it might be fun to write a "best of" review. You know…. one that would tackle the mammoth task of visiting not one, but many eating establishments, for the purpose of comparing a particular food across many venues. WEN Editor/Publisher Tony Zeli liked the idea, and so I launched a 3-month venture, choosing, mostly arbitrarily, but also because it's summer …. pizza!
I wondered: is there a bad time of year to eat pizza? No, not really. America seems obsessed with the pie: the average consumer eats about 23 pounds of it each year, all year long.
I wanted to know more, and looked up how many distinct types of pizza there are: a taxonomy of pizza styles, if you will. On the website www.firstwefeast.com, they strictly list 24, with many of the newer ones appearing to be hybrids of previously named styles.
When I set out, I hadn't known how daunting (and expensive) a task this would be. I have no regrets, though. I'm a foodie and a pizza lover.
I wanted to find the most delicious pizzas which Portland has to offer. In doing so, I wondered if I'd get bored eating it after a time- not to mention I was concerned about my waist line. Surprisingly, boredom never came into play… and as for my waist line, well… let's just say that it has increased incrementally over the years. This isn't mostly due to pizza consumption directly, but more the appointment of being given the gift of living a relatively privileged life, inclusive of eating great food.
Keep in mind that as in all food reviews, the author's tastes and opinions are subjective. Plus I admit that I'm a pizza crust snob. I generally don't eat them, as I find them to be a wheaty filler, and mostly uninteresting.
The Criteria
I used limiting criteria in choosing which pizza places to visit, as a slew of restaurants serve pizza here (many of them quite good in my estimation). First, all of the eateries reviewed are located on the peninsula. Second, they are either only, or primarily, known for their pizza, or use some reference to pizza in their name.
The result is a brief review of 23 pizzas consumed from 15 restaurants. In some cases, I grabbed a slice. In others, I bought a whole pie, either to eat on site or to take home. When friends dined with me, more than one variety was tried.
The Grading System
I used a grading system to determine 'best of,' borrowing the college grading system which my Alma Mater used way back in the day: A- AB- B- BC- C- CD- D- F It turns-out, I didn't assign any overall grade below a C. Most, in fact, were in the better-than-average range. So here's what I came up with: in order of preference, least to feast.
Flatbread Pizza Company
Grade C
72 Commercial St. 207-772-8777 www.flatbreadcompany.com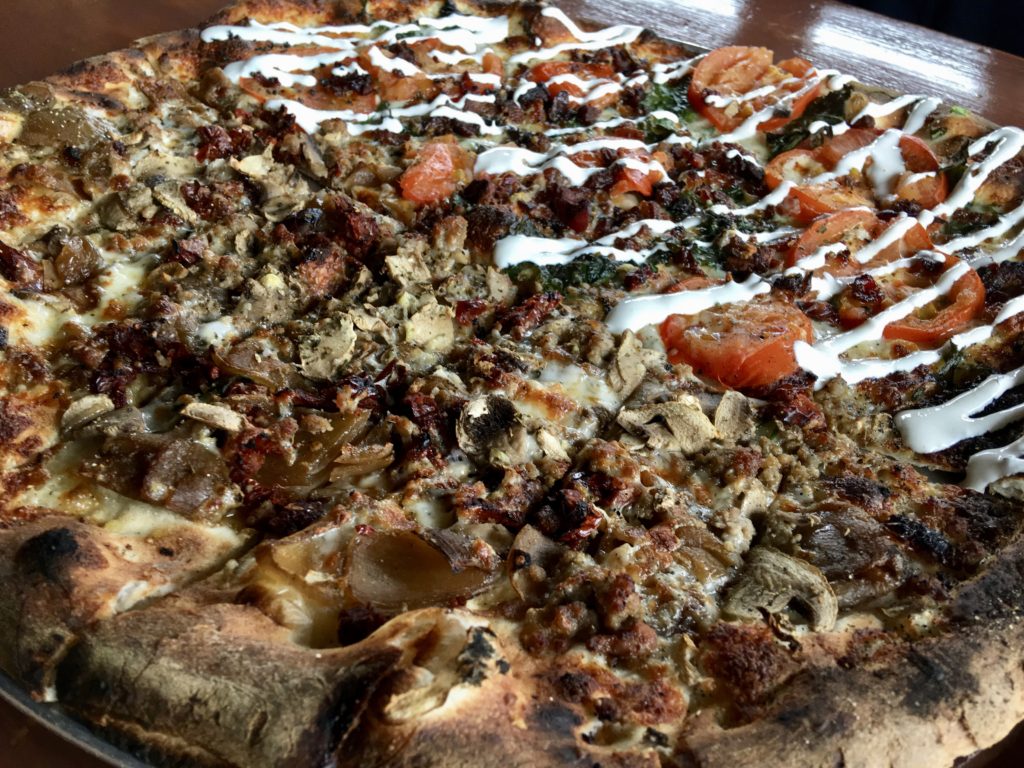 They serve a wood-fired, clay oven pizza. We chose to combine two types in one pie: a home made sausage with blend of cheeses, with a bacon/tomato/kale/horseradish/sour cream with herbs, mozzarella and parmesan. The pizza emerged overly cooked, but acceptable, including an unremarkable-tasting crust. Our server knew this and offered us the chance to return it. We declined. Regardless, the flavors on the bacon combo side fell flat, and just didn't come together very well. We drizzled some balsamic dressing intended for a salad on top, which popped the flavors. The pizza here was not as good as I'd remembered from prior visits. Service was excellent. We requested shake cheese to top off our pie, and they brought some freshly shaved. With tax and tip our pizza cost about $20.00. 12-inch gluten-free crusts are available for an additional $5.00 per pie.
Old Port Slice Bar
Grade C
420 Fore St. 207-899-3364 www.oldportslicebarandicebar.food94.com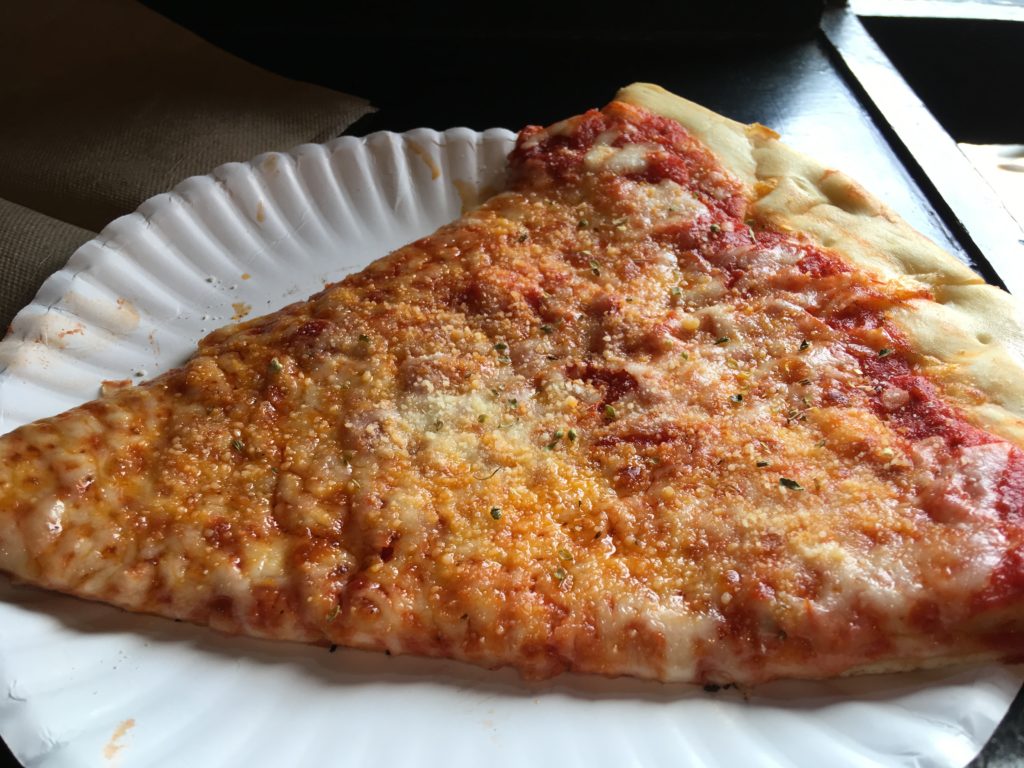 I ordered a large slice of cheese pizza, and added shake parmesan and oregano to it. The quality was better than I'd remembered from an earlier visit. It had a sweeter vs. savory red sauce, and the soft crust was edible but not flavorful. I paid $4.00 for the slice.
PIZZAIOLO
Grade C
360 Cumberland Ave. 207-536-7210 www.pizzaioloportland.com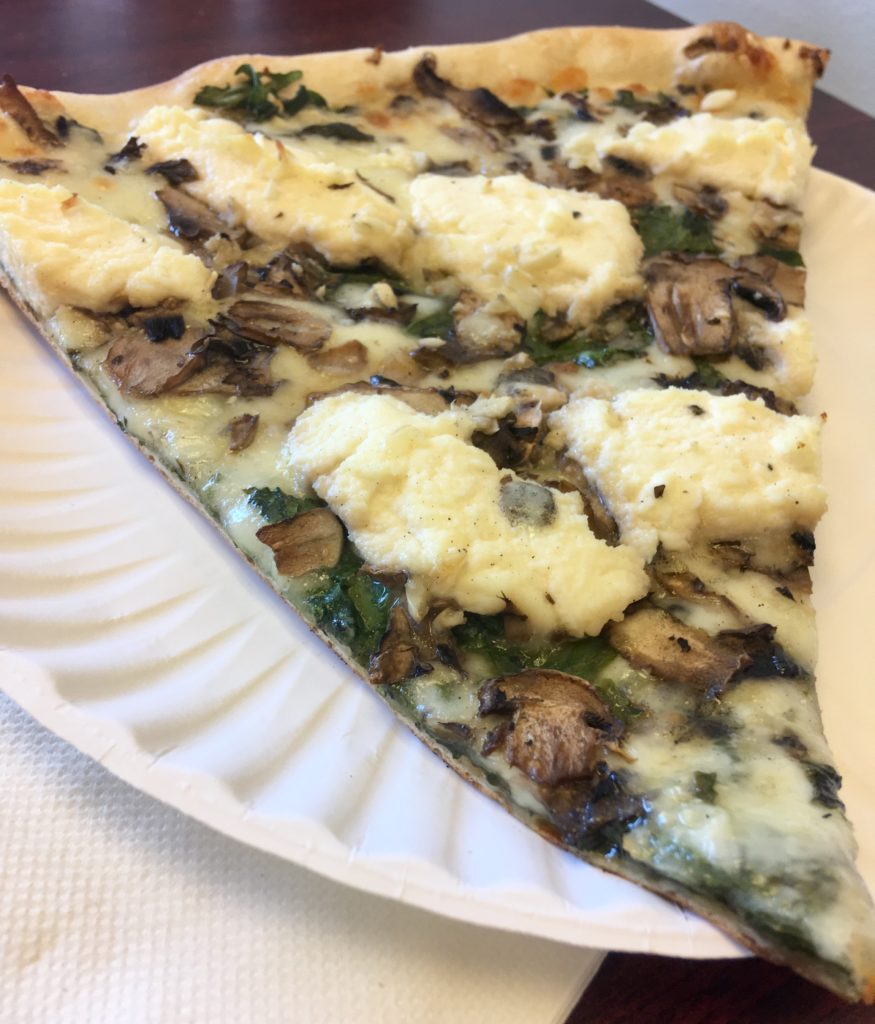 They call theirs New York Style pizza. I walked-in and had a slice of the spinach, mushroom and ricotta. It was a decent size and cost $4.04. No shake cheese was available, but it needed a flavor boost, so I added some oregano, and salt. The crust was tough and dry, but had good flavor. The staff gets points for being especially warm, and I like it that they are dog-friendly.
Bill's Pizza
Grade BC
177 Commercial St. 207-774-6166 www.billspizzame.com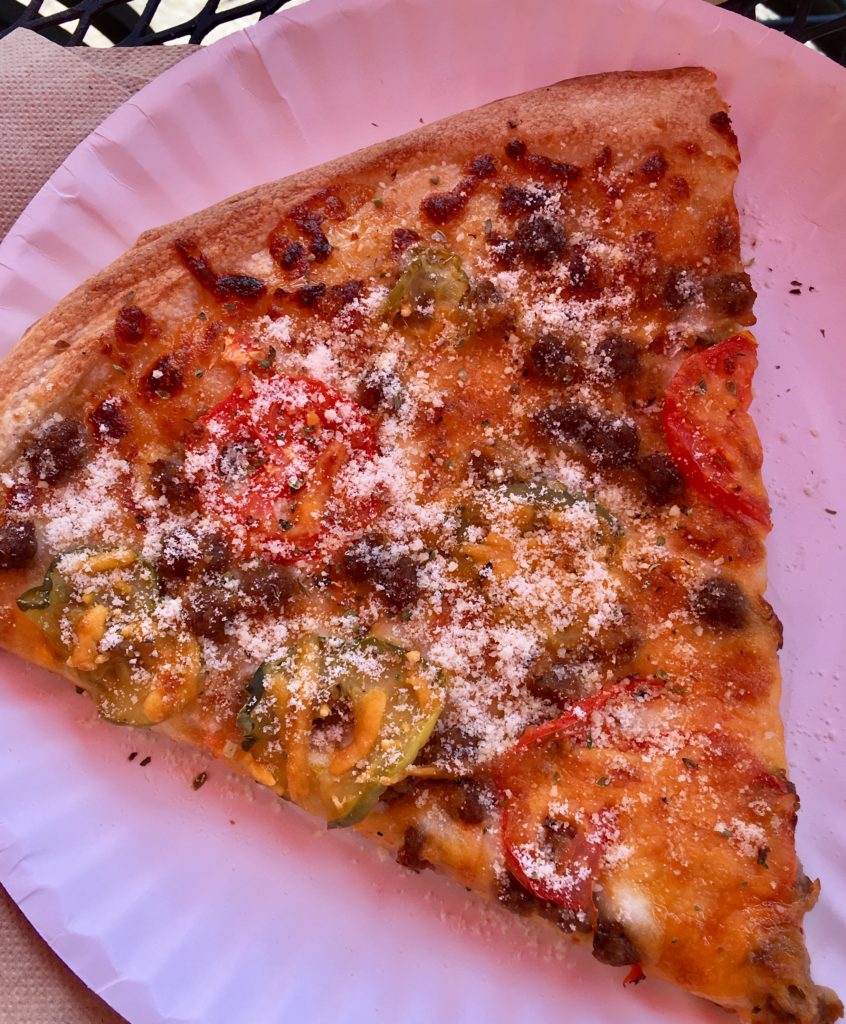 I ordered a slice of the cheeseburger pizza, which they heated but was still not up to temperature. I found it interesting that pickles were on this pie, and I liked the added taste of them. To spike the flavor, I added shake cheese, oregano, and garlic salt. The medium-thick crust was nicely cooked though a bit dry. It offered nothing by way of flavor. The slice cost $5.25.
Lazzari
Grade BC
618 Congress St. 207-536-0368 www.lazzariportland.com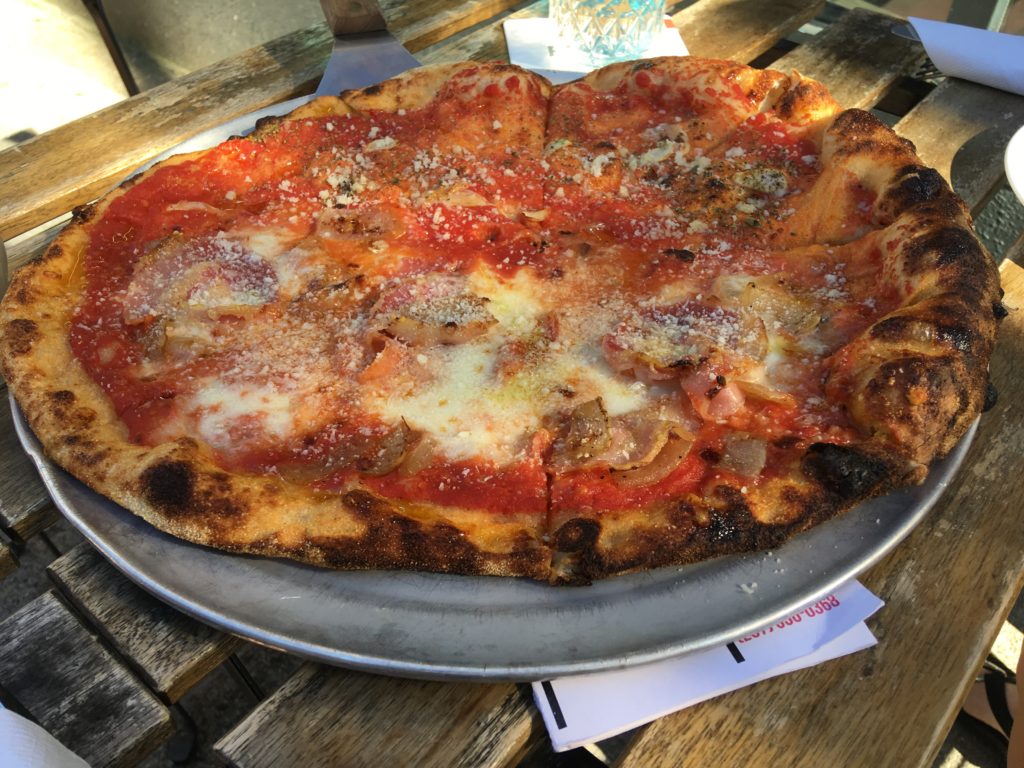 Lazzari serves wood oven pizzas. Having really enjoyed theirs before, my expectations were high. We ordered a combo Marinara/Amatriciana whole pie. It was fresh, flavorful and just-enough greasy. Shake cheese topped it off nicely. Our server, without my wanting it, had the chili flakes removed after I asked her about the spice level on the Amatriciana side. The crust had good flavor: hard on the outside and soft inside. We paid about $14.00 including tax and tip. All pizzas are $5.00 off on Sundays, all day. While still good, this Lazzari pizza was less satisfying than prior ones I've had.
Pat's Pizza
Grade BC
30 Market St. 207-699-4455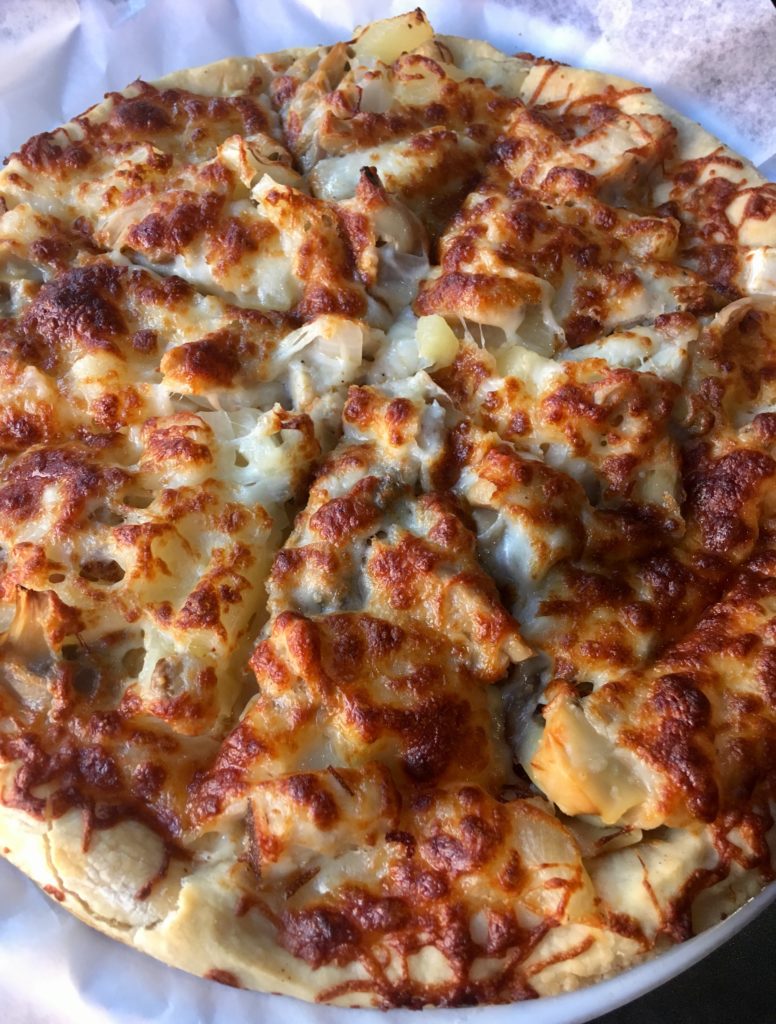 I ordered a 9-inch Healthy Uncle pizza, or in my case, the "Unhealthy Uncle" (no low-fat cheese): with grilled chicken, pineapple, onions and mushroom. It had a semi soft yet crunchy crust, which was more an extension of the slab than a distinct crust…. and very edible. This pizza had good flavor, and was served hot, needing only S&P. It was not overly generous with the chicken, and the toppings seemed to be more a layer of, well, toppings…. vs. being baked into the crust beneath. It cost just under $10.00. Of note, Pat's serves a gluten-free crust on their 9-inchers, for those who can't eat or don't prefer the wheat.
Slab
Grade BC
25 Preble St. 207-254-3088 www.slabportland.com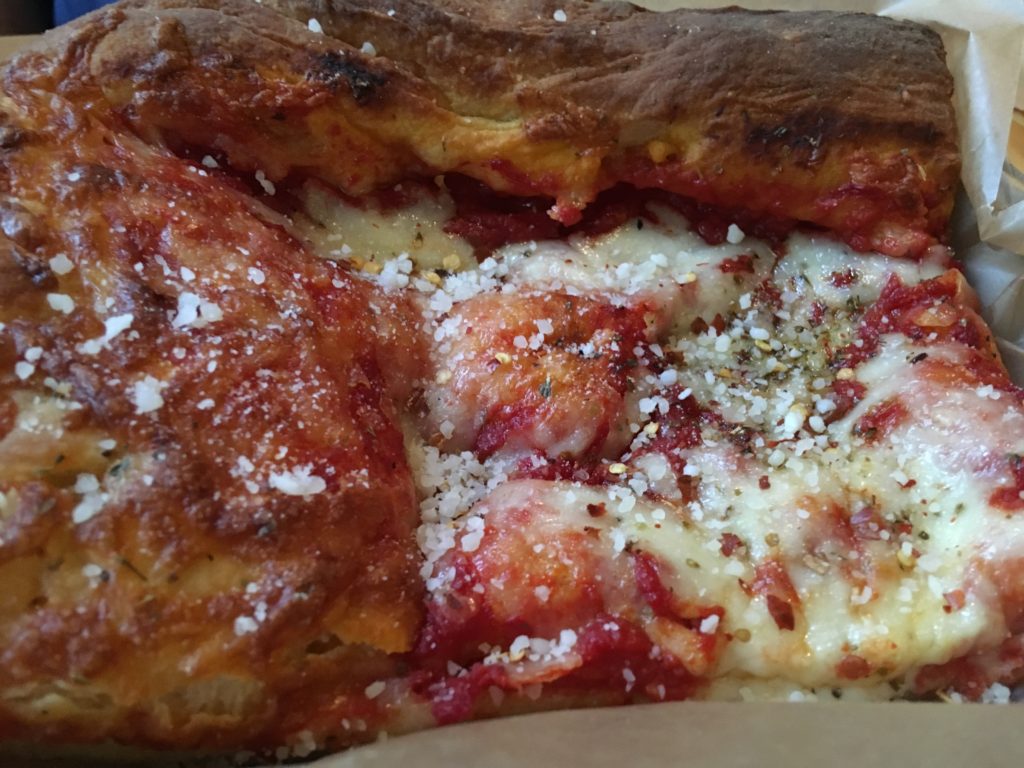 They're known especially for their Sicilian style pizza, which is essentially identical to the one served at Micucci's Grocery, with whom Slab shares some roots. Best not to ask. We ordered 4 different styles and flavors: a generous pepperoni on medium crust, a thinner crust mushroom, a full pie of veggie (spinach, red onion, red pepper) Alfredo, and a piece of the Sicilian style previously mentioned. The latter was doughy and had a thick crust, and the sauce was on the sweet side. The pepperoni was standard-good, and the Alfredo was super-fresh with nice spices. Disappointing was the mushroom: way too salty and with enough oregano to make your tongue curl. It was the only pizza in my review to earn a "D." After two bites, I left the rest. That said, these 4 pizzas averaged-out a little higher to put Slab in about the middle of the pack. My 10-inch whole pie and slice cost $23.00 including tax and gratuity.
Bonobo
Grade B
46 Pine St. 207-347-8267 www.bonobopizza.com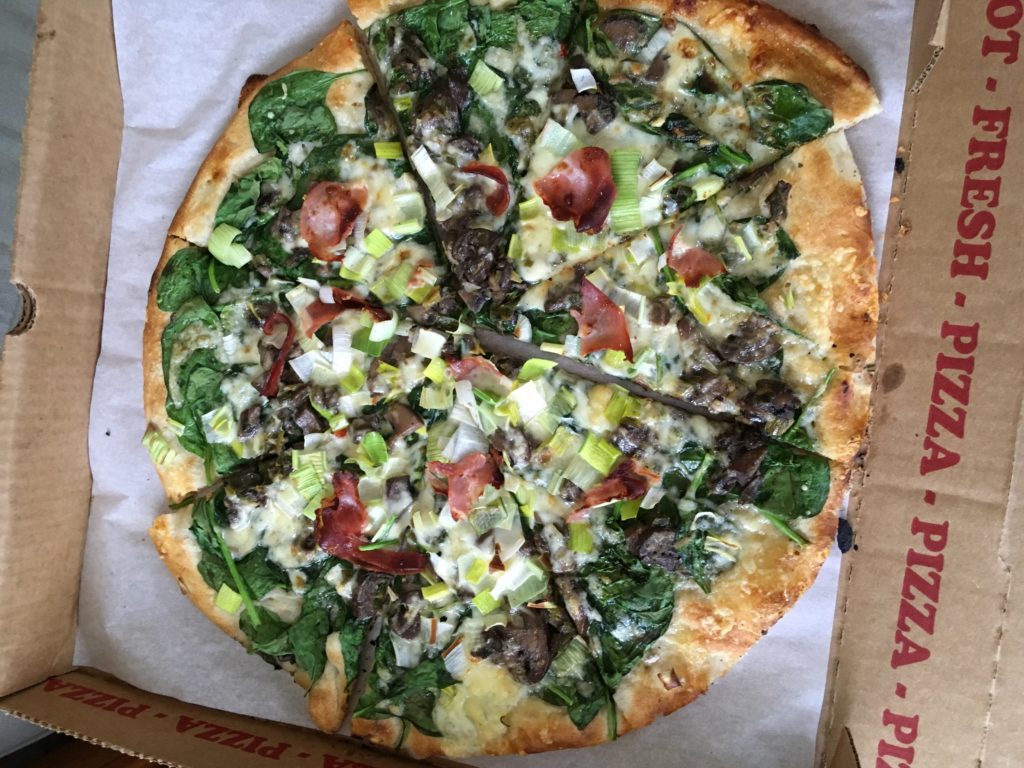 They are under new ownership and serve a wood-fired pizza. I placed a take-out order of the Bonobo flavor: prosciutto, fresh spinach, mushroom-leek saute', fontina and cream. It cost $20.00 including tax and tip. The pizza was fresh, and had a nice blend of flavors, with a light, crispy 13-inch crust. Service was friendly. I like Bonobo, though generally I find that the overall quality of their pies is not as good as when they first opened many years back.
Micucci's
Grade B
45 India St. 207-775-1854 www.micuccigrocery.com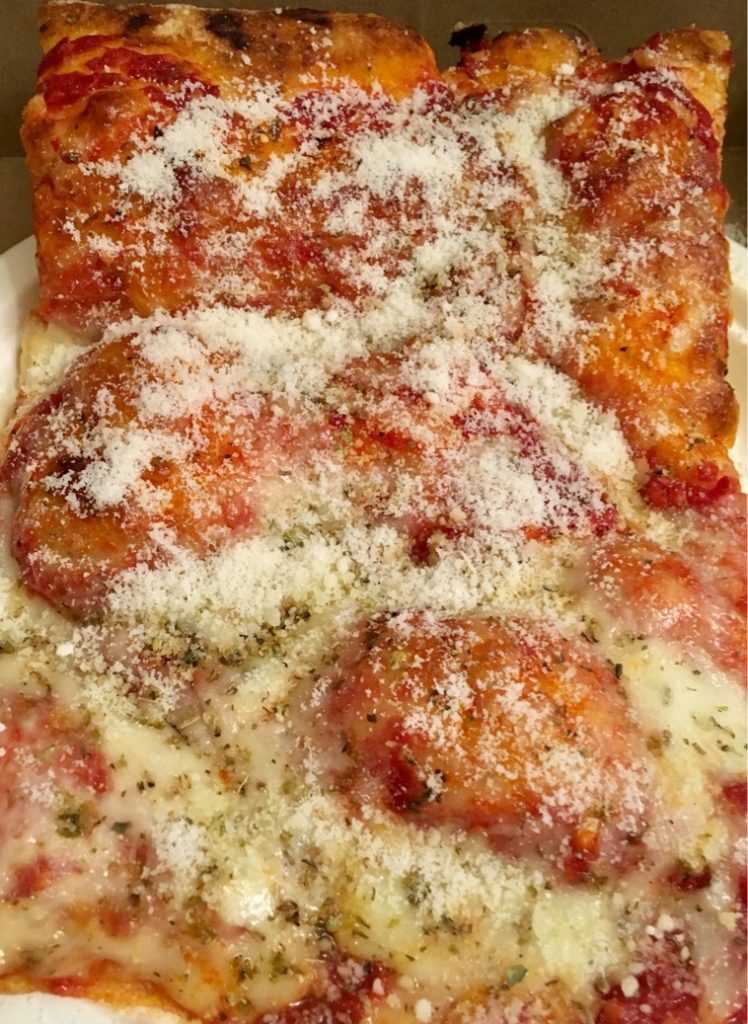 Micucci's made it on my list simply because they are an institution in Portland…. one of the remaining few. Out back they serve double-wide slices of Sicilian pizza. I brought it home, reheated it and it disappeared almost immediately. The sauce is sweet, the crust thick and pillowy and the taste is delicious. They offer window service only. The friendly clerk didn't care that I didn't have the exact change to cover the full cost, including tax of $6.47. Their pie is about identical to the Sicilian style served at Slab. In fact, there is a history between these two establishments, though neither may want to discuss it.
Otto Pizza
Grade B
225 Congress St. 207-358-7870; and 576 Congress St. 207-358-7090 www.ottoportland.com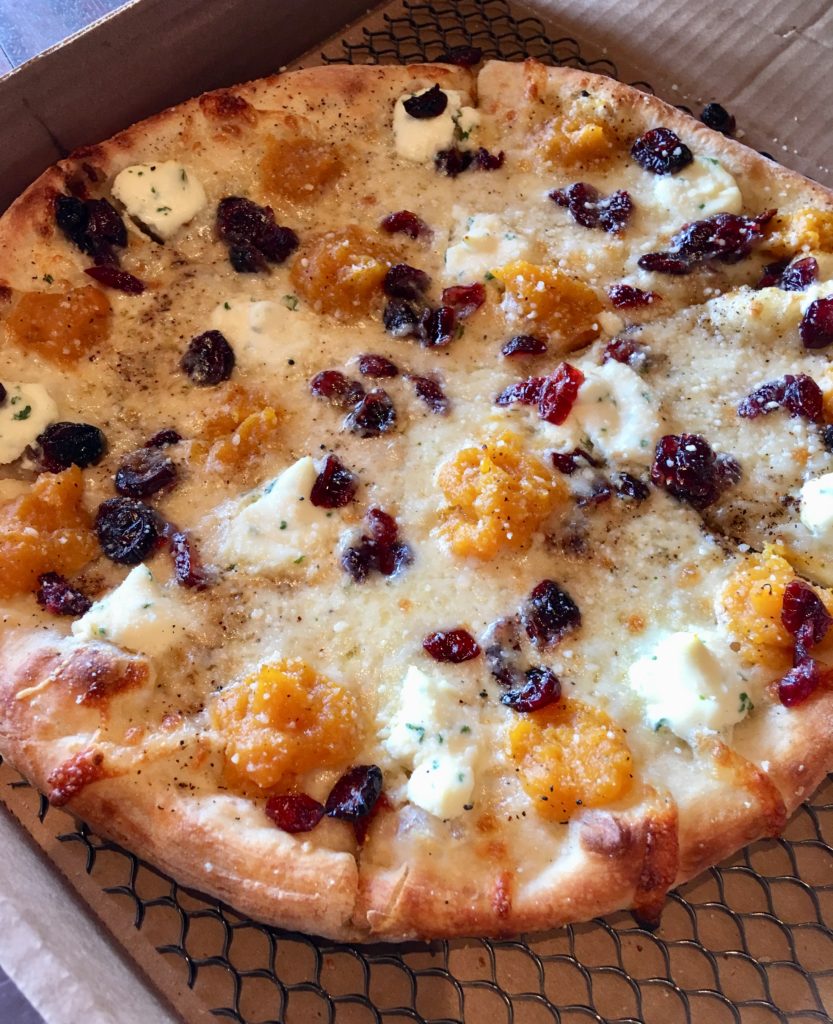 They serve thin-crust artisan pizzas with interesting ingredient combinations. I ordered my favorite "to go": a small butternut squash with cranberry and ricotta. It cost $13.50 plus tax and tip. It was very good, as I expected it would be, needing only S&P. The usual friendly window service was given at the 225 Congress St. location. OTTO offers a gluten-free crust for a small up-charge.
Pie in the Sky
Grade B
28 Monument Square at the Portland Public Market 207-699-3331 www.publicmarkethouse.com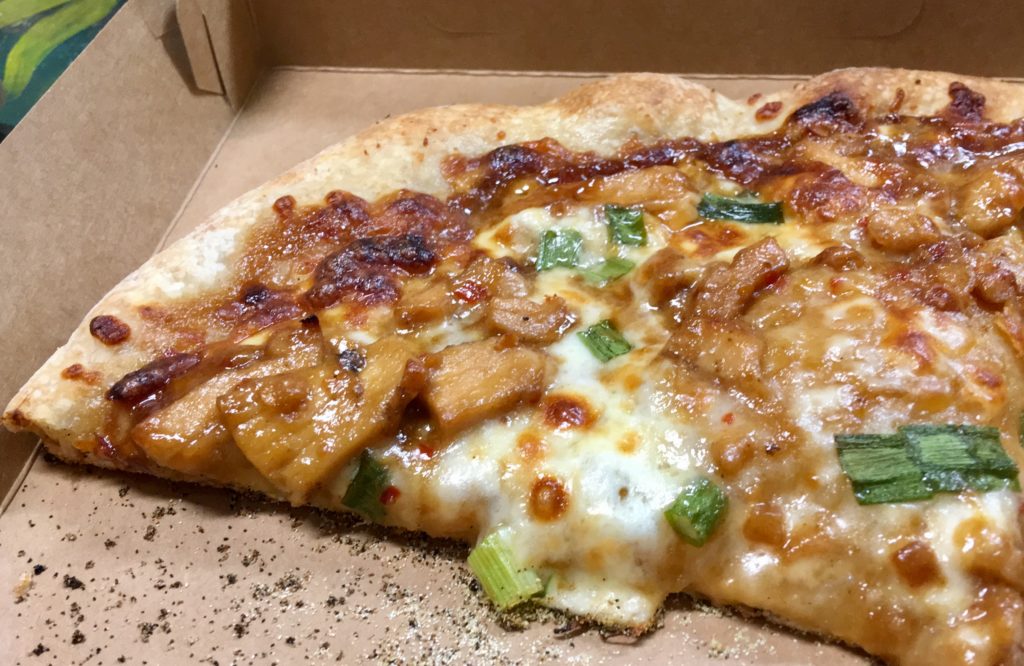 This one surprised me, in a positive way: my expectations were low. The very friendly staff sold me a slice of the Thai chicken. It was a smaller slice than some, but cost me only $3.24. The pizza had a great aroma, came piping hot, and was both sweet and spicy…. like eating a Thai chicken wing without the bone. The crust was medium-thick and crispy. Yum.
Pizzarino
Grade B
505 Fore St. 207-536-1189 www.pizzarino.us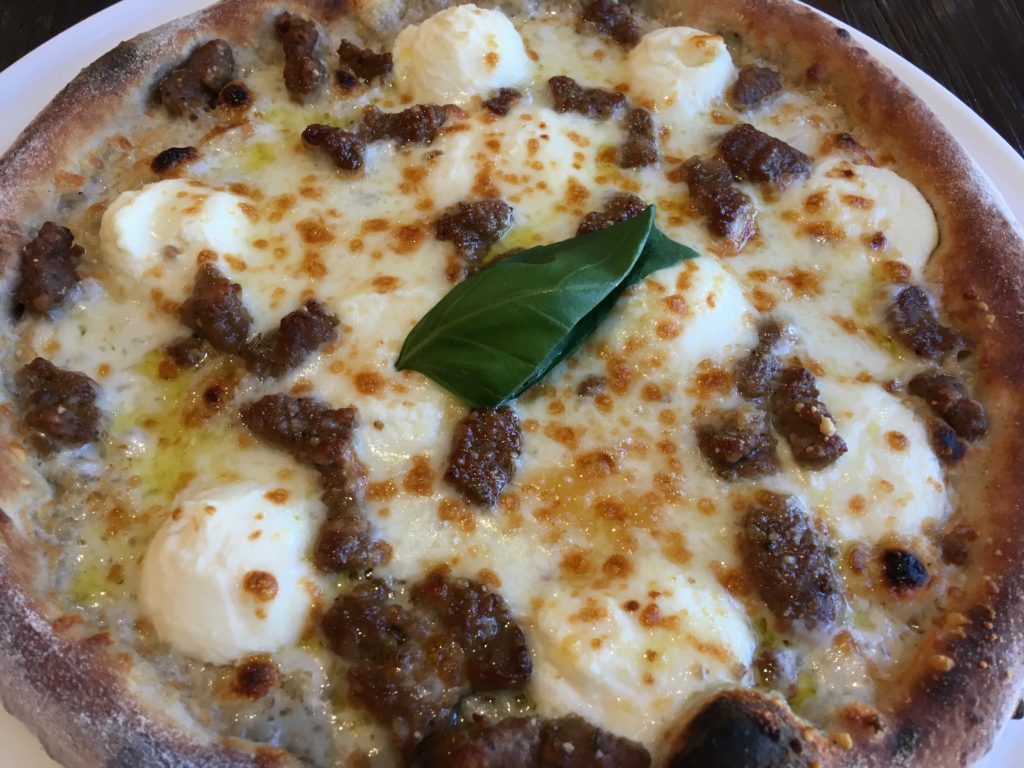 They serve, in their own words an "authentic Italian (Milanese) wood fire brick oven pizza." We ordered two 11-inch pies: a Prosciutto Crudo (Italian raw ham from Parma) and the Bianca Neve (white pizza with sweet sausage). Both came with basil, which amounted to a single small basil leaf placed in the center. Really? The handsome owner came over to greet us, and he delivered fresh parmesan, upon request. Plus I got a wink for no extra charge. Gluten-free crusts and vegan cheese are available. The pizzas were very good. The crust was more medium than thin, and had some saltiness to it, but were tougher and chewier than we wanted. $20.00 per pie included tax and tip.
Pizza Villa
Grade B
940 Congress St. 207-774-1777 www.facebook.com/pizzavillaportland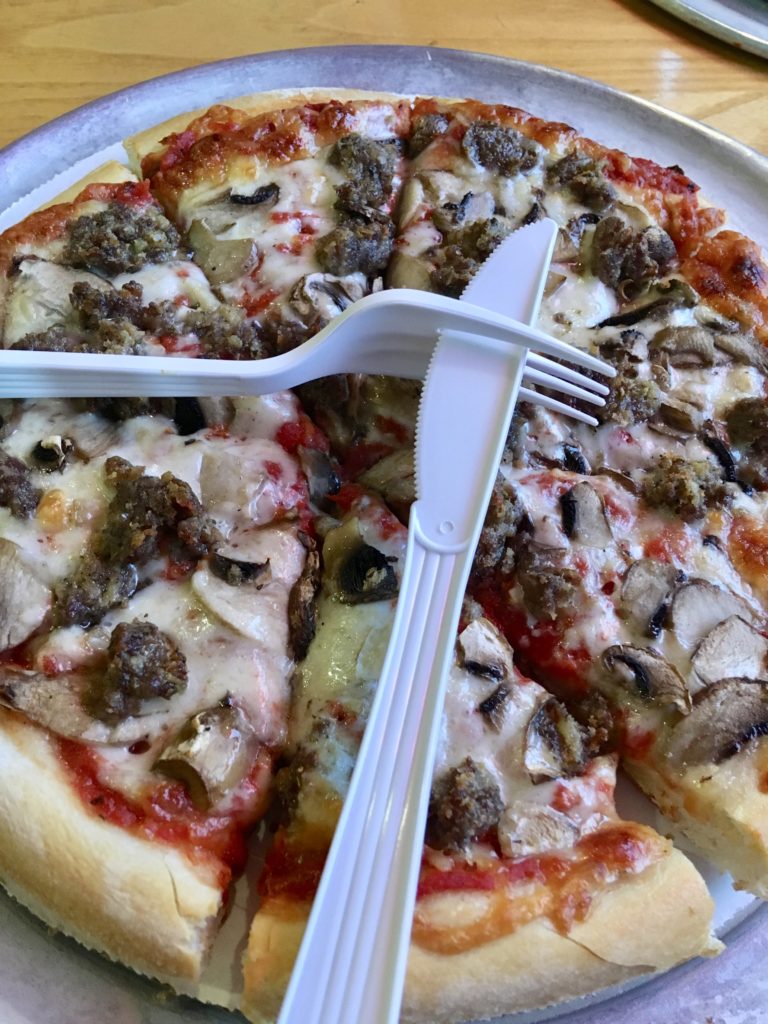 Pizza Villa is also a Portland institution, though they are under new management. We ordered two 10-inch pies: a meatball and mushroom, and a bacon with black olive. Both were quite tasty, and the crusts were an edible crispy but not too tough. Cost before tax and tip was $10.00 each.
Portland Pie Company
Grade AB
51 York St. 207-772-1231 www.portlandpie.com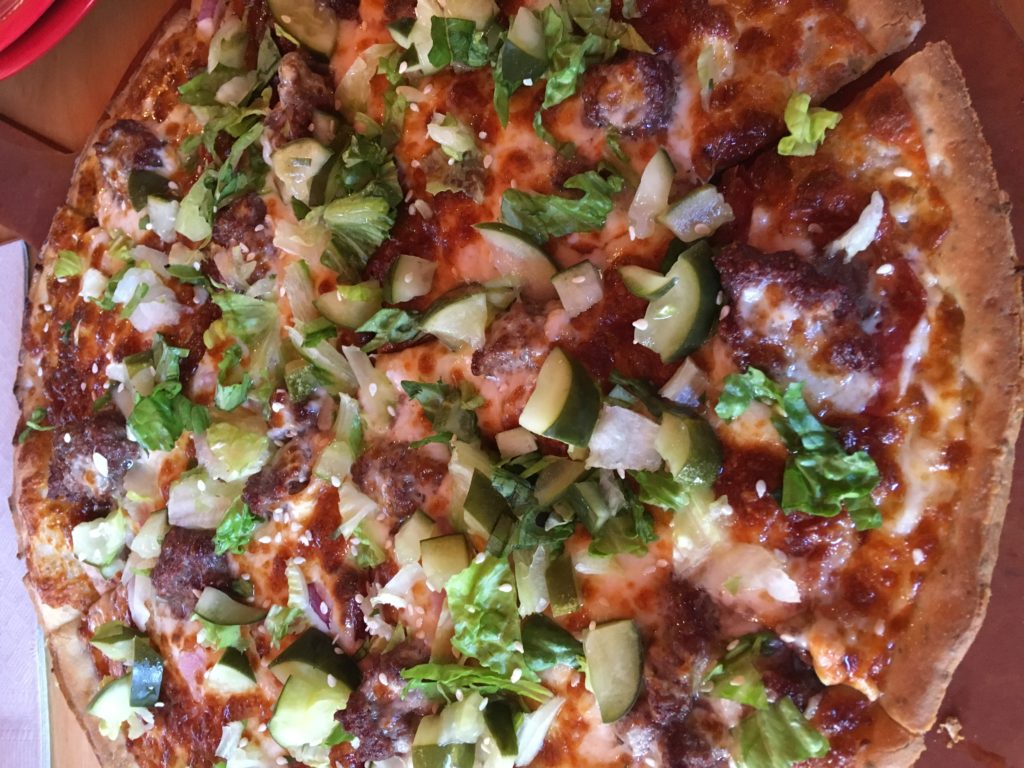 We ordered a gluten-free basil crust, 12-inch pie called the Crescent Beach. It featured three cheeses, hamburger, onion, bacon, Montreal steak, romaine lettuce, sesame seeds, pickles and seasonings…. all on a ketchup and mustard base. Grated cheese topped-off these great flavors. It was like eating a cheesesteak sub- but on a pizza. For a thinner crust, it chewed like a thicker one. $16.49 plus tax and tip got us friendly service from an attractive hipster server/bartender. I've always liked Portland Pie and this visit was no exception.
Coal's Pizza
Grade A, Our Winner
118 Preble St. 207-747-5747 www.coalsportland.com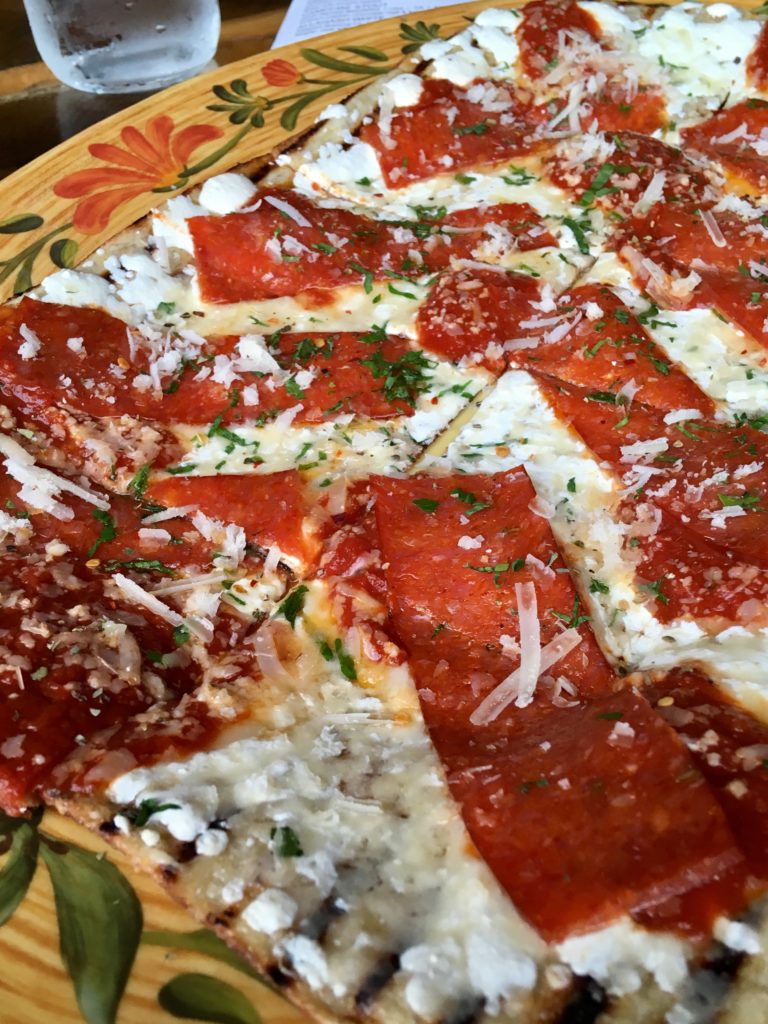 This place is the third in a small chain originally out of the New York City area. They are not the same as Coal's of Louisville, KY…. though at first glance their websites look the same. They describe their pizzas as "American Neapolitan Style." We ordered two pizzas: Heaven Scent: aged provolone, mozzarella, tomato and garlic; and the Dean Martin: fontinella and mozzarella cheeses, tomato, pepperoni and pecorino. We realized they'd served us the Margherita (mozzarella, tomato, pecorino and basil) by mistake. Both pizzas turned out to be so spectacular, that we left the mistake alone. These large, amorphous, gorgeous-to-the-eye pies were flavored to perfection, and simply scrumptious. These were the thinnest crusts we'd ever experienced on a pizza…. so much so that they were simply an extension of the pie itself: inseparable from the whole, and delightfully wafer-thin crispy. We didn't need it, but freshly grated cheese plus oregano were also offered for on top. At $15.00 a piece, these pizzas were a steal. I've been talking about Coal's ever since our meal.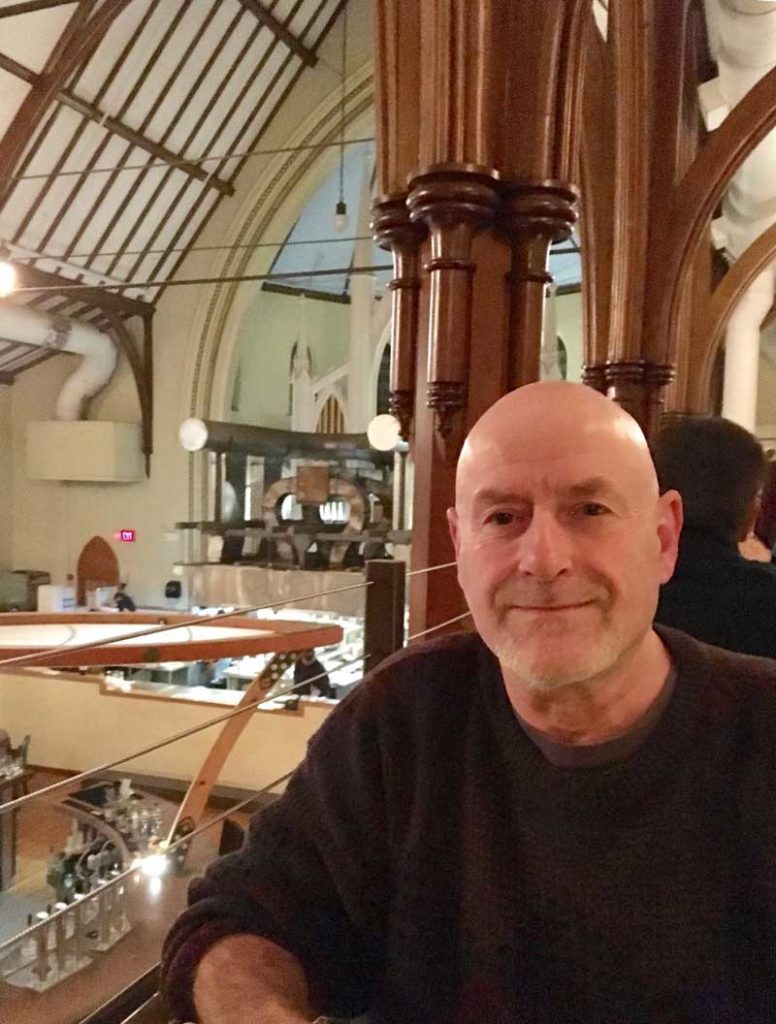 I plan to return again and again, until I simply outgrow the girth allowed by my current pant wardrobe. After that, I'll just start buying stretchy-pants, so that I can eat Coal's pizza, ad infinitum.
And so concludes my lengthy experiment to find the best pizzas Portland's peninsula has to offer. I hope you've had as much fun reading about my pie experiences as I've had fun eating, and writing about them.
James Fereira has a background in building snowmen, flying kites and cramming for college exams. In his spare time he enjoys soaking in hot tubs and questioning authority. He can be reached at ThePortlandPalate@gmail.com