The Portland Palate
Review and Photos by James Fereira
We are living in frightening and uncertain times. While there is little consensus on much of anything else, at least on this it seems we can all agree.
It is remarkable to me how intensely a virus can disrupt an entire system. The spotlight has revealed what a beautiful and broken world we live in: the displays of love and kindness, the heroes and the hacks, the turpitude of human nature and the extent of our divide—and connectedness. We are seeing it played-out daily in a continuous procession of overlapping events. In the coronavirus vortex, we feel and live its consequence unabated. We have battened down the hatches as best we can, not knowing what the storm will bring in the next day or the next hour.
HARDSHIP & ADAPTATION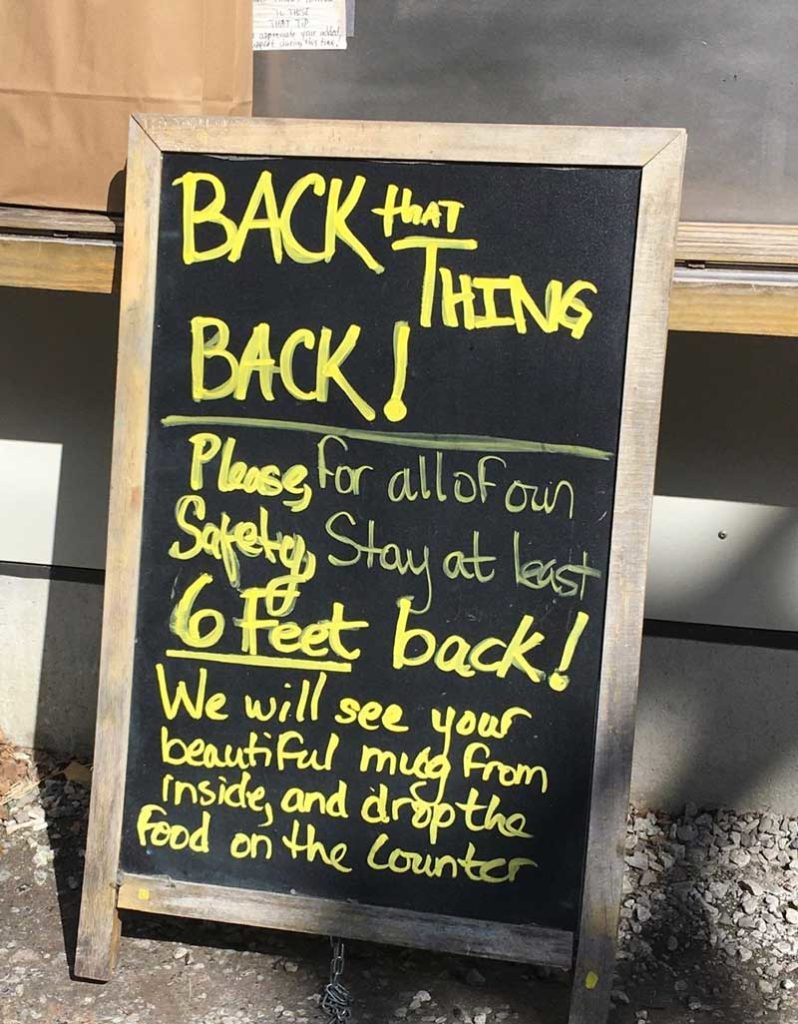 One clear vulnerability has been, and continues to be, the impact of COVID-19 on our tourism, hospitality, and restaurant sectors. There is great creativity coming out of this, as evidenced by the morphing of practices in how Americans dine out, or more accurately—dine in.
For now, gone are the days of calling or clicking for a restaurant reservation, or making an impromptu stop-by for lunch. In the food world, as in nearly every other part of society, customers and businesses are being forced to adjust. To not be able or willing to adapt would mean certain collapse…
And so, we are challenged to rethink matters from literally soup to nuts. Enter the upsurge of delivery, take-out, and curbside pick-up praxis. Will this be the new normal? For now, it is. And it has not been easy.
For food writers, our approach has also been turned on its head. By example, take a well-lauded local influencer, Andrew Ross. As Dine Out critic for the Portland Press Herald/Maine Sunday Telegram, Ross recently, from tutelage by this pandemic, resolved to switch-up his writing angle. In his wisdom, he decided it was in our collective best interest to forego critique of restaurants in this aptly stamped "brittle economic environment." Instead, he is focusing on his personal experiences within the culinary scene.
In following suit, this review is different than every other I have previously written. While I am not pillorying the virtues of any one place, I am also not appraising the product in any depth. I am humbly showing my appreciation for the privilege of still being able to enjoy good local food, albeit consuming it in an adaptive manner.
MI SEN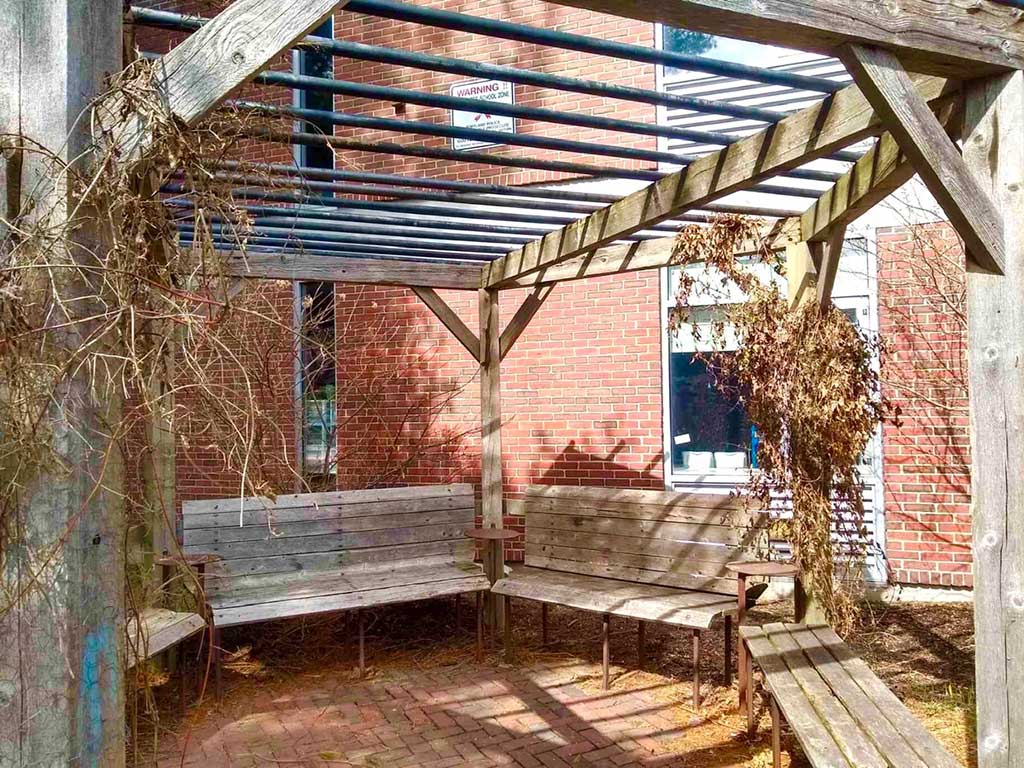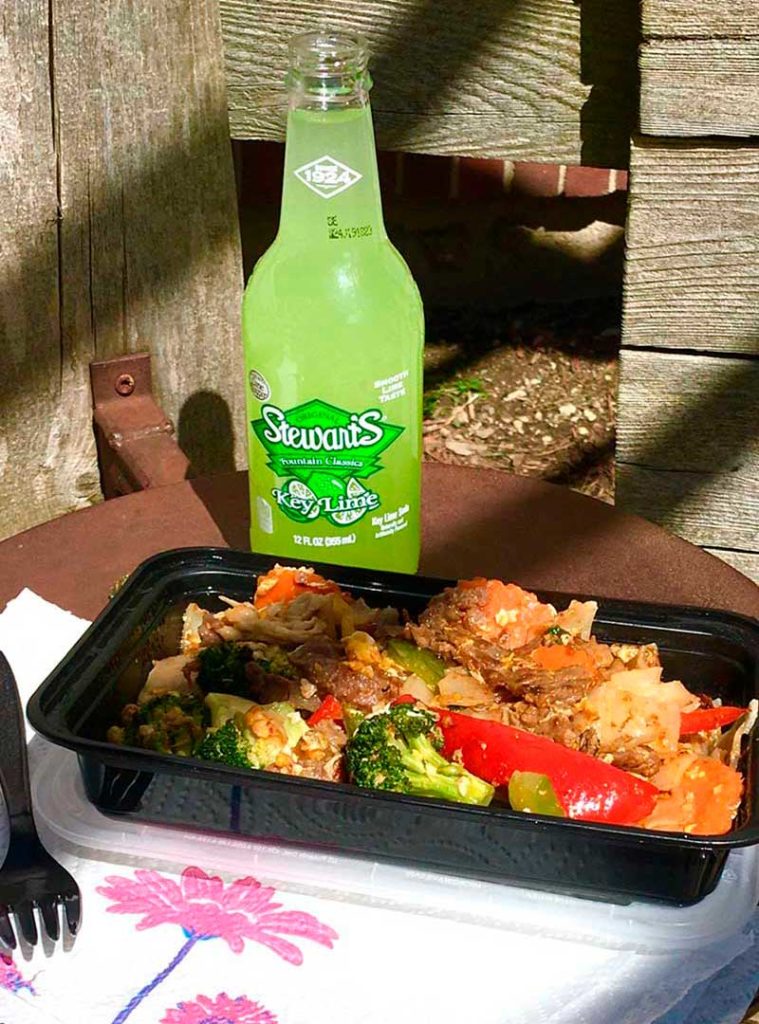 My trifecta of meals began with delivery via www.GrubHub.com from Mi Sen. Friend Alex and I took our stash and dashed over to sit at the gazebo at Reiche Elementary School on a warm-enough day to sit outside. Honoring physical-distancing rules, we nevertheless enjoyed our bounty over social time: for him a chicken and vegetable Pad Thai and for me the Drunken Noodles with beef and veggies—each two stars spice right on the money.
Our food came with plastic utensils and serviettes, in recyclable containers, and in total for food, delivery, taxes, and tip it came to under $32.00. Mi Sen always serves up delicious, healthy meals. We appreciate them and the nice delivery guy who brought it… and arrived early.
FIGGY'S
Next up was the afternoon my "Franned" and I met at Figgy's for preordered take-out. A 2019 "Chopped" champion, Natalie DiBenedetto keeps hours from 3 to 8 p.m., Tuesday to Saturday, and she often runs out of items on the later side—so order early.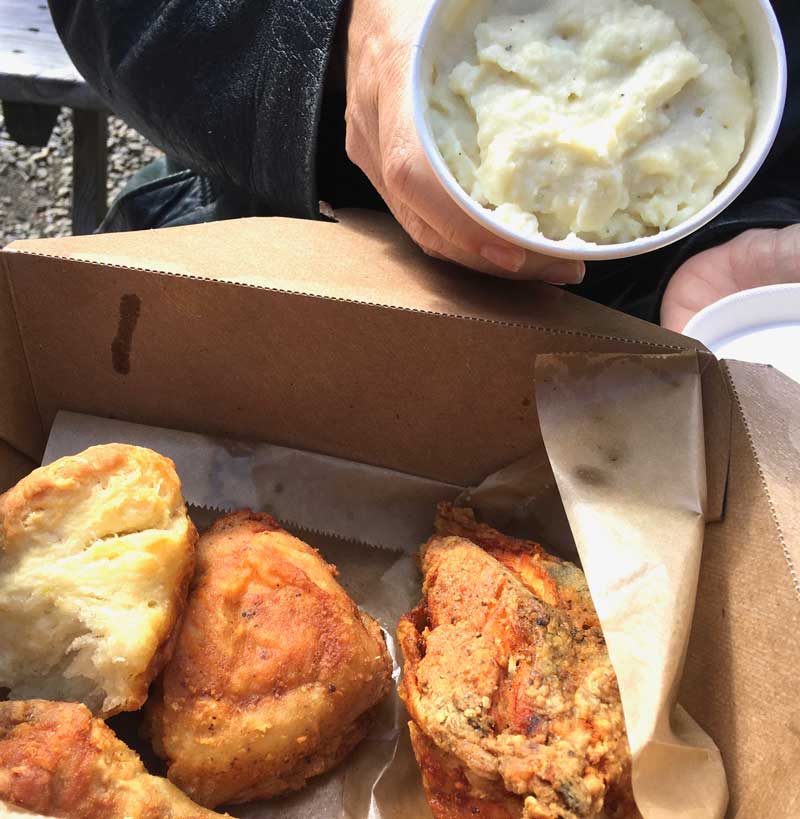 While we were dining out, we met famous chef Figgy. She stepped-out to take a stretch and put some sunshine on her face, while we occupied a provided picnic table outside. Fran had a half order of the skillet fried chicken, with biscuit and pint of buttermilk Maine mashed potatoes.
For me, it was the half order of Korean wings, cup of mashed, and a pint of the soup du jour: a carrot, curry, and sweet potato. Included was both a side of coleslaw and some pickled vegetables.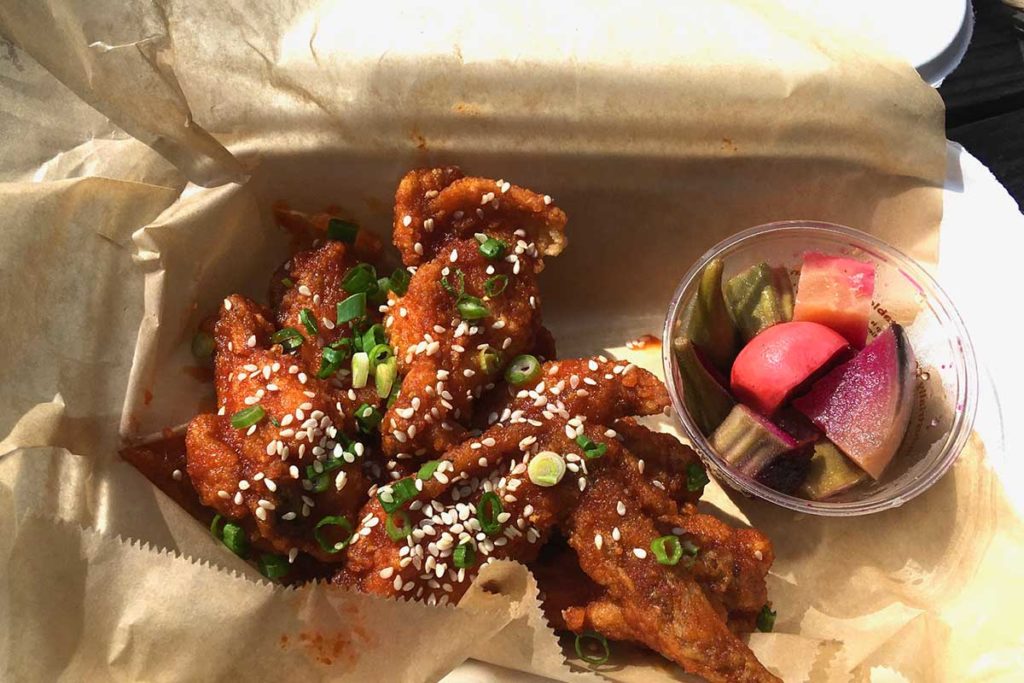 At just over $42.00 inclusive, Fran kept left-overs to take home for later. I devoured mine on the spot. Everything came in compostable and recyclable containers. We love Figgy's!
OTTO PIZZA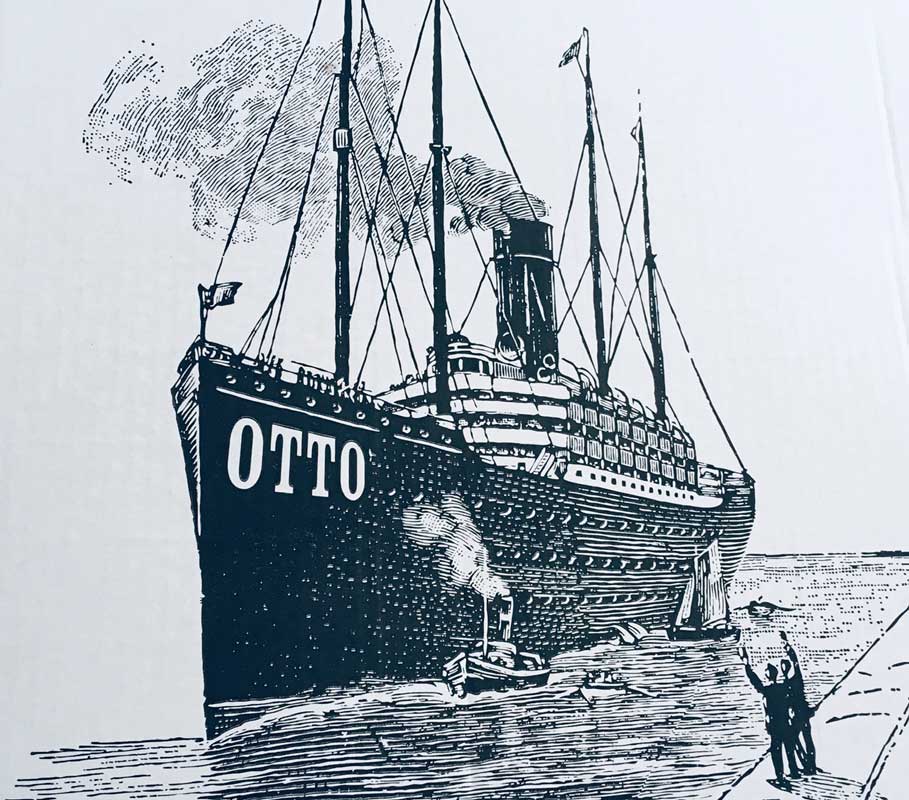 My final dining out experience was again enjoyed al fresco. Back to the Reiche School, but this time with friend Deb for Otto Pizza delivery. The friendly delivery man was a little early and, understandably, seemed happy to be working.
We attacked (my favorite) Otto pizza: a large butternut squash, cranberry and ricotta. In a short time, it completely disappeared from view. Including taxes, delivery fee, and gratuity, again via GrubHub, our order came to just over $37.00.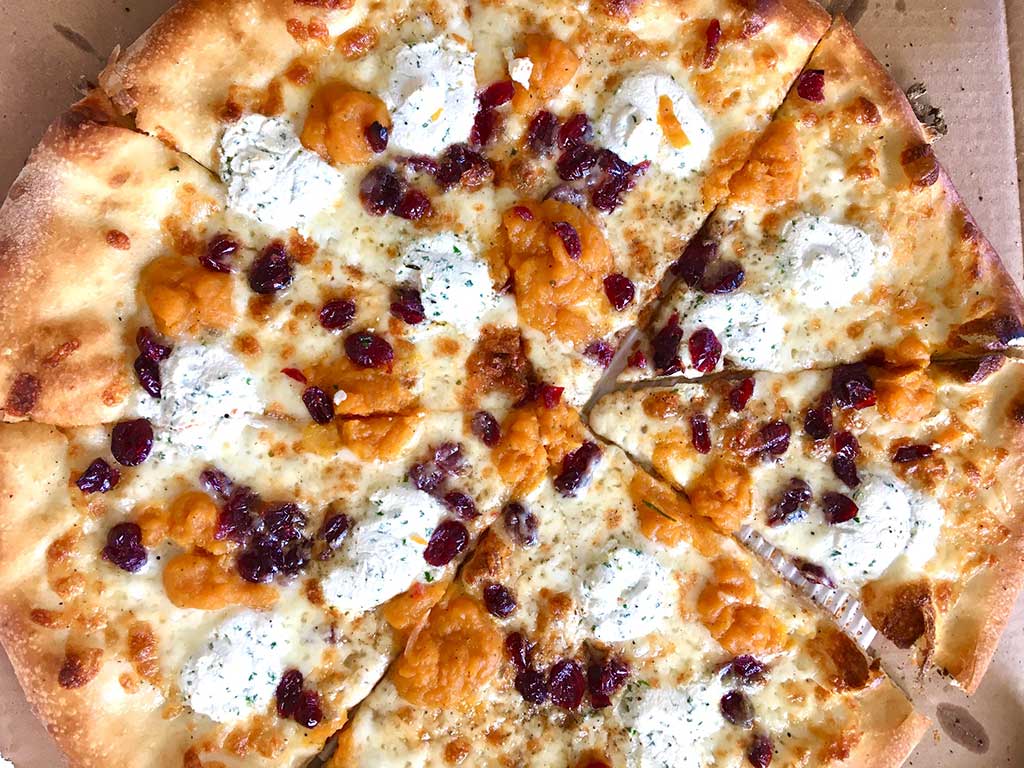 CLOSING THOUGHTS ON DINING OUT
Such is the state of affairs in Portland's dining-out scene, with more adjustments to follow. It is reassuring to visit www.PortlandFoodMap.com to see the regular postings on the long list of places that have changed their modus operandi and their offerings.
Communally, we will get through this: I suspect with deeper connection, appreciation, and prudence. In the meantime, support your local eateries and other food purveyors. When you can no longer stand one more Saturday night frank and beans dinner… order delivery or take-out.
Live large, be generous, and go gently out there. All our lives literally depend on it.
---
James Fereira has a background in grant-writing, sea kayaking, and volunteerism. In his spare time, he enjoys singing to his cat and questioning authority. James can be reached at ThePortlandPalate@gmail.com.