Portland's Independent Community Newspaper
The West End News is locally owned, independent and committed to our community in a way that cannot be matched. We provide the best source for community news in order to attract quality readership and to generate positive conversations that strengthen our sense of connection.
Every month we circulate 12,000 newspapers in Portland, South Portland, Falmouth, Scarborough, Westbrook and Brunswick.
ADVERTISING
Our enthusiastic readership is dedicated to their community and to local businesses. In fact, over half of our readers say they have used an advertisement in the West End News to find a product or service that they needed. And one hundred percent of our readers say that they shop locally. *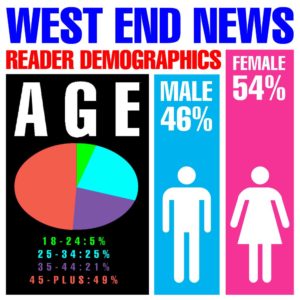 West End News will be your marketing partner. We offer a variety of products and will work closely with you to hone your message for our readers. Consider black-and-white or color advertising. We can do your graphic design. Ask our sales executive, Rick Ness about special pricing for Buy Local members and nonprofits.
Join our community of advertisers and get your message in front of your neighbors. They are ready to get to know you!
*Source: West End News 2016 Reader Survey