Tips to Engage Employees
by Marilyn Miller
"If you take care of your employees they will take care of your customers and your business will take care of itself" – JW Marriott
Every small business has assets. There are hard assets such as equipment, property and accounts receivable and softer assets such as your great ideas and strategic business plan. One asset that is key to any growing business is the people who make or break a business – the employees.
Employee Engagement
On Election Day (November 8th) this year, Ballot Question 4 will address the minimum wage statewide. A "yes" vote supports a gradual increase in the minimum wage to $12.00 by 2020. While there is certainly some loud opposition to this vote, many Maine employers have signed on, understanding that if employees make more money, they have more to spend in our communities.
A recent study found that low pay was far and away the biggest reason that people turn down a job. While certainly not the only motivating factor, better pay can and does attract and retain employees.
There are also a number of other things that small business can do today to retain employees, to reduce turnover and avoid the high costs of recruiting and training new employees.
Employers must commit to ensuring their employees feel that they are a valuable part of the team. Engaging employees is a dynamic process that does not happen on its own. What are some things small business owners can do right away to keep employees engaged and satisfied?
To get some answers, I asked a local human resources expert, Debby Olken of KMA Human Resources Consulting LLC. Debby has over 20 years of experience as a human resources executive, and Falmouth-based KMA HR works with small business through Maine and New England handling a variety of employee-related issues. So I figured I was asking the right source.
Here are some simple, specific ways to engage and retain your employees:
1. Ask employees for feedback
Formal or informal surveys are a great way to get employees involved. It is important that the survey be carefully developed to make sure you get useful information and high participation. Follow up is important as well, and letting employees be part of the plan to make changes. Also, how any changes are communicated to employees is key.
2. Mentoring
Meaningful mentoring programs can greatly improve employee growth. Besides the traditional approach, why not try "reverse mentoring" which pairs a younger employee as the mentor with a more experienced employee as the mentee? Match employees around such important topics as emerging technologies or social media trends.
3. Education and Professional Development
A shortage of skilled workers in Maine has hurt economic growth, which highlights the need for more skill-based education and job training for Mainers, among other things. If you invest in your employees with on-the-job training or outside education and development, you will be very happy with the return.
4. "Perks"
You do not have to be a large company to give some great perks. Be creative and learn what motivates your team. Low cost or free add-ons that might appeal to employees include:
Flexible work hours or the ability to telecommute
Volunteer programs with paid leave for volunteer work
Wellness programs, health club discounts, team sports
Discounts to local businesses
Fun competitions (nothing too intimidating!)
Snacks!
5. Respect for Work/Life Balance
Barring important and time-sensitive needs for information, respecting your employees' life outside of work is critical.  Please do not regularly call, text or email them after normal work hours.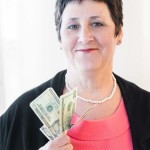 In closing, if you are lucky enough to have great employees, you need to work every day to keep them. As your business grows, a plan to keep your workforce engaged is key.
The Author
Marilyn "Mara" Miller is committed to small businesses. She is founder of M3 Consultants, which helps small business owners improve their cash flow through better credit practices. If you have comments or ideas for future issues please email Marilyn at m@m3lp.com.