From (So Far) Away: Stories of Immigrant Business in Maine
Miglena and Sparkling Clean
by Marilyn Miller
Miglena Farley first came to Portland from Bulgaria in 2006 for an internship in accounting with a local firm. To supplement her income, she cleaned a house on a regular basis. One house lead to several. And so, along with her new husband, Miglena formed a small cleaning company called Sparking Clean in 2008.
Managing Growth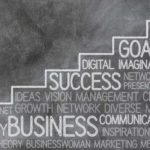 Shortly thereafter, she bought the customer list from another cleaning company that was going out of business. At that point, she had enough work to hire her first employee. Through customer referrals, her business began to grow quickly. However, Miglena really wanted Sparkling Clean to be a commercial cleaning company. She began asking her customers about their businesses, and was delighted to learn that residential customers readily referred her to their places of business.
Today, Sparkling Clean has 25 employees and revenue of nearly one million dollars. Furthermore, nearly three-fourths of the business is cleaning for commercial enterprises.
Miglena attributes her success to supervision of each job, and the high standards she sets for herself and her employees.
Hiring and Retaining Workers
Sparkling Clean has become the first employer of many Bulgarians who have come to Maine. In fact, Miglena involves herself in training of all new hires. And she retains employees on average for four to five years, far longer than most of her competitors.
Each employee is treated with respect and asked to give feedback on how to make the cleaning process more effective and efficient. Her employees feel that they have a stake in the success of the company, and they are given increasing responsibility as they gain experience.
However, employees are well aware of Miglena's commitment to her customers. If an employee fails to show up for a job without notice, they are not given a second chance.
Sparkling Clean makes use of green products for most of their cleaning jobs. Although, Miglena shared with me that many customers want the strongest products — green or not — in their bathrooms.
Miglena is proud of the opportunity she has been able to provide not only to her recently arrived fellow Bulgarians, but also others who are looking for their first job as new Mainers.
Marilyn Miller
Marilyn "Mara" Miller is committed to small businesses. She founded M3 Consultants to help small business owners improve their cash flow through better credit practices.
If you have comments or ideas for future issues, please email Marilyn at m@m3lp.com.