The Amos Farm Talks Tomato Trellising
by Christian Torp
The tomato. A mainstay of the home garden. Here's some helpful tips on tomato trellising. Good news, there are alternatives to the tomato cage! But first a little history…
The tomato, Solanum lycopersicum, is a vining perennial — or at least in its native habitat of Central and South America it is. It's use as a food originated in Mexico. As you may have heard the tomato was originally thought to be poisonous in the US. It is a member of the nightshade family, with such a close likeness to that poisonous plant that the two were sometimes mistaken for each other. It was a highly disfavored fruit in early America.
An early tomato supporter was found in none other than Thomas Jefferson. He grew numerous tomatoes and his daughters and granddaughters were known to use them in numerous recipes and pickle them. Regardless, the Tomato's scientific name tells the truth, Solanum is Latin for "the nightshade plant."
Tomato Cages
We're not concerned with the lethality of tomatoes today, it's that vining habitat that piques our interest. I don't think anyone who knows their way around a shovel is not familiar with the common wire tomato cages.
You know them. I know them. Impossible to use after a tomato's been established, which can happen in a day once the summer really gets cooking. Not small enough to plop the cage atop of, or limber enough to weave it through. You know them. I know them. Laying on their side or against another tomato, when the plant hasn't followed directions. How dare they not grow in a perfectly symmetrical, balanced way. You know them. I know the. They're bad news all the way around.
The next form of tomato cage is something I've only read of, but was interested in before discovering the method I'll describe. I think the other tomato cage has several disadvantages. I'm referring to the custom sized, homemade PVC cage. Made from sections of 3/4" or 1" PVC using tee, double-tee and 90° bends. The vertical habitat is rigid but flexible in its width dimension. It allows one to place the cage around an established tomato plant and move to grow with the plant.
These homemade tomato cages would give years of dependable service, depending on how well they were stored and kept from UV light. But the cost, construction time, lack of flexibility in number of tomatoes that can be accommodated and storage requirements make them less than ideal method for tomato trellising.
Let's be Cheap
The method I've used for tomato trellising is simple straight plastic coated metal garden stakes and twist ties — lengths of scrap shoe lace or bailing twine also work. I place the garden stakes at the angle I wish to support a part of the vine and in which I desire the tomato to grow. I bind the tomato to the stake to support it.
This has been a superior method to tomato cages. The center of the tomato isn't condensed as it is in a cage, allowing less mold and disease problems. If I don't get to my tomatoes in time I can still support them, unlike with a cage. Depending on the length of stakes used, it allows my trellising to grow with the tomato. A cage gets no bigger. Once the branches leave its support they're on their own.
This method has the disadvantage that the plastic coated metal garden stakes typically used are not inexpensive. And they do not last nearly as long as they should.
The Florida Weave
Also known as the "basket weave" this is a method of tomato trellising that can accommodate differing numbers of tomatoes with only the addition of a light duty pole and some extra bailing twine. It accommodates your fruit in a more two-dimensional habitat, thereby minimizing garden space and maximizing spacial efficiency.
The equipment requirements, per row of tomatoes are as follows:
2 tee posts (length dependent on the tomatoes you're growing)
Light duty posts of similar length as the tee posts numbering half as many as your tomato plants minus one
Bailing twine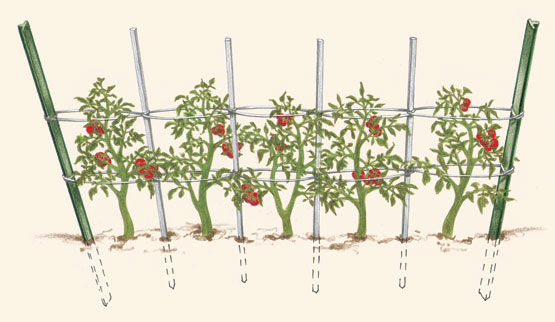 The length of these posts is dependent on your plants. With bush type or determinate tomatoes even a 5' length may be sufficient. If you have awesome soil, exposure and indeterminate varieties you may wish to use 10'+ lengths. Although that will require a step ladder. Some tomatoes grow to a height that you're not able to work and pick on foot.
The Florida Weave's super simple to use, too.
Step one: Place a tee post about 1' from your tomatoes on either end of your row. Drive at least 1' into the ground.
Step two: Place a light duty post between every second tomato plant.
Step three: Tie off bailing twine on a tee post, run it to the light duty post not going in between your tomatoes, loop it around the light duty post twice. Continue this process until you come to the tee post at the other end. Tie off and repeat on the other side.
Step four: Repeat this process going up the posts as your tomatoes grow.
What to do if tomatoes are growing on branches that are below the twine? I run twine on one side of the tomatoes to give them some support, but hold off on the other side until the tomatoes have grown in more. If a branch grows outside of the twine don't worry about it. Catch it with the twine the next time further up the pole.
 —
Christian L. Torp is an attorney, missionary, activist, urban-farmer and advocate for social change who lives at Justice House (Facebook: Justice House) with his wife, Tanya in Lexington, KY.
If you have any questions or comments for Christian, or there's something you'd like to know more about, please reach out to him at theamosfarm@gmail.com.