MY STORY
English-language learners from Portland Adult Education share their stories in their words.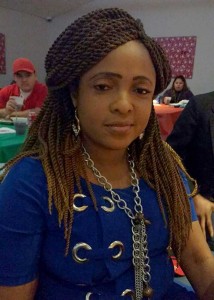 My name is Faida Lotika. I come from D.R.C. (Democratic Republic of Congo). My name means "blessing". My father gave me my name because it came from our family.
My mother's name is Clemence, and my father's name is Albert. They live in Africa.
I have four brothers and two sisters in Africa. I have a husband, Portance, and we live in Portland.
I have four children. My first son's name is Moise. My second is Joyce. My third son is Johovani, and my baby is Tatiana. She is three years old. They live in Africa.
I have a wonderful family. I love my family.
I have many friends in Africa and in Portland. My best friend is Bibiche. She lives in Africa. We played soccer together. I miss my best friend!
I like the colors orange, yellow, blue and pink. I like to eat rice and cassava.
I came to the U.S. last summer in 2015. I visited Boston. It was the first time for me. I was very happy for that.
My surprise, I saw snow for the first time. And it is very cold here in America. I also saw a good snowman.
In the Congo D.R., we have two seasons: dry season and rainy season.
My school in my country was big, and had boys and girls. I loved my school, and the teachers all love me, too. I was always first in my class.
I liked reading, writing, music and comics. I did not like the English course because it was difficult. My school was from 7:30 a.m. – Noon.
I rode a bike when I was young. I liked it.
Now I work at Cozy Seafood. I love my job. I go to work every day in the morning. In the past, in my country, I taught children.
To study English at home, I like to do homework in my book and watch the movie. To read a news story online or in a newspaper is difficult for me. Sometimes my husband helps me.
Now, I have headaches because I think a lot about my children's stay in Africa. When I am sad, my little girl she watches the t.v. and she dances and sings for me. She smiles at me. She wants me to be happy.
My goal is to have my own clothing business. If I made the laws, the law will be that every person who lives in America can work, can have home, can have nationality, can pray, can study.