MY STORY: English language learners from Portland Adult Education share their story in their own words.
My Mother is My Hero – This is Madeleine's Story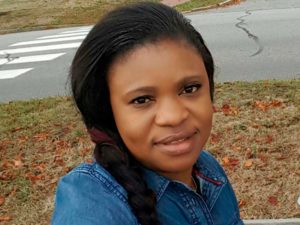 My name is Madeleine. My home country is Burkina Faso. I speak French. My favorite things are movies, theatre and music. I watch children's cartoons to help me learn English.
My favorite month is July. I like it because it's my birthday and my 2 sisters' birthdays. I also like July because it is raining in Africa.
One of my sisters lives in Burkina Faso. She is 39 years old. Her name is Nathalie. She is married and has two children – Chloe and Amanda. My sister is very nice. She is a secretary in the University of Ouagadougou.
My mother is my personal hero because she gave me life. After my father's death she took care of me, pay for my school. She does two jobs. In the morning she works at the store. In the afternoon she works in supermarket. Her name is Suzanne. She lives in Burkino Faso. I call her and it makes me happy.
Over our Winter vacation, my friend brought me to the Museum. I liked the drawing and the model museum. On New Year's Eve I followed on CNN the different celebrations of New Year. Then, in the morning I went to the beach to see the people swimming.