MY STORY: English-language learners from Portland Adult Education sharing their stories in their words. We welcome them to Portland.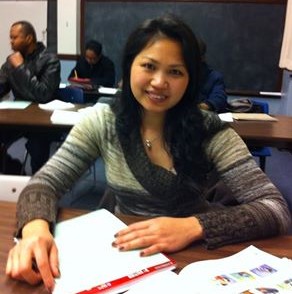 My name is Sokear Meak. I'm from Cambodia. My father name is Meak. My husband, name Phal, also from Cambodia, has 2 brothers and 1 sister. I have an uncle. I want to buy a house and get a new job. I like writing, reading and speaking English.
I like school now the teacher and friend. My friend's name, Iolanda, she come to class. She is a nice friend.
I like to play sports, bake, cook, dinner with my family. I like sewing, doing yoga, decorate the house, singing, sometime call talk to a friend. I like cooking on the weekend. I like to watch cooking shows on TV.
My family celebrates Thanksgiving. I like to cook in my house, turkey, mashed potatoes, corn. My husband gave me a laptop for New Year. I cook egg rolls and spring rolls.
I get up at 5 a.m. I cook breakfast, often cereal. I go to work at 5:40 a.m. At 11:00 a.m. I have a break. Sometimes I call my family in Cambodia. We eat dinner at 9pm.
On Monday I write sentences, spelling. Sometimes I watch TV at 10 p.m. On Thursday I go to school. On Wednesday go shopping. Friday pay bills. Saturday exercise. I go to gym and bike, run and do yoga.
I am working in a hospital laundry. Before, I was a seamstress. I worked at Sea Bags on the Portland pier, sewing the bags.
I live in Westbrook. My house has ten rooms. My favorite room has the coffee maker.
I eat healthy food, vegetables, I don't drink alcohol or smoke. When I am sad, sick or tired, I take a shower or take a walk in nature. Eat chicken soup, massages, meditate, drink tea and sleep.
Pink makes me feel hopeful. Green makes me feel cold. Red make me happy feel beautiful sun. Gold makes me think of cars.
In the past, my family in Cambodia had birds, cats, and dogs. I like birds, fish, and rabbits, but have no pets now.
If I could start a business, I would start a cleaning business or a charity to help people. I am also interested in learning to be a hairstylist.
I like Winter in Maine and gray sky. I don't like slippery and too much snow.
What is hard about learning English is learning past and present, and to talk on the phone to doctors.