THE AMOS FARM
APPLES
The revolution is not an apple that falls when it is ripe. You have to make it fall.

-Ernesto "Che" Guevara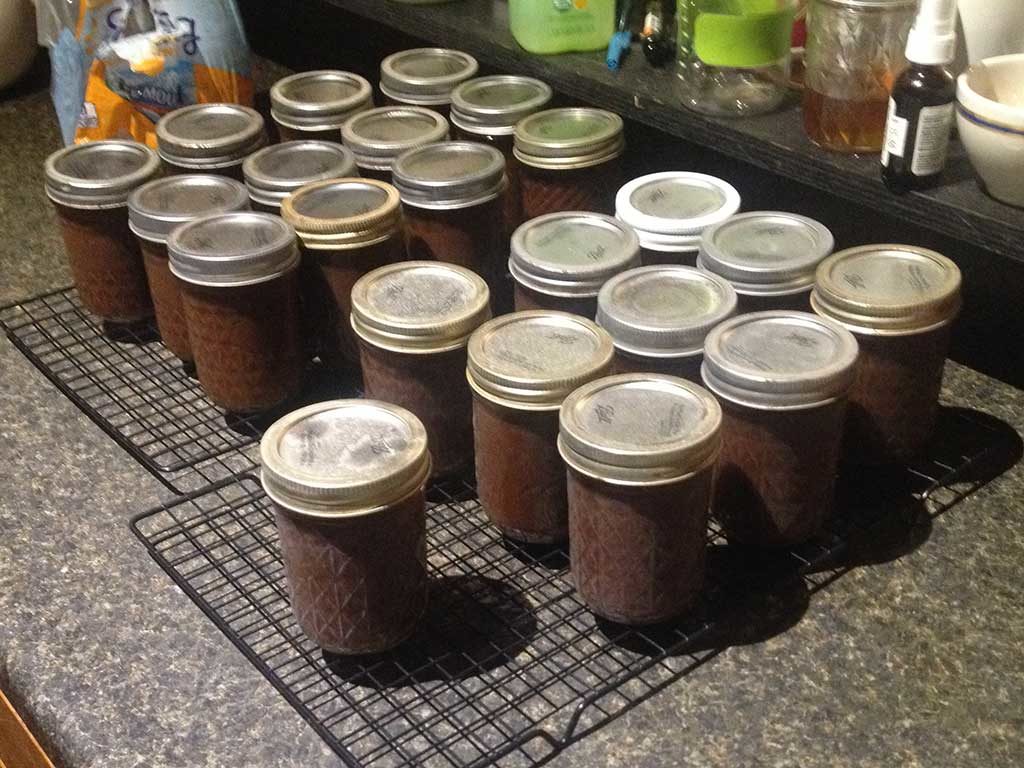 It's apple season in Maine! From early September through late October there's a bounty of delicious, nutritious and plentiful fruit, so get your fill… until you run out of room in your refrigerator or they start getting pungent a few weeks after your last time picking.
Yes, with Controlled-Atmosphere storage (CA) those apples would last longer, but they're still not as good, and you can buy the same thing from the supermarket and pay the price of the technology piecemeal there.
Or, you can ferment your apples and turn them into alcohol, as apples traditionally were used… until prohibition. Or, you can turn them into applesauce or apple butter and they'll be shelf stable for years on the cheap! (Legal disclaimer: it is not recommended to consumed canned produce after one year of canning.)
How To Do It
Turn those apples into smaller pieces. Remove the skin, seeds, stems, seed casing etc… Heat the apples until they break down. Can the apples using the boiling water bath method of canning.
These steps are in no specific order, although there are some guidelines about the order you put the steps in.
Cut the apples into smaller pieces before you cook them.
Remove the stems, seeds etc. before you can them.
That's it. You can peel and core whole apples, cook them down and can them, or you can chop the apples, cook them down, process them through a food mill and then can them.
There are good points, and bad points to either method. The first method, removing the skin, seeds etc. before cooking and then canning the whole product takes more time in preparation and doesn't allow you to use all of the available meat. But it requires less equipment, less investment, and you won't find yourself incessantly cranking a food mill.
The second method requires more investment in equipment, but prep time and exactness are significantly reduced and you can use every last bit of the apple.
Tools
Knife & peeler.
Cost: You already have them.
Slowest method. Peel the apple, cut out the core and chop the apple into pieces.
Apple corer.
Cost: Around $10
Why are you wasting your money?
Apple divider/corer.
Cost: Around $10
If you already have one for making apple slices fine, but it's use would require a foodmill or peeling the apple before using it.
Peeler/Corer.
Cost: From $12 – $300
This tool allows you to peel, core and spiralize an apple simultaneously and they come in versions that fasten to your counter-top either by clamp or suction. Frustrating.
Spiralizer.
Cost: $40+
Given the current craze in "zoodles" and whatnot, it should be an easy item to find. But they're nothing more than an apple peeler/corer that's less suitable for the job.
Spiralizer attachment.
Cost: $60+ cost of the base machine.
My wife is all into spiralized veggies and we got a deal… and we already had a KitchenAid mixer. Unless you already own a KitchenAid or have an entire apple orchard this is not cost effective. If you do and are planning on using a food mill this sucker is awesome, it'll eat your apples alive!
Immersion Blender.
Cost: $20-$540
Enables you to make applesauce with less cooking but requires you to ensure that all skin/seeds/stem etc. are removed before cooking. Some recipes call for their use, I have one and have never found it useful in production of applesauce.
WHAT YOU'RE DOING
If you're using a food mill, get to it. If you're not, remove every last trace of stem, seed and skin. In one way or another turn those apples into small pieces.
Place them into either a stockpot, roaster pan, roaster oven or crockpot with a small amount of water (1-2 cups) and cook them down. I have found a crockpot to be ideal. A stockpot, roaster pan or roaster oven work equally well but are not idea. The stockpot requires constant stirring and vigilance, the roaster pan in an oven can be cumbersome and a roaster oven is prone to burning.
Cook them until they turn to mush. A potato masher or immersion blender may be used at this stage to speed the process (for applesauce). If you're making applesauce it doesn't take long. For apple butter, I let my crockpot cook overnight.
If you're using a foodmill, now's the time to do it.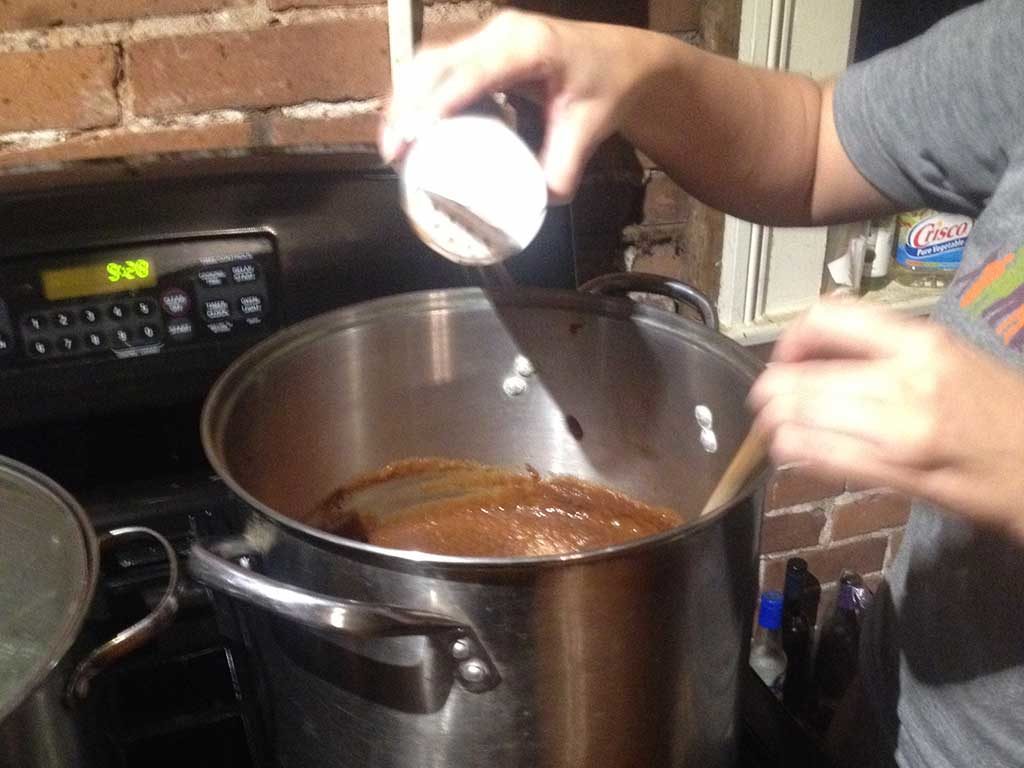 Season and sweeten it. In my experience almost all recipes call for too much sugar, I almost never add any. Allspice, nutmeg, cinnamon and cloves are common spices. The hotter the food is, the sweeter it tastes, keep this in mind.
Reheat your bounty and can according to a published, safe and reviewed applesauce or apple butter recipe.
Now the fall bounty of apples can be enjoyed all year!
RESOURCES
Maine Pomological Society
http://www.maineapples.org/directory
The truth about Johnny Appleseed
http://www.smithsonianmag.com/arts-culture/real-johnny-appleseed-brought-applesand-booze-american-frontier-180953263/
The awful reign of the Red Delicious
https://www.theatlantic.com/health/archive/2014/09/the-evil-reign-of-the-red-delicious/379892/?utm_source=atlfb
Modern Farmer: The Science of Cold Apple Storage
Christian L. Torp
Christian L. Torp is an attorney, missionary, activist, urban-farmer, foster parent and advocate for social change who lives at Justice House (facebook: Justice House) with his wife, Tanya in Lexington, KY.
If you have any questions or comments for Christian, or there's something you'd like to know more about, please reach out to him at theamosfarm@gmail.com.