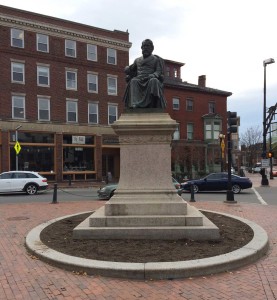 The City of Portland and the Harold T. Andrews Post 17, American Legion, will celebrate Veteran's Day with a parade and wreath laying ceremony at City Hall Plaza on Tuesday, November 11th.  The parade will begin at Longfellow Square at 10:30 AM and proceed down Congress Street ending at City Hall Plaza at approximately 11:00 AM. Speeches will then be made along with a wreath laying ceremony.
Vehicular traffic will closed along Congress Street and the side streets that lead onto Congress, from State Street to Pearl Street, from 10:15 AM to approximately 11:00 AM.
Portland City Council members, Police Department Color Guard, and the Portland Fire Department Color Guard will be marching in the parade, as well as the Portland and Deering High School band, the 195th U.S. Army Band, the AMVETS Post 25 Color Guard, Girls Scouts of America, Cub Scouts, Boy Scouts, Slugger the Sea Dog, Oakie the Oakhurst Acorn and much more.