Grant Street Evictions
by Rob Korobkin
My heart hurt when I read about those tragic evictions on Grant Street.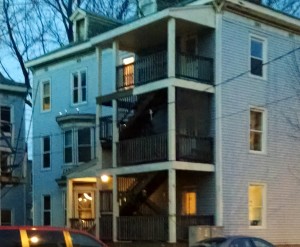 I met some of the people who lived there when I was walking their street (and it is THEIR street) this fall, chatting about my campaign for City Council. As the sun poured its last golden rays out over Parkside like the last sweet sips at the bottom of an Olde English 40, a bunch of folks on that block were barbecuing on the sidewalk, and we hung out for a bit, sharing communal cheeseburgers and potato chips.
They told me about the Kafkaesque labyrinth that is GA and Section 8 and their struggle to maintain dignity through warehouse jobs that don't pay enough to live on. They told me about the bed bugs, the cockroaches, the rotten wood that their apartments were made of and the rents which just kept going up. It was clear that their landlord was just biding time, neglecting them, waiting for some rich developer from away to buy the properties, kick everybody out and bulldoze them.
Now they've got their eviction notices. And the Oxford Street Shelter is way past capacity. And so's Pine Tree Legal. And the good people at Shalom House are quickly running out of places for folks like this to call home.
On a night like this, I'm grateful to be warm. Grateful to be sober, to have money, to share a nice big house with four friends I love and trust. In this world, it sure helps to be a well educated white man who owns property, free from the fear of a landlord throwing me out on the cold curb for the City to pick up in the morning.
I'm still hopeful. Portland's still a place where genuine community leaders consistently step up, independent from the city's big money, to advocate for us.
People like Ben Chipman, the State Rep who led the impeachment charge against LePage and is now running to represent us in the State Senate.
People like Pious Ali, the first African immigrant elected to office in Portland, who's been advocating tirelessly on the School Board for all the kids in Portland and recently threw his hat in the ring as an at-large candidate for City Council.
It's guys like that who give me hope.
For now, I'm going to keep doing what I can. I've recently gotten involved with #PortlandParticipates, a new initiative working to increase public participation in the City's planning decisions, and I've been helping a new group organizing to increase access to Naloxone, the emergency drug that can mean the difference between an addict dying of an overdose or surviving and someday rejoining our community.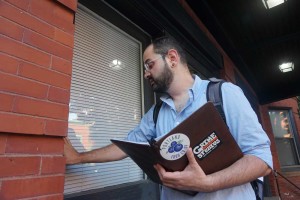 I'm under no illusions. Doing anything in local government is a lot of work, most of which has to do with stuff like complex building permits and the intricacies of tax flows. And when opportunities to make change do come up, there's a good chance we'll get outvoted.
But I don't know. We're going to keep on keeping on. What else can we do?
Rob is a software engineer, community organizer, teacher and musician. He serves as the Secretary of the Portland Green Independent Committee (PGIC) and can often be found writing computer code at Peloton Labs late into the night.