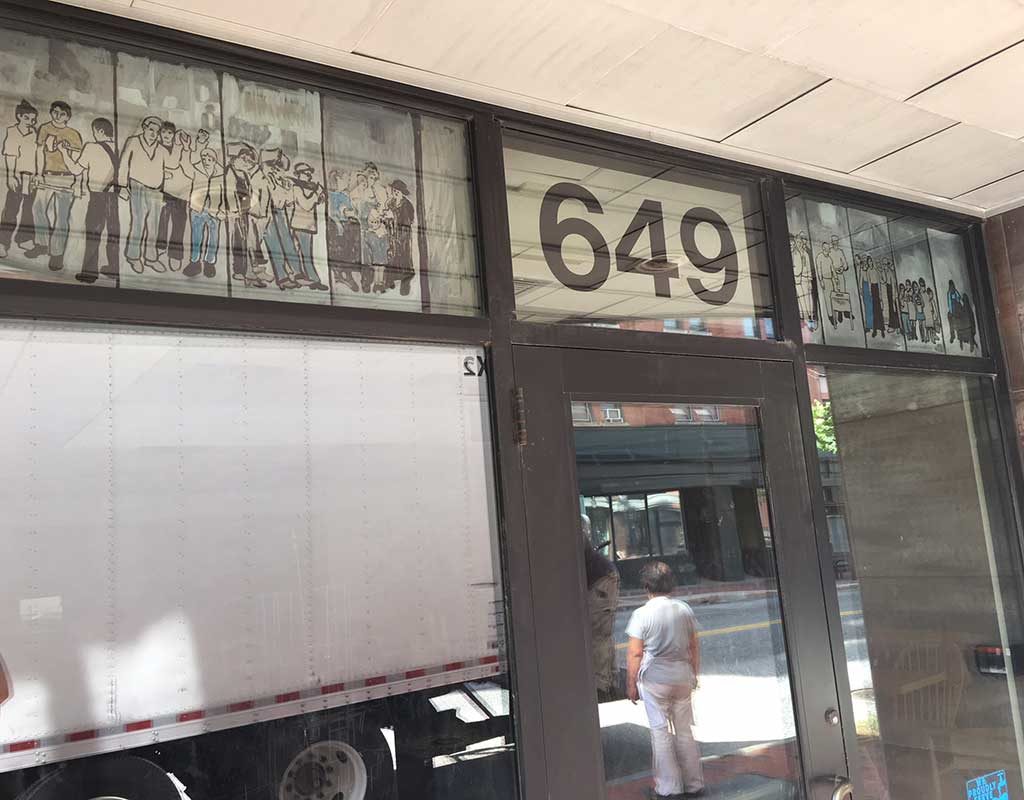 By Kate Goldfield
Just today [August 6th], I made the very disturbing discovery that Local Sprouts, the independent food cooperative at 649 Congress, has closed permanently and suddenly. They gave no reason, and in fact were advertising hiring people on May 31st on their Facebook. Apparently, their last meal was served July 3rd. Nobody has been able to figure out the reason for this extremely popular cafe to close, and I am flabbergasted and heartbroken.
I want to take a moment to celebrate them before they fade from memory. They deserve a better send-off than this. Please help me to celebrate this amazing place and give it a decent send-off.
When I moved into my first real apartment in the West End in 2014, I would walk between Monument Square and the West End every day for the first year. I passed Local Sprouts as the halfway point of my walk every day. Due to extreme anxiety issues, chemical sensitivities, and autism spectrum disorder, I don't go into many buildings. But that winter was so cold, and the live music I could see they often played inside so inviting, that I still remember the day I decided to give it a try and go in – a huge thing for me.
A band called Pretty Girls Sing Soprano was playing, and I really enjoyed their folk style music. They played every month for a while, and I kept going.
Local Sprouts has – or had – a comfortable, laid back hippie vibe to it that I'm not sure could ever be replaced. They used only the best local, healthy ingredients and was a great place for vegetarians or anyone who was conscious of what they were eating.
It was literally the only place I felt comfortable enough to buy a meal from.
Fast forward a few years. Pretty Girls had stopped playing there, and my anxiety issues had increased, so I no longer felt comfortable going into the actual building. Claustrophobia is an evil thing! Once in a while, though, I got tired of cooking my own eggs, and trusted them to make my food in the way I asked them to – using healthy oils instead of butter. They were nice enough to bring the eggs outside to me when I couldn't force myself to go in the building and were as friendly and accommodating as could possibly be.
Once I figured out a good way to do it, I stopped there for breakfast on average of once a week every week last summer and fall. While I didn't go there more than once or twice this spring or fall, I liked knowing I had the option to if I wanted to. Getting the "This number has been disconnected" message when I tried to call today [August 6th], checking the number, and still getting it was crushing.
To the owner-employees of Local Sprouts: Thank you for being such innovative, creative, friendly, welcoming people. I am so sorry for whatever happened to make you close.
To the people of Portland: We should take a good hard look at the "For lease" signs popping up in the downtown area, and what we can do to prevent becoming a ghost town – or a place only the top 5% of the population can afford. Portland is too beautiful, too wonderful of a city for it to be taken over by only people who can afford sky-high rents. There is more to life than money.
Just this week, Scattaloni's Bakery – formerly Foley's, a bakery I used to go to as a child – closed after announcing they were moving to Biddeford because of high rent costs. At least they gave a reason and notice. I bought something on their second to last day.
Local Sprouts, however, will take some time before I don't feel a pang of emptiness every time I walk past it. I know now that I'm a month late, but just the same, I am sending the best of luck to these former employees and a big thank you for a great nine years. I am sure many others feel the same. Local Sprouts hosted so many events and created such a perfect community space, it is hard to believe we don't have it anymore.