by Luke deNatale
Although shoveling snow is not an immediate concern for most of us, winter is fast approaching and there are many disabled and senior citizens in Portland that struggle with digging out the morning after a snowfall.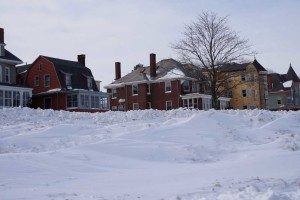 Fortunately, Portland has an organization dedicated to assisting residents who cannot clear the paths to their front steps or make sure their sidewalks are unobstructed.
The Shoveling for Seniors program accomplishes just this. The organization itself is a volunteer organization that will shovel snow within 24 hours of a storm for any person 65 years or older and for those that are physically challenged at any age.
Wells Lyons, who unsuccessfully ran for City Council in the 2nd district, is a volunteer.
"We clear the walkway, front stairs and sidewalk in front of the house. Volunteers are partnered up with someone in the community who could use the help, and you commit to shoveling for that person all winter," explains Wells.
Wells commented that all the shoveling is done by hand, but certainly volunteers with any mechanical equipment would be welcomed to help speed up the process.
According to Wells, the organizer of the program, Joan Sheedy is now 80 years old and is looking to eventually hand the organization over to someone else. Joan was unavailable for comment regarding this.