By Shawn Thoits – Maintenance Foreman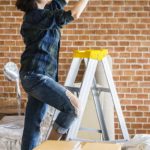 The word "safety" can have a different connotation for different age groups. As children, it may mean requiring adult supervision or listening to the lifeguard at the pool. As young adults, we make sure that we obey safety laws in our workplace and that we follow the rules of the road while we're driving. But there are important safety considerations for older adults, too.
Some of our habits that keep us safe become harder to maintain as our mobility needs change. For example, it can be difficult to reach up to the ceiling – or climb atop a ladder – to change the batteries in a smoke detector. Checking for frayed wiring in an appliance might involve bending, stooping, or heavy lifting. Even making sure that all your doors and windows are locked each night can require a fair amount of time and energy.
One of the many benefits of community living at Seventy-Five State Street is that residents have access to a diverse team of staff who are dedicated to keeping them safe and comfortable, helping with all the tasks described above. Whether it's a housekeeper immediately mopping up a spill (thereby decreasing the risk of a fall) or a maintenance technician adding a grab-bar in an apartment to help with balance, we are here to take the stress out of daily living.
No matter where you live, here are a few simple steps to help keep you safe:
Don't rush to answer the phone. This is when many falls occur. If carrying a cordless phone isn't an option for you, be sure to have a reliable answering machine so that you never have to run to answer a call.
If there is a fire in your home, do not try to put it out, no matter how small it seems. Instead, leave and call 911. You should have at least two ways to exit your apartment or home at any time.
Tape area rugs to the floor so that they do not slip and slide when you walk on them. Very thick rugs can also pose a potential tripping hazard; consider taping around the edges for a smoother transition.
Have a neighbor, friend, or loved one replace the batteries in your smoke detectors, even if they haven't started to chirp. You will avoid the fall risk of a ladder and you'll be protected in the event of smoke or fire danger.
Of course, being prepared for every possible situation is impossible, but asking for help before you need it will help.
If you'd like to consider joining a supported senior community come see us! Helping to safeguard the mobility, independence, health and wellbeing of our residents is what we've been doing since 1854.
Content provided by Seventy-Five State Street.