Beginning in February, the Portland Board of Public Education will hold its regular meeting on the first Tuesday of each month in City Council Chambers at City Hall. The board will hold its second regular monthly meeting – which takes place on the third Tuesday of each month – at alternating schools around the city.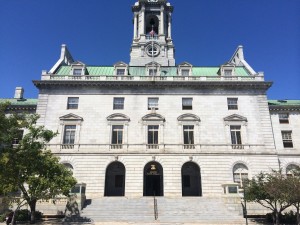 A calendar of meeting locations will be posted on the Portland Public Schools' website for the year to provide predictability and greater public notification.
The school board currently holds its two regular monthly meetings at
Casco Bay High School, inside the Portland Arts and Technology High School located on Allen Avenue in the North Deering neighborhood.
"This move is about the community," said Board Chair Sarah Thompson.
"This year the board held some of its meetings in our school communities, such as Hall Elementary School and the Fifth Maine Regiment on Peaks Island. We found that we had greater community presence when we came to them."
Thompson will announce the meeting location changes at the school
board's Inauguration Ceremony, set for Monday, December 1st, at 4
p.m. in City Council Chambers at City Hall. The changes will become effective as of the board's Tuesday, Feb. 3 board meeting.
Thompson noted that holding school board meetings at City Hall is a resumption of past practice. "This is not a new concept," she said.
"More than a decade ago the board held its meetings in City Council Chambers, but the meeting place was moved to its current location due to the city's space needs and the need specifically for Council Chambers at that time."
Thompson said moving the board's meetings back to City Hall is overdue.