2 Armed Robberies in Back Bay Neighborhood
Police are investigating two armed robberies that occurred Friday, July 17th, in the Baxter Boulevard area. 
At around 1:45 p.m. in the Hannaford parking lot a man sitting in his car was approached by a black male in his twenties with a handgun. The perpetrator demanded his phone, but eventually fled on foot without the phone. 
The suspect was described as a black male, about 20 years old, 5'10" tall and wearing dark color clothing and having afro style hair.
About one hour later a subject matching the description approached a woman in her car in the parking lot of 850 Baxter Boulevard, Seaside Nursing Home. He pointed a handgun at her and ordered her out of the car.  She fled on foot and the perpetrator stole her car. 
The stolen car is a silver 2004 Honda Pilot bearing Maine registration 6690 SZ.
Neither victims were injured. If you see the stolen car do not approach it, call police immediately.
Bank Robbery Update: Reward Increased to $15,000
TruChoice and cPort Federal Credit Unions, are working in cooperation with the Portland Police Department to offer a reward. The reward has been increased to $15,000 for information leading to the arrest and successful prosecution of individuals responsible for the robberies that occurred on May 26th, at TruChoice and June 19th, at cPort.
Upon verification of the information provided and completion of a successful prosecution, a reward will be decided collectively by the contributors to the reward fund, in their sole discretion, and that decision is final, binding and not reviewable. This offer expires and is no longer in effect after August 31st.  No reward money will be paid for information received after August 31st.
Westbrook Man Arrested for Murder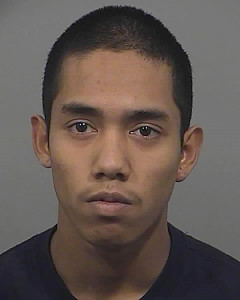 Twenty year old Johnny Ouch of Westbrook was arrested on Thursday morning, July 16th, and charged with murder and elevated aggravated assault.
Ouch was arrested without incident by members of the Maine Violent Offenders Task Force working in coordination with Portland Police Detectives. He was located on East Valentine Street in Westbrook around 11:00 a.m. 
 
Charges are in connection with the shooting death of 19 year old Treyjon Arsenault and the shooting of another man on May 25th, at Da Block Studios in the Old Port.
Mr. Arsenault died from his injuries and a second victim is recovering from gunshot wounds. The identity of the other victim is not being released at this time. Police are calling this a complex investigation which is still continuing.
 
Ouch is pleading not guilty to the charges.
Young Couple Robbed at Gunpoint
A 26 year old man and a 32 year old woman from Windham were robbed at gunpoint on Wednesday nigh at Tortilla Flats on outer Forest Avenue.
The couple were talking outside their cars in the parking lot of the Mexican restaurant Tortilla Flats around 10:20 p.m. They were approached by two men armed with handguns. The armed men demanded money and searched the victims. They took a purse and mobile phone, and fled on foot into the Wellesley Estates apartment complex on Forest Avenue. The victims were not injured.
The perpetrators are both described as black males wearing dark, hooded sweatshirts. One man was between 5'5" and 5'7" tall with a thin build. The other man was about 6'1" tall and medium build.
A police dog tracked the suspects into the Riverton Housing complex, but they were not located. Anyone who was in the area and may have seen the perpetrators is asked to contact the police.
Submit Your Tip
To provide information anonymously, contact Portland Police at 874-8575, text the keyword "GOTCHA" plus the tip message to 274637 (CRIMES), or go to the Portland Police Department website and click "Submit an Anonymous Crime Tip."