Nominations Open for 2016 Indie Biz Awards
Nominations are now open for Portland Buy Local's 2016 Indie Biz Awards. The annual awards celebrate Portland's local independent businesses and community organizations.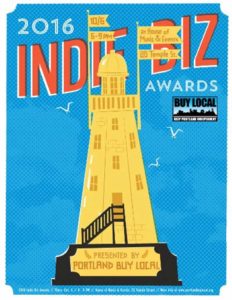 This year's nominations feature three categories:
Made in Portland:  This Portland based business produces a product made right here in Portland that exemplifies quality craftsmanship, innovation and dedication to our local economy.
Business to Business:  This business offers unique and/or exemplary services to other businesses in Portland and beyond.
Better Together:  This business or organization brings people, groups, or businesses together, and functions optimally by collaborating with other entities.
Nominations will also be accepted in the following categories: Flavor of Portland, Environmental Hero, Portland's Best Kept Secret, Out of Sight Not Out of Mind, Creative Crusader, Best New Business, Portland Icon.
Nominations are open to the public through August 11th and can be made by visiting http://www.portlandbuylocal.org/events/portland-buy-local-events/2016-indie-biz-awards/.
Winners will be announced at the 2016 Indie Biz Awards, held on Thursday, October 6th, 6-9 p.m. at Portland House of Music and Events. The event will feature live music, a silent and live auction, and local food and brews.
Sponsorships opportunities are available for the 2016 Indie Biz Awards. Portland Buy Local is looking for auction items and food in-kind donations for the event on October 6th. Those who donate will receive inclusion in Indie Biz Awards promotion over the next several months and will be prominently featured at the event.
Please email info@portlandbuylocal.org if you're interested in learning more.
For more information, go to www.portlandbuylocal.org.