Mohamud's Story: I wish to see my wife and children
MY STORY: English language learners from Portland Adult Education share their story in their own words.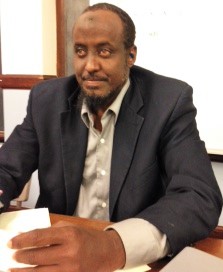 My name is Mohamud and I am from Somalia, Africa. I live in an apartment on Allen Avenue in Portland, Maine. My neighbors are nice people and I like them very much.
In Africa, I lived in the country. My neighborhood had many huts, animals and trees. There was a playground. We were different from cities. My school was big and full of students. It was far from my house, about two miles. I walked there with the neighborhood children.
My name means a person who people thank. My mother gave me my name. It comes from my religion.
I have seven children, two with me here in Portland and five in Africa. I have three daughters. My mother lives in Portland too. I go with my sons to the playground every weekend. In the future, I hope I have grandchildren.
We have two celebrations a year, first, Ramadan, second, the Hajj. In America, we celebrate with Americans when they have holidays. I like all holidays because I can take a rest.
Last year I found a job at Walmart in Scarborough. Work is good. I like my job.
I like some American food like pizza. Also, I cook African food. It is delicious.
My favorite color is green. Green makes me think of summer when the earth is green. It is very cool.
The law I hope to have in America is that every President should be a woman. Also, I hope that there will be no homeless people.
I have many friends, some in Portland and some in another state. And I also have some pen pals. On vacation, I traveled to visit my friends in Boston.
My wish is to be a helper in my community. I like to be honest with everyone and I don't like to lie. I also wish to see my wife and my children and have them live with me here.
In the future, I would like to be a truck driver and complete my education and get a GED.