UPDATE: As of December 22nd, Team Robots made their Kickstarter goal, raising $22,310 from 192 donors. They now have enough money to produce their first set of 5000 games. A success party will be held today from 6 – 8 pm at Arcadia National Bar, on Preble Street. The event will be streamed live from the PBL Robot website.
It started ten years ago, when a kid in Minnesota was inspired by his parents' love of gaming to create and invent his own strategy game, featuring anime-inspired art of 100-foot robots. Now, after a year of development with friends and fellow artists here in the West End, that game-loving kid's dream is coming to life.
Do you have any games?
William Hessian is a local visual artist and activist, who works at Preble Street, teaches at Rivertree Art in Kennebunk, and volunteers at the Meg Perry Center. He is a game-lover, and the inventor of PBL Robots, a card-based strategy game, where players strategically collect parts, build robots one limb at a time, and battle for victory, using dice and a lot of strategy.
For a decade, PBL Robots was little more than a box full of drawings and a jumble of ideas brought together by a young gaming fanatic. That began to change one year ago, at a Sunday art night that Hessian hosts regularly with his friends and fellow artists in the Hidden Ladder Collective–a group of artists who recently moved to the West End from the other side of the Portland peninsula.
At the art night, a restless nine-year-old asked, "Do you have any games?"
Hessian always kept his box of robot drawings in the closet, so he shared the game that he had invented.
The nine-year-old liked it so much that he went home and drew his own cards. Hessian was impressed, and it inspired him to work on the game again. He even kept some of the nine-year-old's ideas, redrew them and added them to the game.
The robot game started making it into the regular rotation of stuff to do at art night, but it was only half-done.
Then John "Sighless" Supinski, a local musician and member of the Hidden Ladder Collective, got involved with the specific goal to produce the game for retail sale.
Sighless made a deal with Hessian, "If I role a seven, let's be partners in the game." And sure enough, he rolled seven.
Once Sighless began working on the game, he created a business plan, invented characters and began writing back stories. For the past year, Hessian, Sighless, and the Hidden Ladder Collective (with nods to Abbeth Russell and Kara Oster for making important contributions) have been refining the game, producing prototypes and test playing it.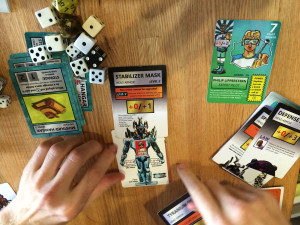 It's like a really good brain exercise game
"Really anybody that enjoys strategy games, Magic the Gathering, Yu-Gi-Oh, and Pokemon… If you like board games like Settlers of Catan or Risk, this game is perfect," said Hessian.
The game begins with a draft phase, where players build their deck of cards. There are 113 unique cards, featuring robots, pilots, weapons and armor. Hessian designed every card himself. Players select pilots, support personnel, and parts to build out their robots. Then the battle begins.
Each player slides their pilot card into the robot card, courtesy of a die cut cockpit in the center of the robot. Then players lay armor cards on the robot to watch the robot grow stronger and boost up the attack and defense. When players start attacking they roll dice to determine if the robot will blow off an arm, a leg or a head. Each pilot has a powerful critical form, when down to one remaining limb, which gives the losing player a chance to make a comeback. When a robot has lost all four limbs, usually one to two hours later, the game is over.
"There is a lot of high decision-making in the game… so it's like a really good brain exercise game," said Hessian. Players need to decide, do they want the strongest weapon, the best pilot, or to focus on building a solid crew.
"Sometimes the best strategy is just to know your opponent's robot really well."
Due to the high level of strategy, the game is intended for players age twelve and up, but there is a play mode that is suitable for younger players.
This version of the game was inspired by third through sixth graders. Hessian teaches art and Lego Robotics classes at Rivertree Arts in Kennebunk. He introduced the game to the third- through sixth-graders there.
"The kids come back the next day demanding to have another glance at the game, and their parents follow right behind curious to see what the kids are so excited about." Because of the kids' persistence, Hessian and Sighless invented a new way to play the game that makes it a little easier for a younger audience.

"The way they were playing [PBL Robots] wasn't… correct… but it inspired us to invent another way for kids age six and up to play," said Hessian.
"They love being the robot, and being able to alter it."
It's called the Ultimate Robot. Players focus on building up their robots, and there is no attacking involved. Using this rule set, the game only takes about thirty minutes, and it is an easy introduction to the full version.
Collecting things for ten years and squishing them all together
Hessian dedicated the game to his father, Jay, who passed away last Christmas Eve. Jay Hessian was a lover of games.  
"My dad was a game collector, so when I was a kid I was always playing the best games. It was really cool. And then my mom wanted to re-write the rules of all the games. And that was really cool, too… Because you were always wondering, or criticizing, 'Is this a good rule, or a bad rule? Let's try it out!'
"Those things have always been things I carried with me," said Hessian.
Hessian grew up playing, collecting and altering games. In the nineties he was introduced to Pokemon, a widely popular video game, cartoon and trading card game. He started playing around with the idea of mixing a collectible card game with his own anime-inspired art. The result was the genesis of PBL Robots.
It took another ten years, but eventually Hessian's long-time love of gaming turned into a new business venture.
Hessian joked, "It's a good business model… collecting things for ten years and squishing them all together."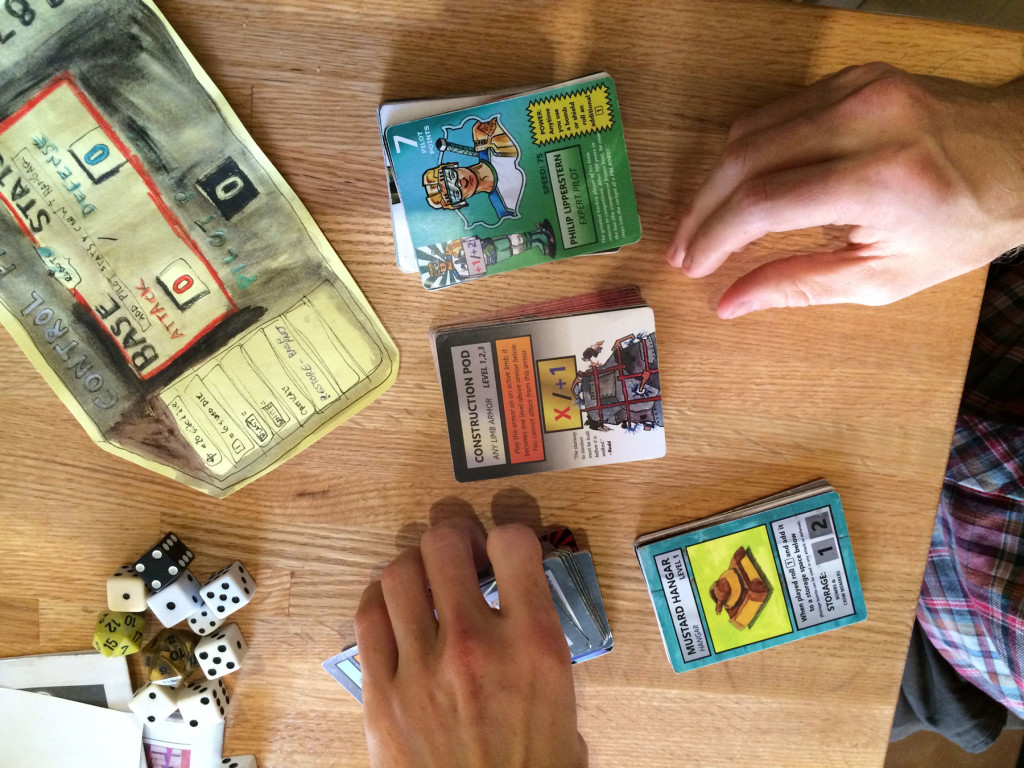 You gotta play the cards that are in your hand
The game has not made it, yet. There are only four prototypes. "Team Robots" is hoping to raise $22,000 to do a large printing of five thousand copies.
They launched a Kickstarter campaign online in late October. As of December 22nd, Team Robots made their goal, raising $22,310 from 192 donors.
Team Robots is looking for help to translate the game into other languages, and to create a mobile app.
Like with any new venture, whether it will be successful is hard to say. But, Hessian's own advice on how best to win PBL Robots, might be the best advice for anyone striking out to make something real from a childhood dream, "You gotta play the cards that are in your hand."