The Portland Palate
Dining Al Fresco in a New World
By James Fereira
As a food writer, it's been hard to know what and how to write about eating out during a pandemic. We try all the angles to keep our readers interested. From straight-on to snark, it's a continuous stream of striving toward invention in a new world with ever-changing rules. Speaking of new, during this evolution which each of us is navigating, 'measured risk' seems the rule: no inside dining for me yet. Al fresco only.
At least the sense of grave danger stepping outside my home has subsided. Living in the city, the world is still a human obstacle course, but I seem to be negotiating it with greater skill and confidence.
The air is cooler now, but redolent of a familiar summer ritual: dining al fresco. Sure, the pandemic has forged for survival a proliferation of pop-up 'corrals' downtown. No, thanks. Half the point of eating-out for me is experiencing the internal atmosphere, too. I'm not interested in sitting in a parking lot. There are, however, dedicated decks and patios that pre-existed this crisis. They were around before Covid-19 was a thing, and they are my 'go to' in summer. Here are some of my favorites.
Bayside American Café
98 Portland Street, Portland | 207-774-0005
https://www.restaurantji.com/me/portland/bayside-american-cafe-/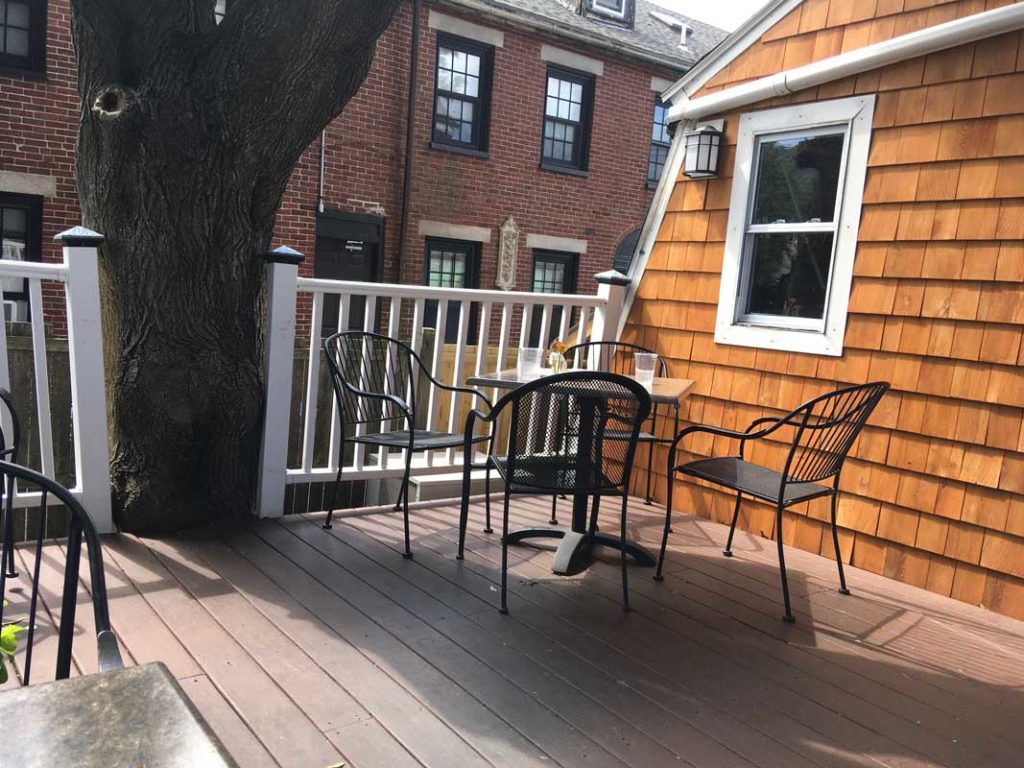 For my solo late lunch on a Friday, there was a 30-minute wait. Dodging my way past the copious litter and homeless encampment, I meandered over to Deering Oaks Park and the rose garden to pass the time until my table was ready.
Masked-up I ordered a satisfying smoked salmon Benedict with baby spinach and mixed potato home fry, with iced coffee for $23.00 including gratuity. I love this deck and sit out here once a year. Things had changed. For one, no cigarette smoke wafted from the Rockin' Ricky's crowd, as the bar closed (thankfully) last year.
It felt strange to sit far apart from other patrons, eating off throw-away plates, and ordering from a QR coded menu on my phone. Nevertheless, there was a familiarity and comfort in knowing that some parts of life are still as they were.
The Treehouse Restaurant
484 Stevens Avenue, Portland | 207-874-0706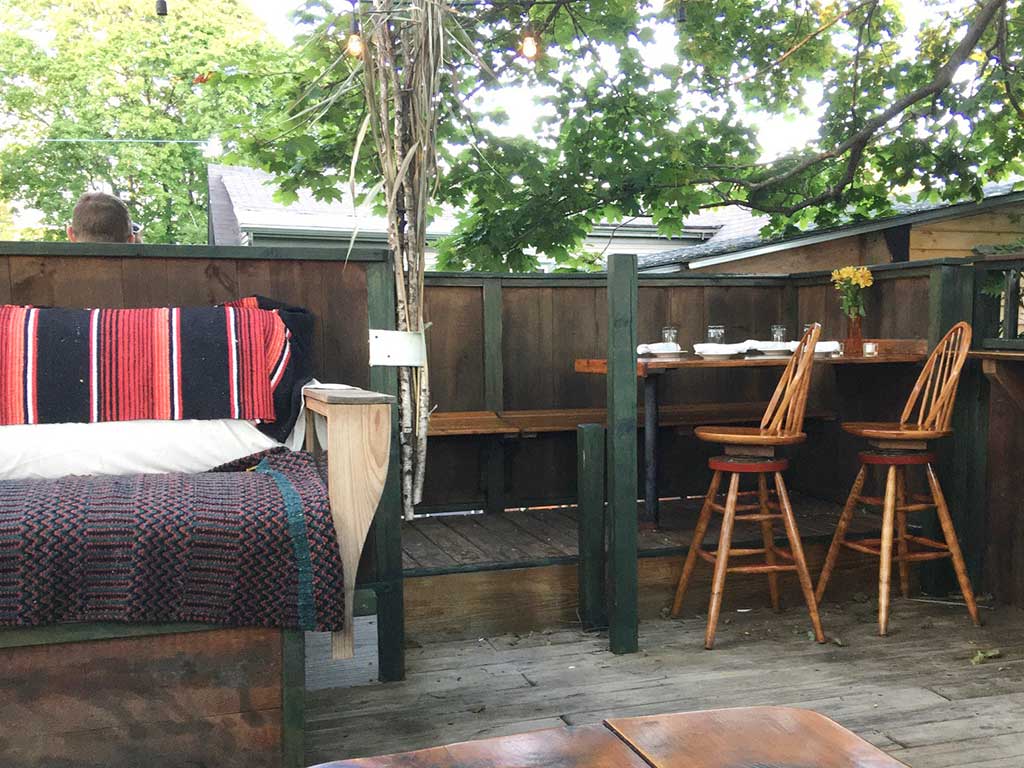 Going 'off peninsula' I visited this recondite yet superb restaurant in Portland's Deering neighborhood…on the #9 METRO bus route. It's cleverly hidden above Pat's Meat Market, up a long staircase.
Since I was last here two years ago, they've improved their image. From girly short-shorts mentality to stylish long-dress classy. Treehouse Restaurant has transported itself. The food is still amazing, ample, and affordable.
Friend Joyce and I landed a nice table aside a large outdoor plant and water fountain which offered space around us. Not sitting inside is a shame. The interior, as much as the deck, is a masterpiece in comfort, lighting, and ambiance – if not a bit dark.
My short Pina Colada was refreshing, and we shared a savory Brussels sprouts appetizer: pan-seared with crispy bacon and sweet raspberry balsamic. For a main Joyce enjoyed a savory chèvre and bacon flatbread, with sautéed garlic, fresh herbs, caramelized onions, and Romano. It could have spared some on the goat cheese. My ravioli crisps with sautéed shallot, garlic, and toasted walnut tossed with spinach, creme fraiche, and lemon were excellent.
Ah, what a joy to experience such a glorious al fresco dinner out with a good friend, and at $65.00 inclusive. One improvement though: when you serve a garnish of luscious red grapes… make sure they are the seedless kind. That was not a pleasant surprise. Then again, maybe my etiquette was faulty, and they were only meant for decoration.
Yosaku
1 Danforth Street, Portland | 207-780-0880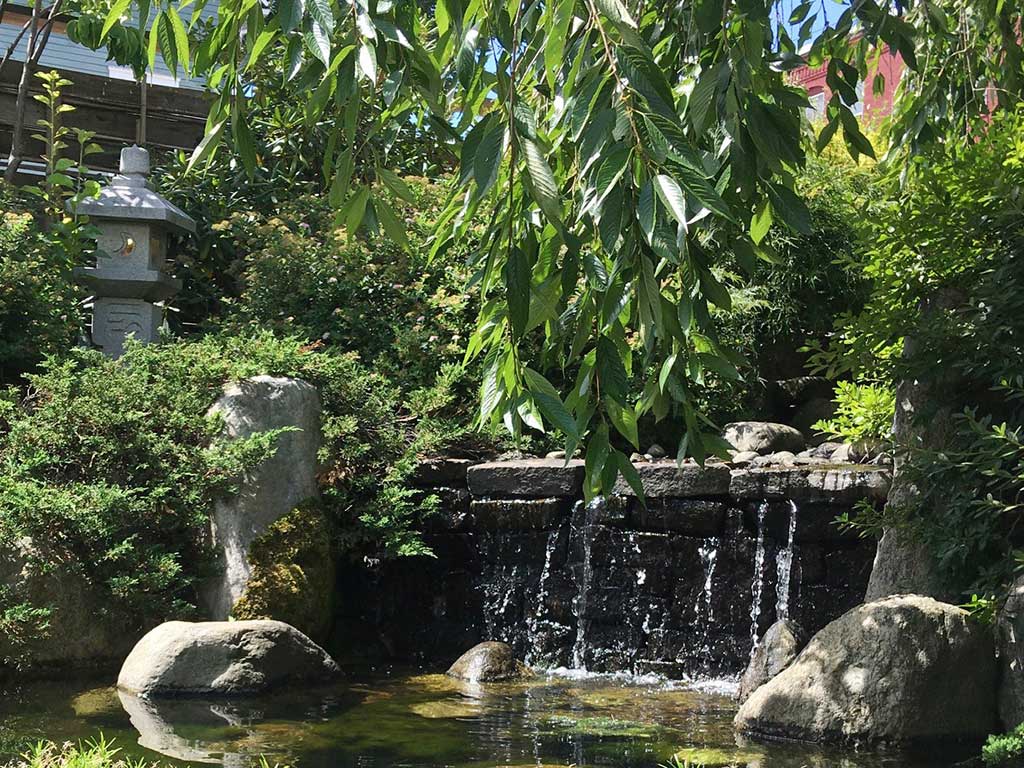 Another must-visit patio for me is the lovely deck here in Gorham's Corner, complete with flora and fishpond. The wait was brief, and I was lucky to snag a solo table by the waterfall.
Their minimized paper menu lacked a deciphering of terms, so I went with what was familiar: a shrimp and vegetable tempura with dipping sauce, white rice, iced tea, and California rolls. It was delicious, as always, and ran me a reasonable $24.00 including tax and tip.
It felt good to check this summer restaurant ritual off my short list. Move over, Covid.
Black Cow
83 Exchange St., Portland | 207-772-7774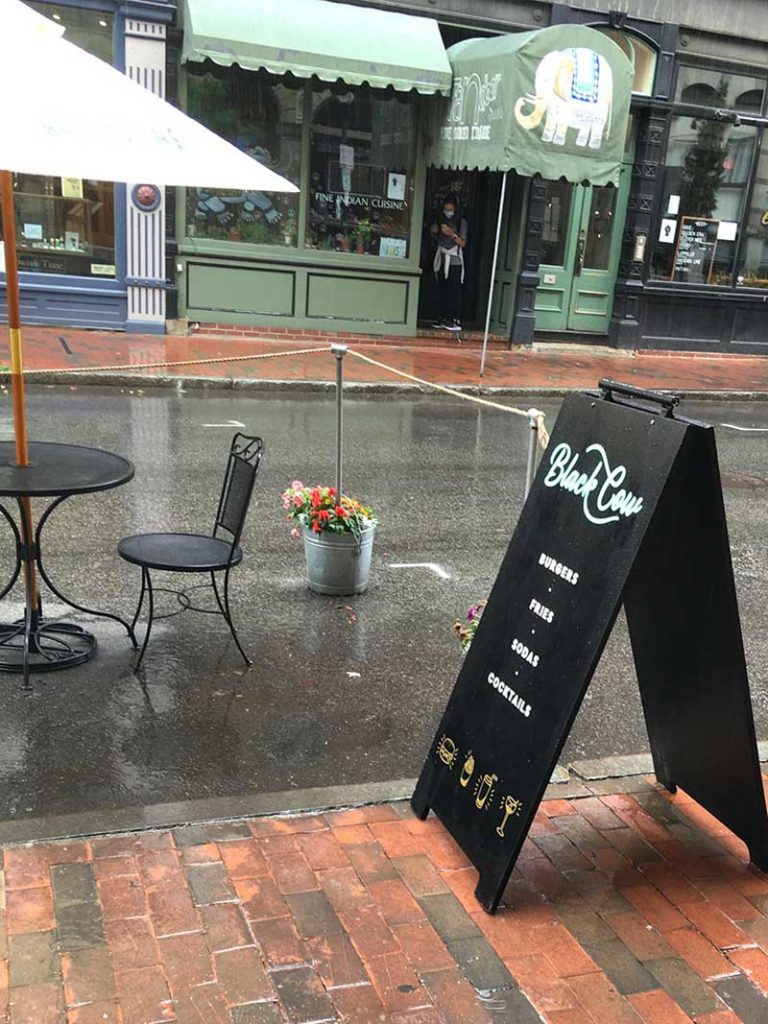 Friend Jon and I met here on what turned-out to be a showery day. We were the first customers as they opened for lunch and got to pick an umbrellaed table alongside their historic building at Post Office Park.
After giving the required contact information for possible tracing purposes and having the Covid safety rules explained… we ordered. Essentially identical, minus the cheese on his, we enjoyed chocolate shakes and shoestring French fries accompanying burgers with shredded lettuce, pickles, mustard, onion, ketchup, and mayo.
As the rain began to fall, we declined the kind offer to wear ponchos, preferring to take our chances, and the wet mostly spared us. About $25.00 each covered this meal, inclusive. I'd been craving the call for a burger for a few weeks now, and this meal did the trick.
Bramhall Pub
769 Congress Street, Portland | 207-805-1978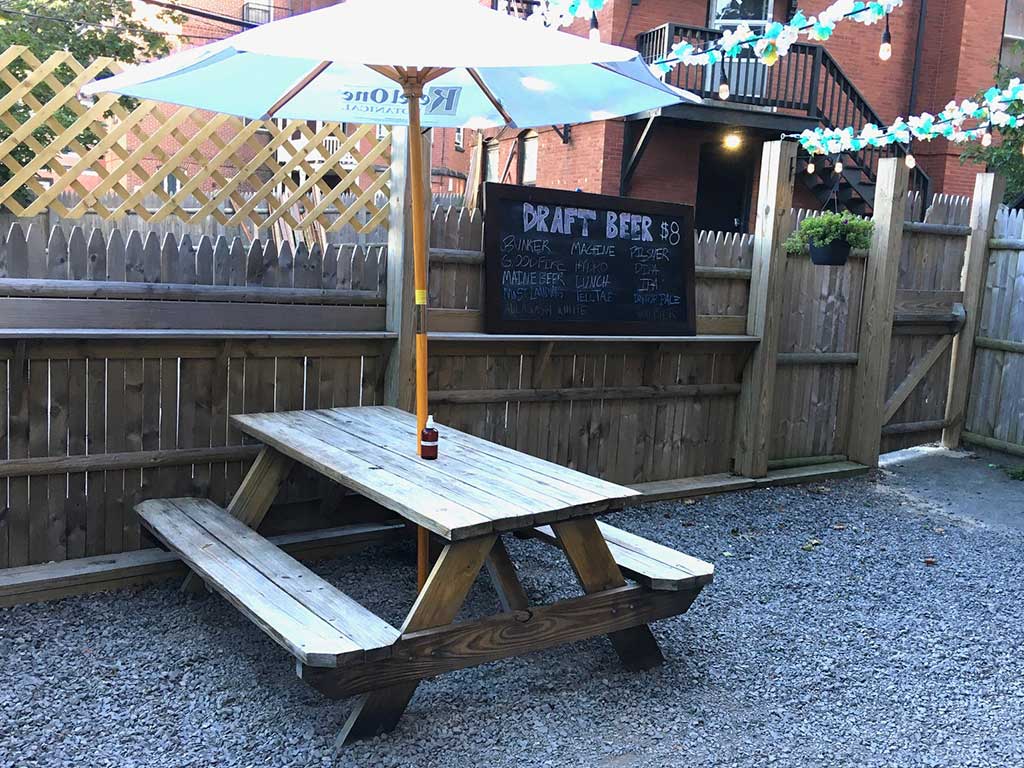 Friend Alex and I ventured over on foot to this favorite local hang-out. Sure, we were practically the only patrons over 50, but sitting out back among millennials helps keep one youthful, right?
We each ordered a Citizen hard cider (from Burlington, VT): the slightly hoppy Lake Hopper, and for me the Dirty Mayor with a touch of ginger. Yum. They come in a can, but that's nothing that a tall glass can't fix.
His roasted beet salad with arugula, fried goat cheese, pistachios, and an orange-honey vinaigrette dressing was a bit salty, but delicious. I went for the Bramhall cheeseburger with Bearnaise sauce, lettuce, tomato, onion, and fries on the side.
They had no mayo in stock, yet I like some on my burger and with my fries. So, the chef made me some from scratch. What?! You just don't experience that every day! They get points for good service and ingenuity. And at $51.00 plus tax and tip, this dinner satisfied two hungry guys nicely.
These were some of my adventures dining al fresco this summer. There's no telling yet what next year will bring. But if we truly want this pandemic to go away and stay away, listening to science and not politicians – or the covidiots who worship them – must prevail.
Use common sense everyone and mask-up, please, for everyone's sake, especially mine.
James Fereira has a background in square dancing, social activism, and being a Portland History Docent. In his spare time he enjoys getting censored on FaceBook and questioning authority. James can be reached at ThePortlandPalate@gmail.com.