MY STORY: English-language learners from Portland Adult Education sharing their stories in their words. We welcome them to Portland.
I am William Joao from Angola. My grandmother and grandfather and my father passed away but my mother is alive. Mom Elisa lives in Kinshasa, D.R.C. My grandfather lived in Kinshasa, also, and every November me and my brother went to visit the family.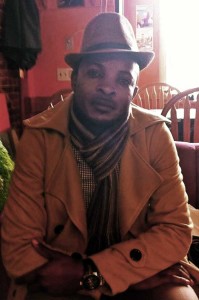 My wife, Carla, and I have two sons, William and Jeremia, and my daughter Miriady. They live in Luanda, Angola.
They will come here after maybe one year. I like my family because it's my joy. I need my daughter and sons to go to school every day the Monday to Friday is very important. Sometimes I see my wife on Skype.
My favorite subject in school was music. My favorite music is gospel. I do Instagram art. My favorite TV shows are 24 (Jack Bauer), BET channel, news on channel 13, and basketball.
The holidays I celebrate are:
January 1 – New Year's
January 4 – Colonial Repression Martyrs' Day
April 4 – Day of Peace
May 1 – Works Day
August 28 Рbirthday of Angolan president José Eduardo dos Santos
November 11 – Independence Day (and my birthday)
December 25 – Christmas, together in family.
I live in an apartment on Marginal Way with my friend Miguel. I met him one year ago. He's very very nice friend. Every Sunday, we play football together with other people.
My home now is very different because here I have kitchen sink, toilet and shower, microwave, coffee maker, but in my country I didn't have these appliances.
I'm thankful because my health is good. For me unfortunately recovery the enjoy for my life is slow, but I'm thankful God is good all times.
In Angola, I was a bank supervisor. I also owned 2 shops with 2 people working for me.
I travelled to China to buy things to sell in my shops. Every month, I would go to China to buy clothing and cell phones.
The President of Angola only allowed one type of cell phone. Many people wanted a better cell phone. I would buy them in China and sell them in my shops. I am very sad about the loss of my shops.
My story is that the Angolan government didn't like my business. They came into my shops and destroyed them.
They were looking for me, so I had to leave. I flew to Dubai to be safe.
I was in the Dubai airport for 5 days with no money and no food. I used the free computers they had in the airport to ask friends in my country to send me money through Western Union. I used Facebook to talk to my friends. One friend sent me $200, and one sent $300, until I could buy a ticket to America.
I got to Washington D.C. with only $150. I spent one night in a hotel, and asked people where I should go. Someone told me to take Greyhound to Portland, Maine, because they have assistance there.
When I came to Portland, I stayed in shelter for one month. I was on GA for 3 months, but I wanted to stop. I don't like anyone to pay for me because I can work.
I was working at Barber Food, but my work permit expired. I am waiting for a new permit. I have been waiting many months. I want to stay in Portland because there is good education here, but I will move to a different state if there is a job for me.
If I could start a business, I would start a shoe store, because I like shoes too much. I like to have good style of clothes.
In the future, I want to work again in a bank.