Aging in Place in the Greater West End
SURVEY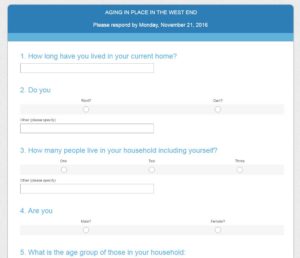 West End Community Action Network – Aging in Place (WECANAIP) is a small group of volunteers working to make sure our homes and our neighborhoods, including Parkside, St. John Valley, the West End and the Western Prom, continue to be good places to live as people age.
To that end, we created a survey to help identify what services and supports neighbors over 50 might want or need in order to safely, happily and affordably age in their own homes. You'll find a link to the survey below.  If you are over 50 and living in one of the areas listed above, please take a few minutes to let us know what might help you, now or in the future, remain in our neighborhood.
If you already received a paper version of this survey by mail or from a volunteer, and responded, thank you!  No need to take it again.
To take the survey online, please click on the link below or paste it in your browser.  Please respond before Monday, November 21st.
https://www.surveymonkey.com/r/TW7KB87
If you want to find out more about our efforts, please contact us at WECANAIP@gmail.com.
Thank you!