A burst water pipe flooded the basement at community radio station WMPG. Supporters have rallied and are saving many of the records that were damaged.
In late April a pipe burst overnight and poured water into the WMPG basement, where some of the station's music library was located, including the entire vinyl collection.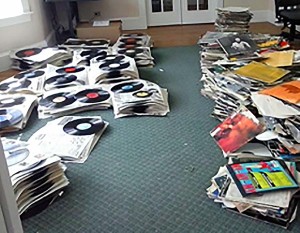 When station manager Jim Rand arrived at the station in the morning, he received a message indicating a problem with the water pressure. University officials responded, shut off the water, removed any standing water and made initial repairs, but damage to the library had already happened. About 3000 records were soaked, mostly blues from well-regarded WMPG blues collection.
Students and volunteers helped to take the vinyl out of soaked sleeves and covers. The student newspaper provided stacks of back copies of the paper, and the records were stacked between sheets of paper to dry out. The vinyl was in not-too bad shape, and was already drying out once removed from the wet paper. 
WMPG is housed at USM. The university gave the station a large space at the vacant house next door to use for drying the records. De-humidifiers and fans were still running to help dry things out as of early May.
Down in the basement, USM removed the wet sheetrock and disinfected the area. Dehumidifiers are running.
The story has traveled across the country and around the world. Calls, visits and emails have come with offers of help, and donations of records and money (there will be some costs to restoring the library).