Recycle Electronics at USM's 4th Annual Community Electronic Recycle Day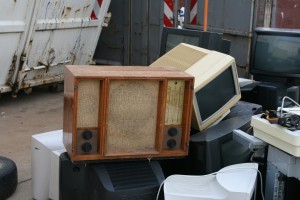 The community  is invited to recycle electronics at the 4th Annual Community Electronic Recycle Day at USM on April 23rd, 9 a.m. to 1 p.m., in the Woodbury Campus Center Parking Lot, 45 Bedford Street.
This is the 4th year USM is holding the event, which has recycled and kept out of the waste stream thousands of pounds of electronics.
Recycling is a responsible way of disposing of electronics which contain harmful metals and other contaminants a community would not want in its waste stream.
USM Resource Recovery Supervisor Steve Sweeney tallied the electronics recycled at last year's event:
• 51,000 Pounds of Electronic Waste
• 3,500 pounds of appliances
• 556 Cars (filled with electronics) were unloaded on site
USM welcomes any form of drop-off: cars, walk-ins. Over the years folks have arrived by city bus, taxi and on bicycle. Last year a bicyclist arrived with an old toaster strapped to his bike rack.
The recycling event is free and open to the public. USM will be accepting monetary donations for Preble Street Resource Center at the event.
The following items will be accepted and recycled for FREE:
• TV's & Flat Panel TV's
• Computers & Laptops
• Monitors
• Hard Drives
• Keyboards, mice, speakers & other peripherals
• Printers, Copiers, Scanners, Fax Machines
• Stereo Equipment
• VCR / DVD / CD Players
• Cell Phones, Telephones
• Cameras
• Air Conditioners, De-Humidifiers
• Refrigerators, Freezers
• Microwaves, Toasters
• And other household electronic waste
The following will NOT be accepted: batteries, light bulbs, and smoke detectors.