PORTLAND WINTER FARMERS' MARKET
by Jenn Thompson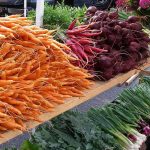 Amidst the ice and wind, you will find farmers selling their wares each Saturday from 9 a.m. to 1 p.m. at the Portland Winter Farmers' Market. The market is located in East Bayside at 84 Cove Street.
Looking for fresh greens in the cold of winter?
Maine is home to some of the most innovative farmers in the world, and fresh greens are available year-round. Winter greens, often grown in unheated hoop-houses, are especially flavorful this time of year. These greens produce extra sugars  this time of year that makes them frost resistant. Also, the extra sugar lends these delicate winter varieties an unparalleled sweetness. You can find an abundance of kale, spinach, salad greens, swiss chard, pea shoots and tatsoi. If you are not well versed in preparing tatsoi, or are not aware of its unrivalled ability to enhance your cooking skills, ask Dominic at Two Farmers Farm for some advice. Prepare to be hooked.
Farmers also haul in a variety of storage crops each week, including winter squashes, sweet potatoes, leeks, onions, garlic, turnips, parsnips, cabbage, purple potatoes, red potatoes and more potatoes. Strike up a conversation with Jan at Goranson Farm or Meg at Southpaw Farm to learn which varieties of potatoes are better baked and which are better fried, or mashed. When carrot shopping, you can choose between yellow, orange and even purple in color. Or, my favorite, choose the ones that are purple on the outside and orange in the middle. Whose chili would not benefit from some unexpected multi-colored discs?
Cheese and honey, anyone?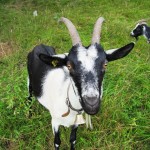 Kennebec Cheesery and Tourmaline Hill Farm supply the Market with a variety of goat cheeses, as well as goat milk, goat yogurt, goat keifer and cajeta. A variety of soft, hard and aged cow cheeses can be found at Swallowtail and Balfour Farms, as well as milk and cultured butter. Beef, pork, goat and poultry are available, and all from happy, healthy and local animals. Thirty Acre brings a spread of fermented goods ranging from sauerkraut to beet kvass to hot sauce, and their many concoctions are often available to sample. Other market staples include eggs, apples, dried beans, cider, mushrooms from North Spore, honey from Tom's Honey, and wood-fired fresh baked bread from Good Shepard's Farm (my personal favorite is sourdough chaga bread, made from Maine-grown wheat).
Clara can help you.
Speak with Clara at the market's Information Booth. She can help you use your debit, credit or SNAP card to purchase wooden tokens to give to the farmers. The optional $1 donation per transaction supports the Market's Low Income Access Program.
Consider signing up to become a "friend of the market" and make a yearly donation to the program. You can help make healthy local food accessible to everyone in our community. Everyone should have the option to shop and eat locally.  We can all play a role in making the Portland Farmers' Market a place where all our neighbors can shop.
Jenn Thompson
Jenn is the Portland Buy Local Executive Director. To learn more visit portlandbuylocal.org.