POLICE BEAT
West End Shooting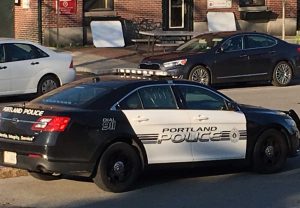 On May 30st Police responded to a West End shooting. At 8:30 p.m. a 48-year-old Portland man was shot outside 146 Chadwick Street. Neighbors reported hearing a disturbance followed by the sound of a single gunshot.
The victim was transported to Maine Medical Center for treatment and is in stable condition. He is expected to make a full recovery. The victim's name has not been released by time of print because of the violent nature of the incident and that it remains under investigation.
Police have identified both men involved with the West End shooting and can now say they are known to each other. Both are believed to have been armed with handguns during a dispute that ended with one man being shot.
No arrests have been made at this time. Police do not believe there is any danger to the public.
Several witnesses have been interviewed and the investigation is ongoing. Detectives are working with the District Attorney's Office to evaluate the facts and determine any possible criminal charges.
Police strongly caution against the introduction of firearms into arguments or disputes.
Unknown Suspect Assaulting Women
Police are seeking assistance in identifying a suspect who assaulted three women in the area of Congress Street from Neal Street to Weymouth Street.  Police now believe the three incidents are related.
The descriptions of the suspect are consistent — he is a white male, about 30-years-old, 5'7 to 6 feet tall, long blonde hair, heavy set, rugged frame, two or more lower lip piercings, wears a baseball hat, and glasses.
On April 30th, at 9:00 p.m. a 29-year-old woman told police she was assaulted in a rear alley behind 169 Neal Street. The suspect grabbed the victim around the neck, grabbed the money she concealed in her bra, and fled.  
On May 24th, at 11:30 p.m., a 30-year-old Portland woman said a man approached her from behind on Weymouth Street near Congress. The man grabbed her around the neck, strangled her and took her bra.
On May 27th, investigators located a third victim, a 26-year-old Portland woman. She now reports being assault by a man matching the same description on April 20th, at 8:00 p.m. on Congress Street near Weymouth Street. The woman said the man walked up behind her and grabbed her buttocks. She sprayed him with pepper spray and he fled east on Grant Street.
In all three incidents, the suspect approached a lone woman from behind. The incidents have occurred in the evening or late evening.
The investigation along with additional patrols and searches in the area has not located any suspects.  It is believed that the suspect may live or frequent the area.
Anyone that may have witnessed any of the above assaults or is familiar with an individual matching the above description should contact the Police at 207.874.8575.
Submit Your Tip
To provide information anonymously, contact Portland Police at 874-8575, text the keyword "GOTCHA" plus the tip message to 274637 (CRIMES), or go to the www.portland-police.com and click "Submit an Anonymous Crime Tip."