POLICE BEAT
West End Prostitution Sting Operation
In August a West End prostitution sting operation led to the arrest of four men for engaging a prostitute, a class E crime.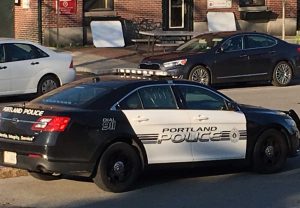 City police conducted a prostitution sting targeting men who solicited an undercover female police officer. The arrests occurred between 11 a.m. and 3:30 p.m. along Congress Street in the West End near Walker and Neal Streets.
Police state that the West End prostitution operation was designed to target the "John" or client. It is widely recognized that Johns are the driving force in human sex trafficking. It is their money that fuels this illegal industry.
The following individuals were arrested and transported to the Cumberland County Jail:  Paul Geoffrion, 52 years old of Cape Elizabeth; Charles Freeman, 56 years old of Limerick; Samuel Aguilar, 30 years old of Portland; and David Ladd, 46 years old of Portland.
Three Arrested for Violent Armed Robbery
Three men were arrested at 2:30 a.m. August 23rd, and charged with the armed robbery of a 24-year-old Portland woman.
Police officers heard a woman screaming for help at Franklin and Congress Streets, when they saw three men running from the area. Officers acted quickly to find the victim and begin searching for the three men, who she said assaulted and robbed her.
The victim said the men, who she does not know, knocked her to the ground and tried to steal her purse.  She was tased by one man and hit on the head with a handgun by a second man. She screamed for help and the men ran away when police cars were approaching.
All three suspects were found and arrested in an alley between Temple and Exchange Streets. They are Kordell Wadley and Devin Bedard, both of Biddeford, and Tyler Poirier of Sanford. All three are 18 years old. They are all charged with Robbery, Aggravated Assault, and refusing to submit to arrest.
The victim was treated at a local hospital for injuries from the assault. She has been released.
A second woman has since come forward to report she was also robbed by three men on Oxford Street. This occurred just minutes before the other incident. She was not injured. That case is under investigation and no one has been charged as of print.
Submit Your Tip
To provide information anonymously, contact Portland Police at 874-8575, text the keyword "GOTCHA" plus the tip message to 274637 (CRIMES), or go to www.portland-police.com and click "Submit an Anonymous Crime Tip."