A big evening of great puppets, stilt walkers, music and drums, belly dancers, and wild creative costumes…
On Wednesday, October 31st, the 36th Annual West End Halloween Parade will start gathering at 5:30 p.m. at the Reiche School playground (166 Brackett Street).
New this year, the parade will begin with a puppet procession around the playground and then proceed out to Brackett Street to begin the short parade promptly at 6:30 p.m.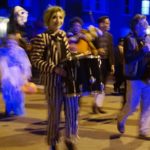 This year's route will head up Brackett, turn left on Pine Street for one block and left down Clark Street to finish back at the playground.
Organizers are seeking more neighbors and friends to help infuse the night with special music, lights, decorations, puppet walking, and candy throwing. Contact parade organizers at wynneway@yahoo.com to carry a shoestring puppet. And bring your candy bowls out along the route with musical instruments or noise makers.
With the shortened parade, the hope is that all will walk (or dance) the entire long block.
Please consider supporting this long-standing community event. For more information and updates visit www.facebook.com/WestEndHalloween.
Also, tax-deductible contributions are very welcome and help defray parade costs. Please send to: Youth In Action, 53 Spruce Street, Portland, ME 04102.