By Tom Landry
The race to buy a home in the Greater Portland real estate market is on, and it's one of the most competitive ever. Open houses are packed, sellers are receiving multiple offers, and homes are under contract in days with many selling at far over asking price.
TIPS FOR BUYERS
So how do buyers get their offers noticed and prepare to make quick decisions? First, buyers should have proof of financing or funds in hand when submitting an offer. Second, their first offer should be the best. It should reflect what the home is worth, which may be above the list price. Also, to sweeten the deal it could include things like no inspections, rent back options, or quick closings. Third, make it personal. A handwritten letter introducing themselves and why they want the property is not only a nice touch, it is often the deciding factor for sellers.
TIPS FOR SELLERS
With prices up and inventory low, it is for the most part a seller's market. But even in a very active market, simply putting out a sign is rarely enough. Most sellers need a "go to market" plan. First, if sellers have simple projects to complete like painting a room or repairing a window, they should do it before listing. Second, they should remove clutter, organize, and stage the home. Buyers want to see the house, not stuff. Once the home is looking tiptop, sellers need professional photography, video, and virtual tours, because most buyers first see homes online. Third, homes need to be well marketed using a broad range of tools from traditional real estate sites and publications to social media and PR.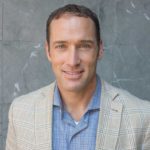 Lastly, both buyers and sellers should work with a highly experienced local realtor. To hire the right one, always interview them to ensure a good fit. Also, make sure they're qualified to help you buy or sell the type of property and in the area you want.
Tom Landry
Tom Landry is owner of both Benchmark Residential & Investment Real Estate and CornerStone Building and Restoration. Learn more about their suite of services at www.whereyoucallhome.com.