We're All In This Together
Climate Solutions Beyond Your Backyard
By Ed Pontius
Do you wince when yet another climate disaster story comes on the news?

Do you find yourself wondering whether you really want to know about even one more dying glacier…
one more threatened species…
one more island drowning?

In the back of your mind, are you thinking, "How am I supposed to sleep tonight, worrying about all this?"
And the truth is, it really IS too much for any of us to worry about – alone.
It really IS too much for any of us to handle – without a plan.
Alone, without a plan, it's hard to avoid wanting to shut it all out, hands over our eyes, humming as loud as we can. HMMM!!! HMMM!!! HMMM!!! I'M NOT LISTENING!!!
The good news is, you are NOT alone.
There are lots of good people who share your concerns. People have been working on this climate crisis for a long time. They've figured out for sure what the problem is (we're burning fossil fuels and we're putting way too much greenhouse gas into the atmosphere).
What's more, people have figured out a way to get us out of this mess!
Peter Dugas shared in last month's column how the plan detailed in a bipartisan bill now in Congress, called the Energy Innovation and Carbon Dividend Act (HR 763), will control carbon emissions, create jobs, and save lives.
So what's the best way for us to sleep better tonight? The best way is for us to get over feelings of helplessness and to DO SOMETHING.
Maine Climate Youth
And what can we do? One really useful thing to do would be to help CREATE POLITICAL WILL. And a great opportunity to do that – as you've been reading in recent issues of West End News – is to support our Maine youth who are active on climate.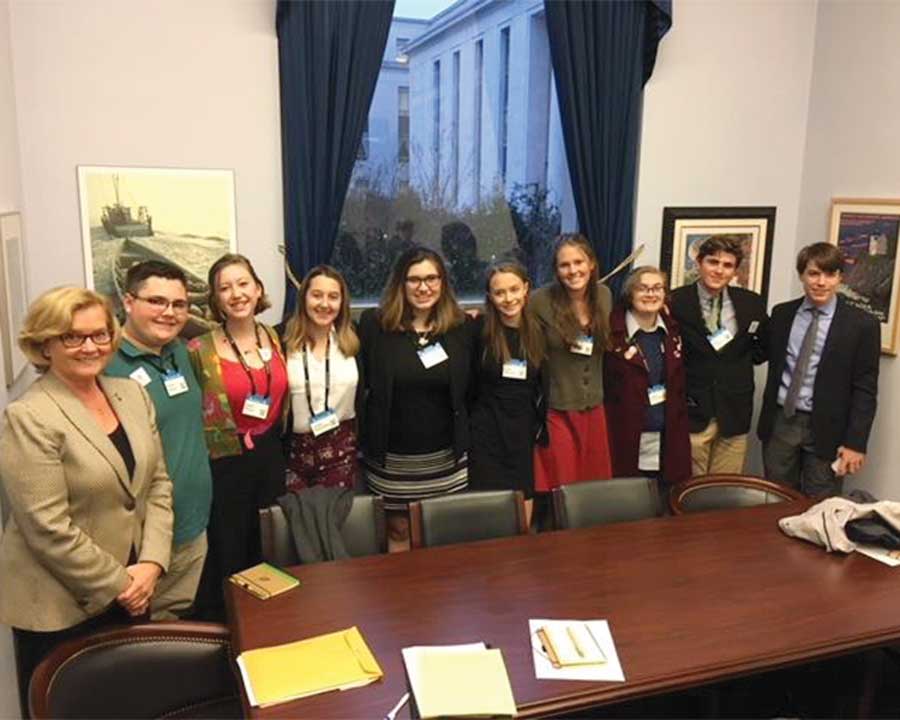 In the photo you see nine Maine youth who went to Washington DC last November with Citizens' Climate Lobby, and with them is Maine's Representative Chellie Pingree. These youth made a real impact. After this meeting, Chellie signed on as a sponsor of the Energy Innovation and Carbon Dividend Act.
There is MORE work to be done. You can help – right now, in less than 5 minutes – by supporting our Maine youth who are going this month to lobby our Members of Congress.
After all, we need Senator King and Senator Collins and Rep. Golden to step up, too. Even a small donation will help. Go to https://www.gofundme.com/f/myea-washington-dc-trip-2019.
Please check it out. And we can all sleep more confidently tonight, knowing Maine's youth will help us get on track.
---
Ed Pontius is a volunteer with Citizens' Climate Lobby, a nonpartisan grassroots advocacy organization focused on national policies to address climate change.