Travel with Nancy Dorrans
Sunny Side Positive Posts
One of my Facebook friends posted this plea in late January: "Stop POSTING POLITICS EVERYONE!!"
Okay I get it. Although I'm excited that so many citizens are getting involved, organizing their energy and action, there also is so much, too much true news, false news, fake news. It is confusing, constant and all consuming.
So, just after I saw my friend's post, I decided if she and others were tired of politics that I would start posting something positive and non-political on Facebook each and every day for 100 days — the first 100 days of the new administration.
That's a lot of positivism and I thought my idea would go viral. That didn't happen. But now that I'm focusing on the best moment of every day, I found that a lot of good positive things have been happening to me. Mind you, I'm still staying active and engaged locally, however more of my energy and attention is on the sunny side starting with my first simple positive post on January 25th:
"TODAY the sun is shining in Portland, Maine!"
February posts begin with the positive news that there is new growth on my Christmas cactus. On Groundhog Day an old friend shared a group photo from 1986, when I was a ski instructor at Boston Mills in Peninsula, Ohio.
"Ski Ohio?" you may ask. "Are there mountains in Ohio?"
No, there are no mountains but there are valleys. In fact, in Cuyahoga Valley, I learned from the best instructors how to ski and more importantly the skills I needed to help other people learn to ski. I've been teaching others to ski almost every winter ever since!
As an independent travel advisor and group trip coordinator, I enjoy a flexible schedule. However, working for myself can get overwhelming at times. I made sure to post how very grateful I am to be connected with many strong, smart, caring people that help support me and my work. Especially true, I am grateful for my peeps at co-working space PelotonLabs.  Here I find my amazing co-working family. Together we share weekly yummy crockpot lunches and an occasional spontaneous late night dinner.
New England Disabled Sports
From the middle of the month and through February vacation week, most of my positive posts have been about volunteering as a ski instructor for New England Disabled Sports and helping teach some international ski groups at Loon Mountain Resort in Lincoln, New Hampshire.
New snow in two storms kept me up in the White Mountains, and I got to take first track runs after the big storm with Loon Ski Patrol pals before meeting my group of lads from Northern Ireland that were there for their mid-term break. With fresh snow all day – and this being only their third day on skis – they spent plenty of time picking themselves up. But they were laughing the whole time! Such quick learners, we ended up touring most of the mountain by day's end.
"Now that's good craic fun!" one of them said… Good craic fun!
February vacation week I was assigned to teach a sweet four-year-old mildly autistic boy — just one of many New England Disabled Sports success stories. His parents are thrilled. He is beaming, and we had a great week with spring-like temps.
Loon is celebrating fifty years, and the kids were lucky to get to ride in the Golden Gondola, feed the birds and ski with Rocky the Squirrel!
Shine On
Seems to me that positive posts have a snowball effect. Back in Maine I visited Julie Bernier at her new shop Earth Angel Arts in South Portland. And now I have a Julie Bernier original, a piece of positive art. Plus the same day my missing snowman earring appeared from under my car seat.
I hope that upcoming positive posts include the return of Old Man Winter before the end of March…
April will bring new growth and an Adventure Marketplace bus tour to New York City from April 28th to 30th.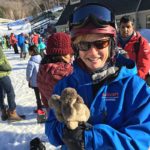 Visit http://adventure-marketplace.com for more details on the NYC tour and other adventures. And try giving the sunny side a shot. It is working for me!
Nancy Dorrans
Nancy is a West Ender and an independent travel agent at Adventure Marketplace.