The Portland Palate
Food Truck Craze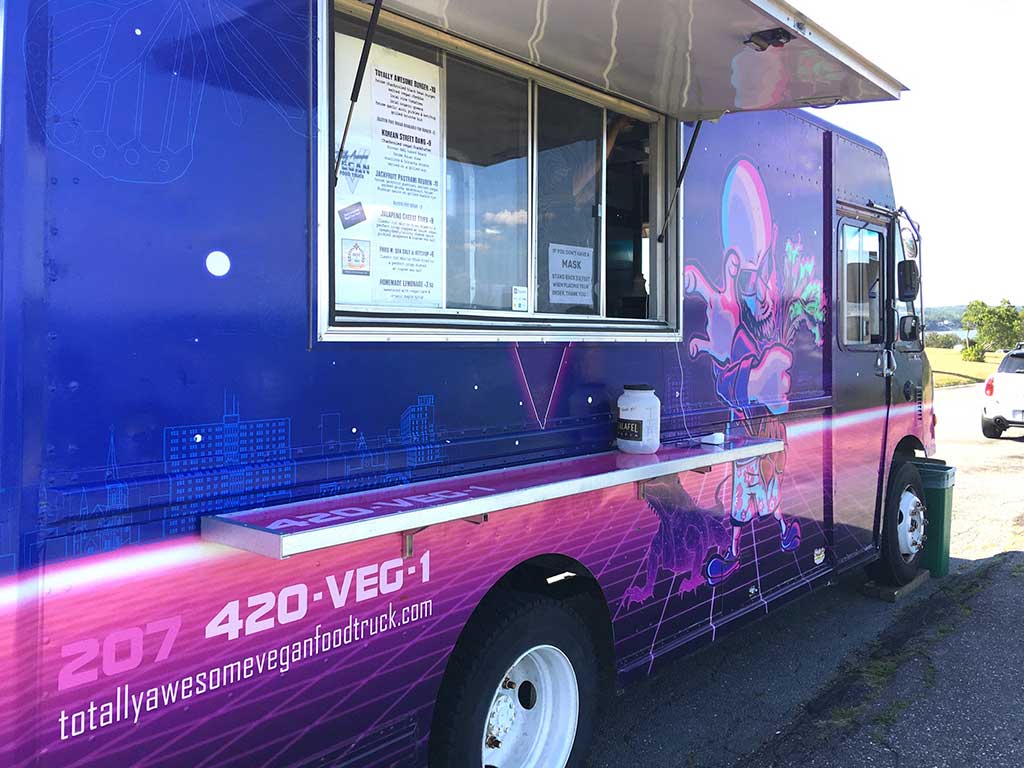 It's summer. The weather's been beautiful and we're outdoors again, defying Covid and the ever-present danger which thwarts and threatens to keep us paralyzed in our lonely, locked-down world.
Breaking out, however, you've undoubtedly seen them. Perhaps driving past in a flash of garish color or staged at your favorite brewery, park, or downtown street. It's the food truck phenomenon.
While the traditional restaurant paradigm collects casualties, food carts, trailers, and trucks appear to be prospering. At least that's been my take-away after visiting several and conversing with owners about how they are faring during a pandemic.
Food Trucks Are Survivors
By their very concept they are naturally well-suited to sustain during Covid. First and foremost, they are nomadic. They are small and have limited staff. They can operate in all seasons if necessary and have overhead costs lower than that of a brick and mortar business.
Even a flat tire or engine problem might not stop them: park the truck, call AAA, and serve the masses and the service technician—from where you broke-down. Once you've finished repairs, if business is slow, it's time to move on.
A Brief Food Truck History
Mobile kitchens began in earnest in Portland in 2012, and the following year, when City Hall loosened restrictions on them, their scope, variety, and sheer numbers burgeoned.
But other cities, like "the other Portland," have treasured food trucks for much longer. In fact, at last tally the City of Roses counted 600 food carts about town.
According to Mobile-cuisine.com, mobile eateries first made their mark in 1691 in New Amsterdam (now known as New York City). And lest we forget, for over three centuries meals-on-wheels have served important functions for humanity.
Also, there were Chuck Wagons in the mid-1800's, whose purpose was to nourish wagon trains and cattlemen plying the Old West. Hot dog carts arrived shortly thereafter, showing up on the campuses of major East Coast colleges. Field Kitchens (mobile canteens) came during WW1 to feed US troops, and in 1936 Oscar Mayer rolled-out its first portable cart, The Weiner Mobile.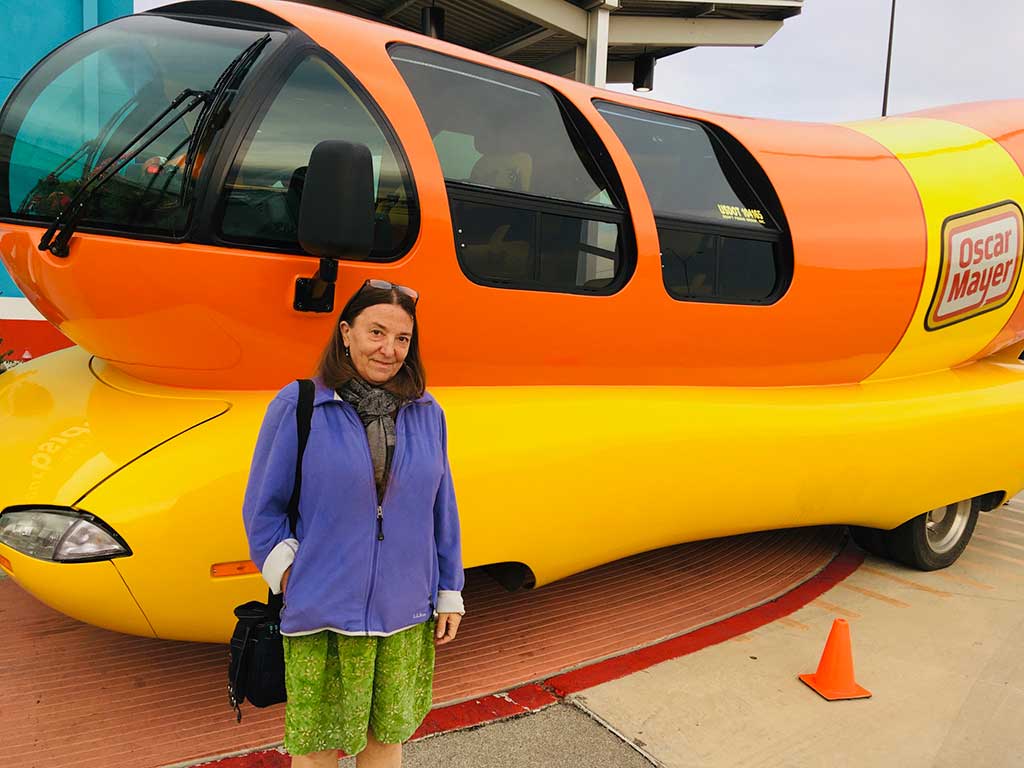 Later, 1950's America saw the birth of ice cream trucks—still popular today. I know, because from my windows I can often hear the crazy-making "Turkey in the Straw" folk song and other unrelenting melodies, evoking in me the wistfulness of the blithesome parts of my childhood.
The 1960's construction industry introduced "roach coaches" to the proletariat, and the first taco truck emerged in LA (not Lewiston-Auburn) in 1974. The history goes on. For a fascinating and nostalgic look at the food truck craze, check-it-out at www.Wikipedia.org/wiki/food_truck.
Hitting the Streets
Friend Fran and I embarked on our noshing-about play day on a Friday afternoon, covering six miles on foot. We checked-out Google Maps and the www.foodtrux.com mobile app to steer us, but found them to be mostly unhelpful. There's also one called www.RoamingHunger.com which we did not use. 
The better plan seemed to be – just show up. Lower Washington Avenue revealed many outdoor eating options, but we found no food trucks there. Down Fox Street we descended, hoping to catch some grub at one of the several breweries there. We were getting hungry now.
Success at the Brewery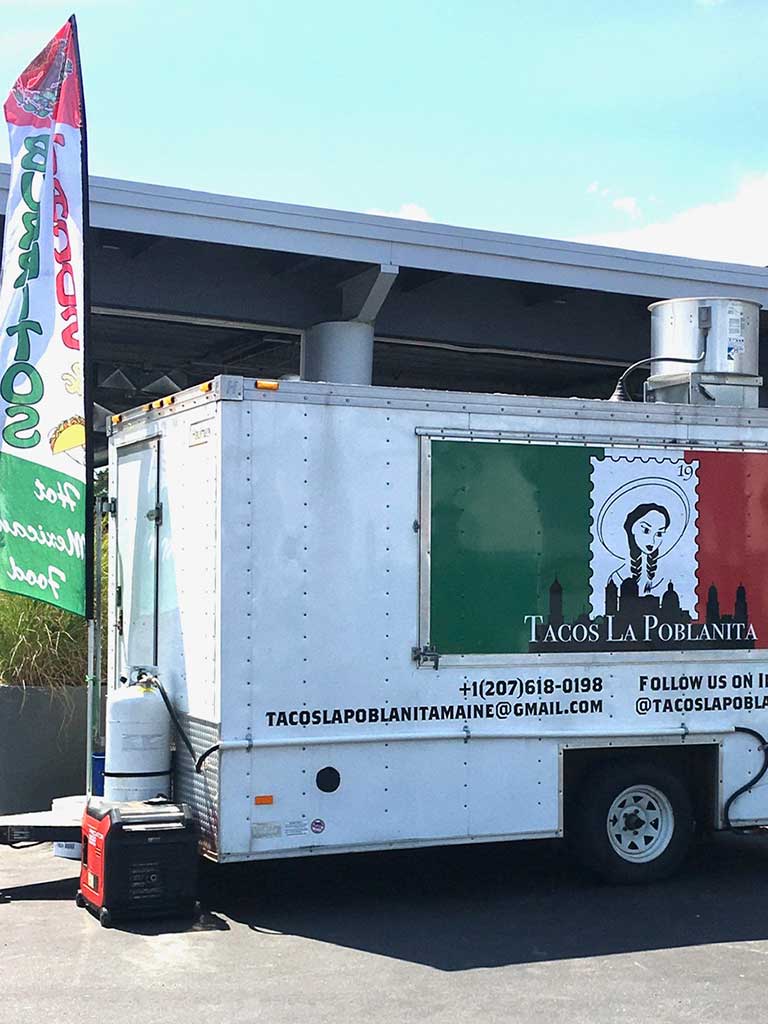 Success! Conveniently parked at Austin Street Brewery was the Tacos La Poblanita food trailer. We each grabbed a meat (steak, and spicy pork soft shell) taco, served-up fast with two shells per with chopped radish, cilantro, onion, and salsa on the side for $4.50 per order, $1.00 for sour cream, plus tax and tip.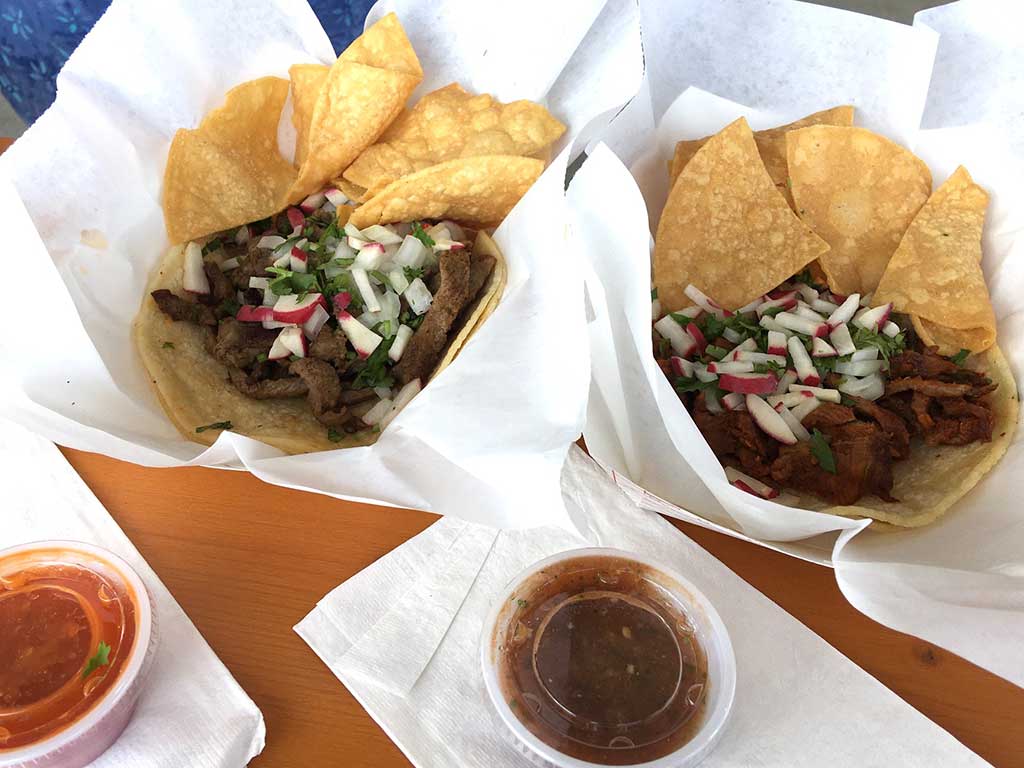 Paired with a Short Story Long imperial stout ($6.00, for her) and a Maine Root Beer ($3.00, for me) from the brewery, this was a filling and satisfying first find.
It was back up the hill from here, zigzagging our way across the East End toward Casco Bay. Much to our delight, we saw them: a small pod of food trucks parked alongside the Eastern Promenade and one at Fort Allen Park.
We didn't order from them all, but we had a good variety to choose from: Tacos Del Seoul, Mr. Tuna, Maine Maple Creemee Co., Falafel Mafia, and Totally Awesome Vegan.
Food Truck Abundance at Eastern Promenade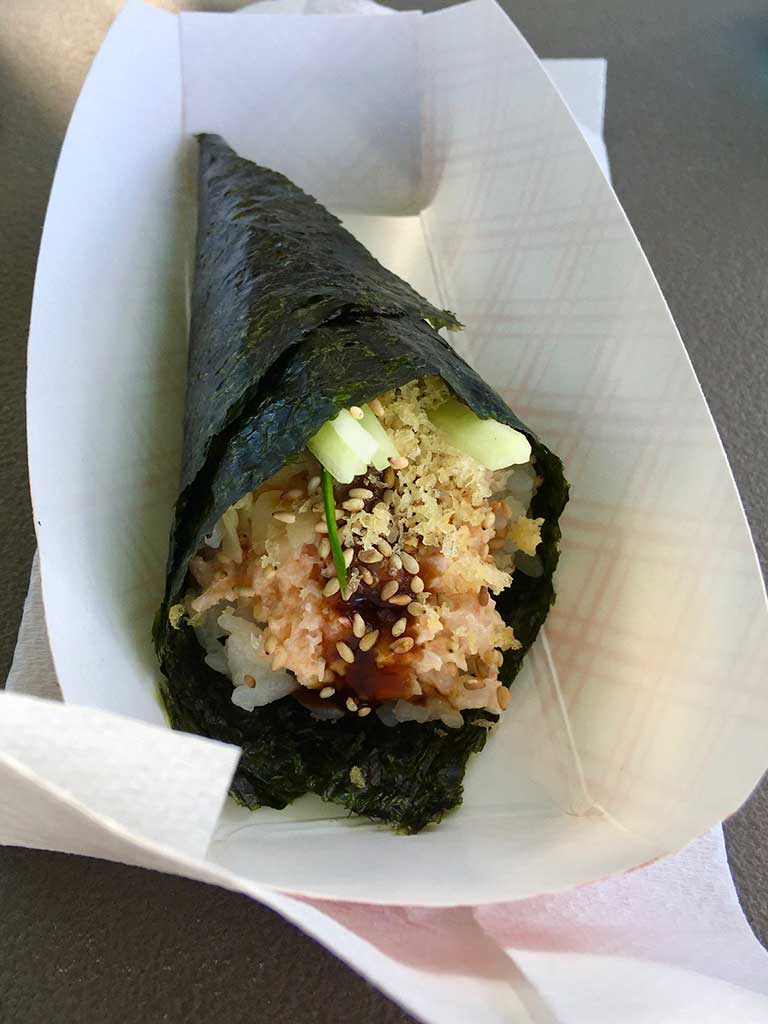 Starting with a single hand roll for $6.00 at Mr. Tuna, I realized late my skepticism of seaweed. Nori problem, these eat like a cone. You can push the good stuff up through the paper-thin wrap.
This one with tiny shrimp, sesame, pickled ginger, teriyaki, cucumber, and tempura flakes was quite tasty.
Next, we indulged in kiddie-cup sized blueberry and maple twist ice creams from the crème truck: $3.00 each.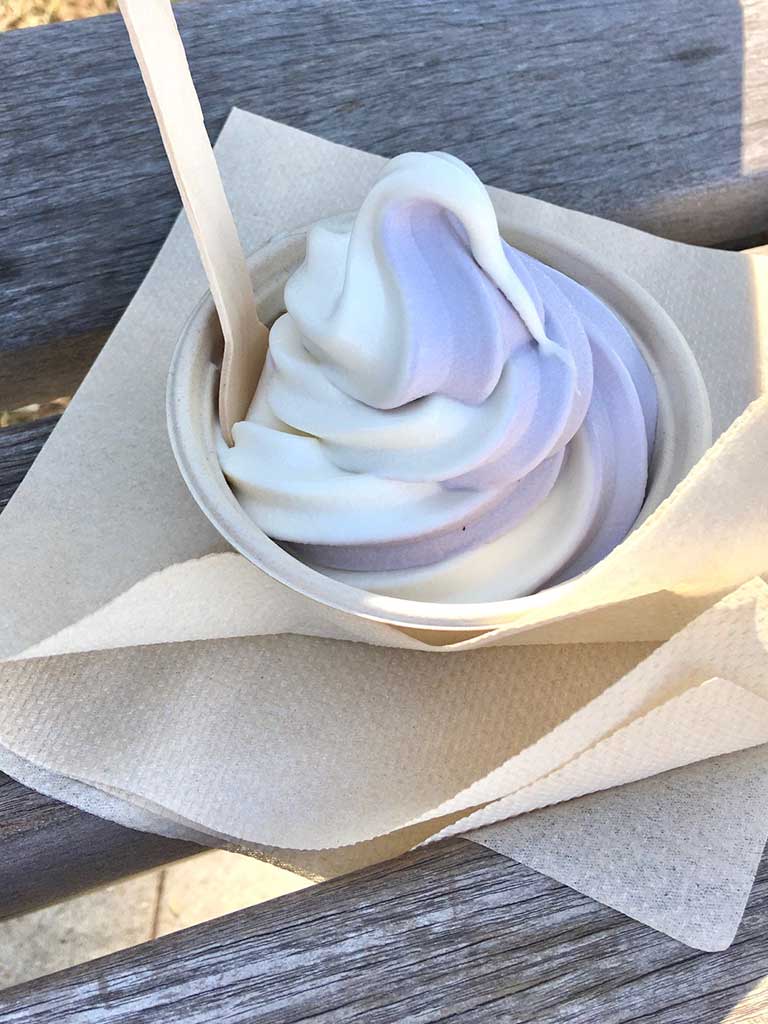 Finally, for the long walk home, we shared a refreshing lemonade from Totally Awesome, sweetened with vegan cane and organic maple syrup, for $3.50.
We skipped the other trucks simply because our tummies and taste buds were satiated: all the vendors being worthy, with super-friendly, mask-wearing staff, who were happy to serve us.
Visit while It's Hot
Note that these are casual eateries. Their informality is half the fun. Some accept cash and some do not. Most have some combination of website, social media, or food truck app presence.
Being mostly unfamiliar before this, visiting the trucks is now a new-found fancy for me. Check them out before their season ends with the onset of colder weather.
Or perhaps, this year, we'll find more of them braving the elements for an extended period because of our hard-hit economy—or simply due to Portlanders' hardiness and collective year-round love for all things foodie.
James Fereira has a background in volunteerism, equestrianship, and crisis intervention. In his spare time, he enjoys ballroom dancing and questioning authority. James can be reached at ThePortlandPalate@gmail.com.