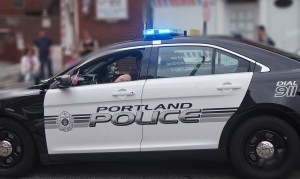 Police Beat
In the early morning hours of Tuesday, February 9th, several individuals were involved in a fight that ended with two men receiving knife wounds.
After being stabbed, the two men fled the fight, which was in the vicinity of 132 Marginal Way. They eventually crashed their car into a snowbank at Pine and State Streets, where police found them.
Police first responded to the scene of the fight around 3:30 a.m. after receiving a 911 call. A short time later officers discovered the vehicle stuck in the snowbank.
Police transported the two injured men to Maine Medical Center. Their injuries were non-life threatening.
The primary people involved in the fight have been identified. One juvenile male was arrested on unrelated warrants charging probation violation, assault and failure to appear in court.
The altercation remains under investigation by the Criminal Investigation Division.
Submit Your Tip
To provide information anonymously, contact Portland Police at 874-8575, text the keyword "GOTCHA" plus the tip message to 274637 (CRIMES), or go to the Portland Police Department website and click "Submit an Anonymous Crime Tip."