La Vida Local: Irregular Notes on West End Life
Back to Learning (And Fun!) at the Reiche Community Room
by Rosanne Graef
The days are noticeably shorter and you can occasionally feel a little nip of fall in the air, reinforcing the ads for Back-To-School.
Even if you're not in the market for a lunch box and some new pencils, the urge to embark on at least one new adventure overtakes many of us at this time of year. Maybe throw in a couple of old school days' resolutions (this year I'm really gonna study and not leave my homework until the last minute), and September must be right up there with January in getting folks to turn over a new leaf – or drop an old one.
Here are some suggestions…
The Book Nook
Back in 2010, when the Reiche branch of the Portland Public Library closed, the neighborhood lost an important gathering place. It was also a convenient spot to find reading material or access books and videos from the Portland Public Library.
In June 2012, a unique partnership among the PPL, Portland Rec and the West End Neighborhood Association began The Book Nook. Rec provides the space, the PPL provides most of the books and delivers materials patrons check out on-line and request to pick up at Reiche, and WENA volunteers staff the facility year-round. The Book Nook is open Mondays through Thursdays from 8 to 10 a.m.
There has been a dedicated cadre of volunteers over the past five years including: Georgia Bancroft, Marge Barker, Kathryn Buxton, Betsy Dilworth, Beth Duddy, Pat Garrett, Leana Good-Simpson, Suzanne Hunt, Dawn Leland, Terri Levandoski, Charlotte Maloney, Mitch Mason, Deborah McCoy, Christine McHale, Michel Michaud, Betsy Moir, Deborah Muhlberg, Liz Parsons, Nina Sachs, Pamela Shaw, and Penny Stevens. Thank you, All!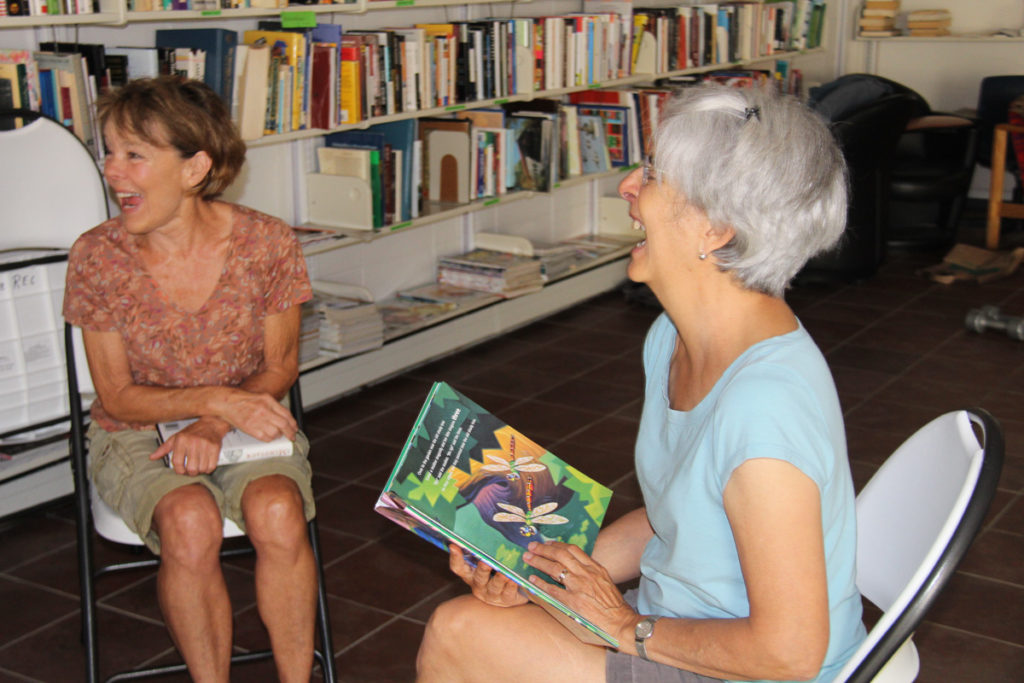 Chase the Chill – Portland, Maine
A fun charity knitting (and crochet) project modeled on the original Chase the Chill started by Susan Huxley in Easton, Pennsylvania. Chase the Chill offers an opportunity for knitters and crocheters to share their creations with community members in need of toasty warm items. Anyone is welcome to create and donate scarves, hats, mittens, socks, slippers and such.
Participants make things either on their own or in creation circles that take place at Congress Square Park from mid-May to mid-October and the Reiche Community Room from mid-October to mid-May. We meet on Thursdays from 9:30 to 11 a.m. We distribute items at Congress Square Park on Veterans Day and Valentine's Day. This year we'll have a Mitten Tree during the last week of December.
If you'd like to join us in building community one stitch at a time, or if you'd like to donate some yarn, needles or hooks, please contact lavidalocalwen@gmail.com.
Games & Fun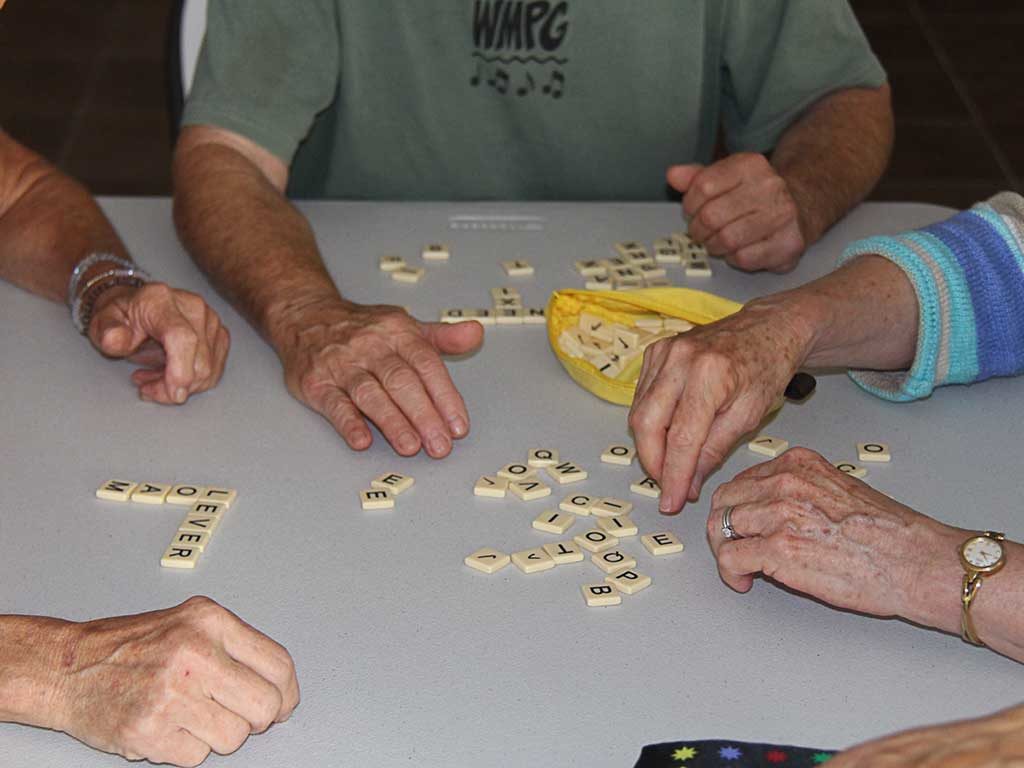 This group started in 2016 and meets Wednesdays from 3:30 to 5 p.m. Until mid-October we're playing at Congress Square Park, and then we'll move to the Reiche Community Room for the colder months. We have a wide variety of games, old and new, including board games, card games, word games, domino games and lots more.
Great fun, especially in the winter when you need a late afternoon pick-me-up! Come join us to learn something new and stay sharp – children under the age of 13 need to be accompanied by an adult.
Shape Shifters Morning Exercise
From 8:30 to 9:30 a.m. on Mondays, Wednesdays and Thursdays, this free exercise program happens in the Reiche Community Room. We lift hand weights, do yoga (chair, supported and unassisted) and practice strength and balance using videos for guidance and motivation. Bring a yoga mat or towel; hand weights, if you have them; and a water bottle. While especially appealing to the Aging in Place crowd, this is open to anyone of any age who would like to participate.
Watch for more opportunities over the next few weeks. Check the West End Neighborhood Association's website http://wenamaine.org for updates to the offerings. We're hoping to tackle aerobics with a walking club (regular and Nordic), another Just Dance! class, and a nature sketching group. If you're interested in helping to organize any of these, please contact lavidalocalwen@gmail.com. We could use your help!
Reiche Community Room
The Reiche Community Room is accessed from the Clark Street side of the Reiche building. You may use the stairs or elevator to get upstairs, and the door to the Community Room is marked in the foyer.
These free activities are all made possible through the efforts of neighborhood volunteers and the cooperation of the Portland Recreation Department, who schedule us into the Reiche Community Room calendar.
Together we can make the West End a wonderful neighborhood for all!
Rosanne Graef  is a West End resident.