POLICE BEAT
UPDATE: Preble Street Shooting Arrest Made
Portland Police arrested a man in connection with the shooting of 39-year-old Russell Solak that occurred on Preble Street on May 30th. William R. Ficklin, 22 years old, a transient originally from Massachusetts, was charged with Attempted Murder, Elevated Aggravated Assault, Criminal Threatening with a Dangerous Weapon, Reckless Conduct with a Dangerous Weapon, and Possession of a Firearm by a Prohibited Person.
Russell Soalk, of Portland, suffered life threatening injuries as the result of a gunshot wound received during an altercation with William Ficklin. The shooting occurred on Preble Street near the Public Market Parking Garage. It was reported just after 10:00 p.m. on Tuesday, May 30th. Paramedics treated the victim on the scene before transport to Maine Medical Center. Solak is still being treated at Maine Medical Center, where he is reported to be in stable condition.
Detectives located Ficklin and a female companion who were staying at the Marriott Residence Inn on Fore Street. Ficklin was arrested as he left his hotel room around 9:45 a.m. on June 2nd.
Information received through anonymous tips and from members of the community was instrumental in identifying and locating Ficklin.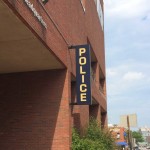 If anyone has any information regarding this incident they are being asked to contact the Portland Police Department at (207) 874-8475.
Submit Your Tip
To provide information anonymously, contact Portland Police at 874-8575, text the keyword "GOTCHA" plus the tip message to 274637 (CRIMES), or go to www.portland-police.com and click "Submit an Anonymous Crime Tip."