West End Welcomes Portland Fine Craft Show 2017
by Tony Zeli
The Maine Crafts Association presents the third annual Portland Fine Craft Show on Saturday, August 26th, from 9 a.m. to 4 p.m. The show fills a two-block stretch in the West End along Congress Street between High and State streets. The show is free and open to the public.
Expect to find a good balance of all the craft categories, such as ceramics, glass, metal work, jewelry, wood, fiber, leather and mixed media. There will be a wide price range from small mugs, purses and earrings, to higher-end collector items that could sell for thousands.
Also find outreach booths exhibiting the work of international artists new to Maine and food trucks in Longfellow Square. Most businesses on the street will be open that day.
Shutting Down the Street for the Arts
"The Portland Fine Craft Show is an event that connects craft artists with the public in a festive environment," says Sadie Bliss, Executive Director of the Maine Crafts Association. "We love setting up downtown. There is something a little mischievous about shutting the street down to cars that gives a subtle shout-out to the sometimes rebellious nature of artists."
Last year, many exhibitors noted their appreciation for the West End and the connections they made.
"We have great contacts at this show," said Geoffrey Warner of Owl Furniture last year. "It's a great show!"
Owl Furniture, out of Stonington, Maine, returns to the show this year to display their ergonomically correct wood furniture.
Live Music in Congress Square Park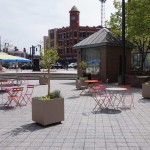 During the craft show, Congress Square Park will host live acoustic guitar music with Hurry Down Sunshine. Stan Davis and Brian Kavanah of Hurry Down have played at the park the last two summers and love the community feeling. They present a wide range of acoustic guitar music. Hear old folk songs, slide blues, classic rock, and jazz tunes. Also, expect originals that mix Brian's resonant voice with Stan's bass and lead guitar.
For more information please visit http://hurrydownsunshine.com.
Jurors
Jurors for the 3rd Portland Fine Craft Show include:
Dereck Glaser, Executive Director of New England School of Metalwork, and Artist/Owner at DG Forge
Elizabeth Hunter, an Artist/Owner of Chameleon Fiberworks, and member of the Maine Craft Association Board of Directors
Cara Romano, Executive Director of Heart of Ellsworth, and Owner at KoT Contemporary Functional Craft Gallery, and Artist/Owner at Cara Romano: Studio Jewelry
Sponsors
West End News is a proud sponsor of the Portland Fine Craft Show 2017. Other sponsors incude: Artscope, Cyber Copy, Daunis Fine Jewlery, Domain, El Corezon, Kurier, Maine Arts Commission, Maine College of Art, and Portland Pottery.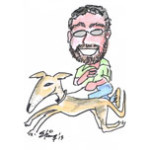 For more information on the craft show visit http://MaineCrafts.org.
Tony Zeli
Tony is Editor and Publisher.