Portland Buy Local Updates
New Leadership Announced
Portland Buy Local announced a new slate of officers at the organization's Annual Meeting, held early in the summer at Rising Tide Brewing in Portland.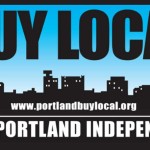 Portland Buy Local is the campaign of the Portland Independent Business and Community Alliance. With nearly 500 business, non-profit, and individual members, its mission is to support locally owned, independent businesses in Portland and prevent their displacement by national and global chains.
The officers, who will serve through June 30th, 2018, are the following:
President: Heather Caston-Talbot is a Business Insurance Account Executive at Clark Insurance. She is a native Portlander and has spent the last two decades in the insurance industry. She began volunteering with Buy Local in 2016 and joined the Board in February of 2017.
Vice President: Hannah Wolken is an individual member, as opposed to a business member, who has been on the board since 2014. Her career has mostly involved identifying new opportunities and strategies to capture them. She moved to Maine nine years ago and is passionate about supporting the local community.
Secretary: Tony Zeli is the owner, publisher and editor of the West End News. The publication has supported Portland Buy Local since the organization's start. Zeli has been active in the community as an advocate and organizer since moving to Portland 15 years ago.
Treasurer: Tom Gangewer was selected to continue into a second term as Treasurer. He is co-owner of Local Economy Payroll Services and has been a PBL board member since October of 2015. Former positions include controller at the Portland Press Herald and starting a burrito shop in Westbrook.
In addition to announcing the new slate of officers, Portland Buy Local released its annual report. This report details the previous year's accomplishments as well as plans for the future. The complete report can be viewed online at http://portlandbuylocal.org.
Indie Biz Awards Save-the-Date
Portland Buy Local's 10th Annual Indie Biz Awards celebration will take place Thursday, October 12th at Portland House of Music & Events.
Businesses do not need to be members of Portland Buy Local to be nominated or win. But, nominees must have a location in Portland, be locally-owned and independent. Five nominees in each category will move on to the final round of voting beginning September 1st.
For more information visit https://portlandbuylocal.org/events/portland-buy-local-events/2016-indie-biz-awards.