City asks for your help recoving a stolen porcupine sculpture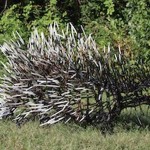 The City is asking for assistance from the public in recovering a piece of public art that was recently stolen. The porcupine sculpture, part of Glimpse by Wendy Klemperer, was stolen from the grounds of the Portland International Jetport sometime in late March or early April.
The artwork was a gift to the City from William D. and Mary Louise Hamill and was installed in 2011. Glimpse is part of the Portland Public Art collection and includes 10 individual animal sculptures.
The sculpture is approximately 25" x 30" x 30" in size and is made from steel and repurposed nails. 
A police report has been filed but the sculpture has not been recovered.
If you have any information regarding this theft, please contact City staff member Caitlin Cameron at ccameron@portlandmaine.gov or at (207) 874-8901 or call the City of Portland Police non-emergency number at (207) 874-8300.