POLICE BEAT
Hate Crime Investigated at Casco Bay High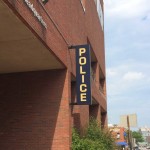 Four black Casco Bay High School students reported being accosted by a teenager making racist comments while they waited for a bus. The incident happened on Allen Avenue in front of the school today around 1:45 p.m.
According to the student, three other teenagers walked past them and one of the males made a derogatory and racist statement toward them. A verbal confrontation followed. The suspect assaulted two of the students. At one point, he brandished a knife as other students came forward. The suspect eventually put the knife away. He fled on foot down Abbott Street.
The suspect is described as a white male, about 17 years old with thin patchy facial hair. He was wearing a distinctive black color Insane Clown Posse hat with red trim and a large camouflage backpack.
Police are continuing to investigate and ask that anyone who witnessed this incident or has information about the identity of the perpetrator to call 207-874-8575.
Portland Man Drives Car into Path of Amtrak
On January 27th, at 8:00 a.m. Derso Mekonen, 56 years old of Portland, drove his 2008 Nissan Sentra around a line of vehicles stopped for the railroad crossing on Brighton Avenue near St John Street. He drove straight into the path of the Amtrak Downeaster Train 682. The Nissan was travelling inbound on Brighton Avenue and the train was travelling southbound. The crossing signals were working and the gates were down prior to the collision.
Two children, ages 5 and 9, were in the rear seat of the vehicle. They were not injured. The children, who are not related to Mekonen, were released to their mother. Mekonen was transported to the Maine Medical Center with non-life threatening injuries.
The Portland Police Department is investigating the accident. Police have not decided to charge Mekonen with a crime, but may do so upon investigation.
Submit Your Tip
To provide information anonymously, contact Portland Police at 874-8575. Or text the keyword "GOTCHA" plus the tip message to 274637 (CRIMES). Readers may also leave a tip by going to www.portland-police.com and clicking "Submit an Anonymous Crime Tip."