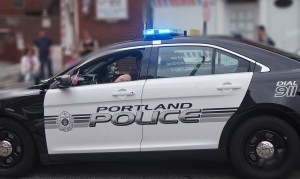 On Saturday, September 12th, at about 11:15 p.m., a cab driver for ABC Taxi reported that he was robbed at knife point. The robbery occurred at the intersection of Broadway and Carriage Lane in the Riverton neighborhood.
The cab driver reported that he was flagged down by two black males at the Munjoy South apartment complex. The males requested a ride to the area of Riverton. Once they arrived at Broadway and Carriage Lane, the males exited the cab and one of them pulled out a knife and demanded money.
Both males fled up Third Street toward Forest Avenue with undisclosed amount of cash.
The suspect with the knife is described as black male 20 to 25 years old. He was unshaven with cornrowed hair, with one red bead woven into the hair. He is described as 5'10" to 6'1" weighing 150 to 170 lbs. He was wearing a Houston Astros ball cap, wearing dark pants, and a green hooded sweatshirt.
The other suspect is described as a black male who was 5'10" to 6'1" weighing 160 lbs. This male was unshaven and was wearing a dark jacket, long pants and a ball cap on backwards.
Submit Your Tip
To provide information anonymously, contact Portland Police at 874-8575, text the keyword "GOTCHA" plus the tip message to 274637 (CRIMES), or go to the Portland Police Department website and click "Submit an Anonymous Crime Tip."