MY STORY: English-language learners from Portland Adult Education sharing their stories in their words. We welcome them to Portland.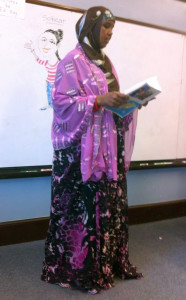 My name, Ubah, means "flower". My brother gave me my name. It is Islamic.
I read a book about Abraham Lincoln. He was a good lawyer. People trusted him to make important decisions so Lincoln became a politician. In 1860, he ran for President and won! He became the 16th President of the United States.
I have been to Ethiopia and Kenya. I lived in Ethiopia 17 years. I lived in Somalia 13 years. I lived in Kenya 1 year. I lived in United States 9 years. In United States I have been to Washington D.C. and Virginia and New York.
The first time in America I had a baby in the hospital, the doctor ask me questions about the medicine. Then I was confused.
I came to America on a five year Visa. Then we asked for asylum for me, my husband and our two kids born in Ethiopia. We waited for 1 year and then the mailman brought the paper giving us asylum. We were so happy!
The Maine Winter is very bad. I don't like the slush and freezing. I have sneeze and running nose. It is too slippery and ice to slide, and too windy also. I don't like to wear coat and gloves.
One day I went shopping with my sister. I saw some nice clothes I liked very much but they cost too much. The next day my sister wrapped the clothes and gave them to me!
On Sunday I get up at 5:00 am. On Friday I go to the mosque to pray. On Saturday I cook a big lunch.
Breakfast I cook sabayed and lahoho. I make 4 eggs. At lunch time I cook rice with meat. Sometimes I cook anjera with chicken and spicy sauce. At dinner I cook mufo with flour, water and salt.
My grandmother passed away. She was 100 years old. I lived with her. Her name was Asha. She told me a story about an accident. One time, she hurt her head and she had a big cut. They took her to the hospital. They thought she was dead. They put her in a room with dead bodies. Then a man saw her arm moving!
My big brother he is name Abdi. He lives in New York. He has 6 girls and 2 boys. My other brothers live in Ethiopia. My sisters names are Fathiya and Aanab. My brothers names Arab, Sade and Dool. My husband's name is Mowlid. I have 3 girls and 3 boys. I have twins, a boy and a girl. Their names are Nasar and Nihal.
I rode in an airplane from Ethipia to Kenya, and also from Ethiopia to USA. It took 12 hours. It stopped in Germany and two days in Ohio. When I came to America on 4/8/2006, I went to Washington D.C. I was happy for the freedom. I think it is good that everyone in America is busy. People in my country don't have too much to be busy with.
My dream home I want to be in Makkal or Madina in Saudi Arabia. It would be white and have two bathrooms and seven bedrooms. I also want a swimming pool, a garage and a farm.
I miss my mom and my father and 1 brother who are dead. I like to visit my country to see my brothers, sisters and friends. I miss people helping each other. I miss fresh meat and fresh chicken.
I worked in an HVAC company. I liked the job because it wasn't too hard. I worked assembly.
I'm good at cooking, cleaning and cutting hair. I can use a computer. I can sew and use tools like a screwdriver.
When I was young I liked to play with dolls and I liked to run. I helped my grandparents clean and make food and walked with them.
I got married on 12/18/2001. My wedding was in a hall and I wore big white clothes. 3 girls held the clothes in the back. One girl threw flowers in front of me. All my family and friends came to cook the food for my wedding. My wedding had dance with drums and clapping. We had men and women in separate halls dancing.
Last night I dreamt my friend came to my house. I was cooking in the kitchen, she say "Hi Ubah," then I turn to look and I was excited. Her name is Ayan. I call today but she didn't answer. She lives in Minnesota.