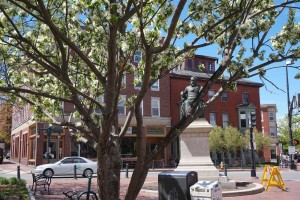 On Monday, the City and the Harold T. Andrews Post 17 American Legion will sponsor the Memorial Day Parade. The parade will begin at 10:30 a.m. at Longfellow Square on Congress Street and progress along the street ending at Monument Square.
The Grand Marshals are Mary Jane Gardner, standing in for her late father William Gardner, as well as his grandchildren Peggy Ann Emmons, Scott Demchak, and great grandchild Matthew Demchakk. Guest speakers include: Ernest Shorey, Andrews Post 17 American Legion, Master of Ceremonies; Rev. William Doughty, Parade Chaplain, VFW Post 6859; Mayor Michael Brennan; and Honorable Herb Adams.
Following the speeches, the event will conclude with a wreath laying ceremony at the monument.
Portland City Council members, Police Department Color Guard, and the Portland Fire Department Color Guard will be marching as well as the Portland and Deering High School band, the 195th U.S. Army Band, the AMVETS Post 25 Color Guard, Girls Scouts of America, Slugger the Sea Dog, Crusher the Red Claw, and Salty Pete from the Portland Pirates, and much more.