Interview with WEN Publisher-Editor Tony Zeli
PelotonPosts is a monthly interview with a member of PelotonLabs, a co-working space in Portland's West End with a mission to connect and encourage people stepping out of traditional modes of employment. This month, Peloton's founder Liz Trice caught up with Tony Zeli of The West End News.
How did you become the editor and owner of the West End News?
I had a background in writing and community organizing, and I was looking for a way to combine the two interests. I knew the former publisher Ed King, and that he was looking to sell. About four years ago, I ran into him at a Bayside neighborhood event and started the conversation. On July 4th, 2014, we finalized the deal.
What's the most rewarding part of your work?
There are a lot of fun moments! As editor, I really like it when a volunteer contributor reads the finished product, and they're happy with themselves and the work we've done together. Many of my contributors have been with me for over two years. And it's nice to know that both the writers and the readers enjoy it.
What's it like to be in local print news today?
It's an exciting time to be in journalism. It's so important to have local print news that offers a vetted source of information. The rise of click-bait and people getting news from social media feeds makes it easy to get a narrow viewpoint on the world.  Also, the rise of fake news reminds everyone of the importance of good journalism. And as media conglomerates buy up news outlets, local news is more important than ever.
I'm always interested in hearing from Portlanders – they can submit opinion pieces and citizen journalism pieces. It's important to give residents a voice, and provide a platform for local, independent, and free news. It's hard to find that these days.
So at least we know that WEN is vetted by a real person.
Not just me, but in order to be in print, the news must be vetted by a large local community of advertisers and readers, and that helps build trust with the community.
I want my readers to be a part of the newspaper and feel empowered to share their ideas. You never know what we might be able to fit into the next issue! My contact info is in every issue.
What's on the horizon for you and WEN?
I'm currently collecting an advertiser survey, and we've done a reader survey with another in the works to help us decide how to grow. So, I'm excited about that. Possibilities include hiring a part-time reporter and expanding our distribution.

How long have you been a member of PelotonLabs, and what do you enjoy about that?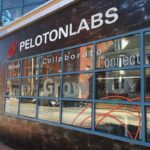 I've been a member since November of 2013 — before I bought the West End News. At the time, I was an independent consultant working with non-profits. When I was transitioning from consulting to owning the West End News, I got a great deal of feedback, knowledge and advice from the network of coworkers at Peloton. That was very valuable. Since then, I've met people who have gone on to become contributors and supporters of the newspaper.
PelotonLabs
PelotonLabs offers new Community Memberships that include access to Legal, Marketing, Networking, Accounting, and Market Research coaches for $30/month. Visit http://pelotonlabsportland.com to schedule a tour.