Layne's Wine Gig Presents
NEW FARM TO TABLE
By Layne V. Witherell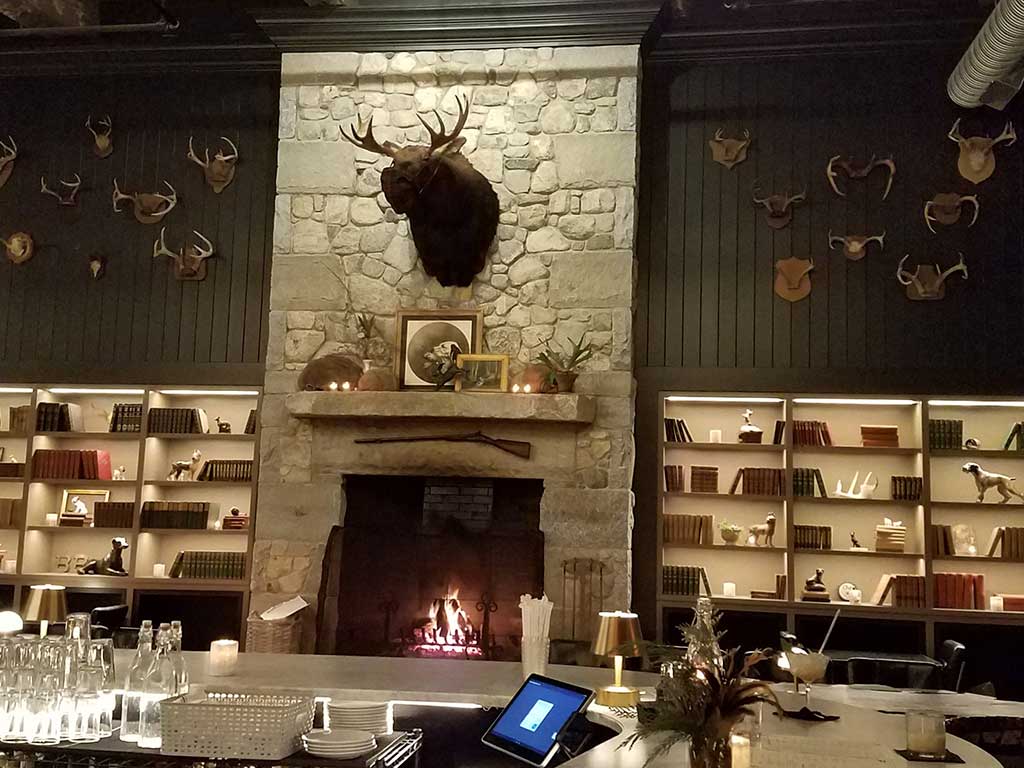 Just stepping inside the new Batson River Brewing and Distilling on 82 Hanover Street in Portland is a total revelation in what we know of as New Farm to Table. I had not even looked up yet, just down. Under my feet was a 19th century Ersari Tribe Tekke Turkoman rug, a prize possession in any 1880's New England home. That said, the creators of this restaurant were obsessed from your first step to the last detail – even the ones the average diner would not know. Then, you look up.
BASTON RIVER BREWING & DISTILLING
82 Hanover St., Portland
"We designed this space to feel like a grand, established home that had welcomed many visitors, hosted many gatherings, and whose walls could tell endless stories of adventure."
Ah, the moose head, circular chandelier, and fireplace… the mood is perfect. Wonderful by day, magical at night. Restaurants are all about the integration of food, beverages, ambiance, and service, all combined to provide a great dining experience.
So…where does the 'new' part begin?
It begins with the concise mission statement on their menu. They grow their own hops and botanicals as well as craft their own beer and spirits. In Batson River, you are in their world – totally.
Somewhere in the middle of drinking their Batson Black "warming dark lager" it dawned on me that I was in the farm to table version of Henry Ford's famous quote: "You can have any color of my car as long as it's black." I suddenly felt boxed in, albeit in splendid surroundings.
Despite the quality of their beers, as we moved along to their Batson School Days Coffee Porter, I was yearning for a Mast Landing Gunners Daughter to compare, or a Maine Beer Company Mean Old Tom to start seriously thinking about malts.
We calmed down a bit when we hit the Poutine, a beer braised short rib with roasted jalapeno, onion strings, and cheese curds. My wife Judy is the poutine expert in the family and made a spot-on analysis. "They usually use too much salt; this is perfect."
But what about the wine?
I asked our server about a wine list and he replied that they had Sutter House (actually, Sutter Home) on tap and a prosecco – that was it. There is no room to be a wine snob while dining out in a world surrounded by extraordinary local beer.
Three trips later they had changed up their two wine offerings four times, once in the middle of our glass of chardonnay (but the new glass of Dry Creek Dry Chenin Blanc was comped). In a place this cool, the two wines by the glass could do better than resemble a tryout for a sports team. You could also be offered something a tad bit better than what you stock for the kiddos when they descend on your house from college. I drank my Truth or Consequences Cabernet while wishfully thinking about a recent glass of Seghesio Sonoma Zinfandel that would emulate the ambiance. Just charge more – you can get it.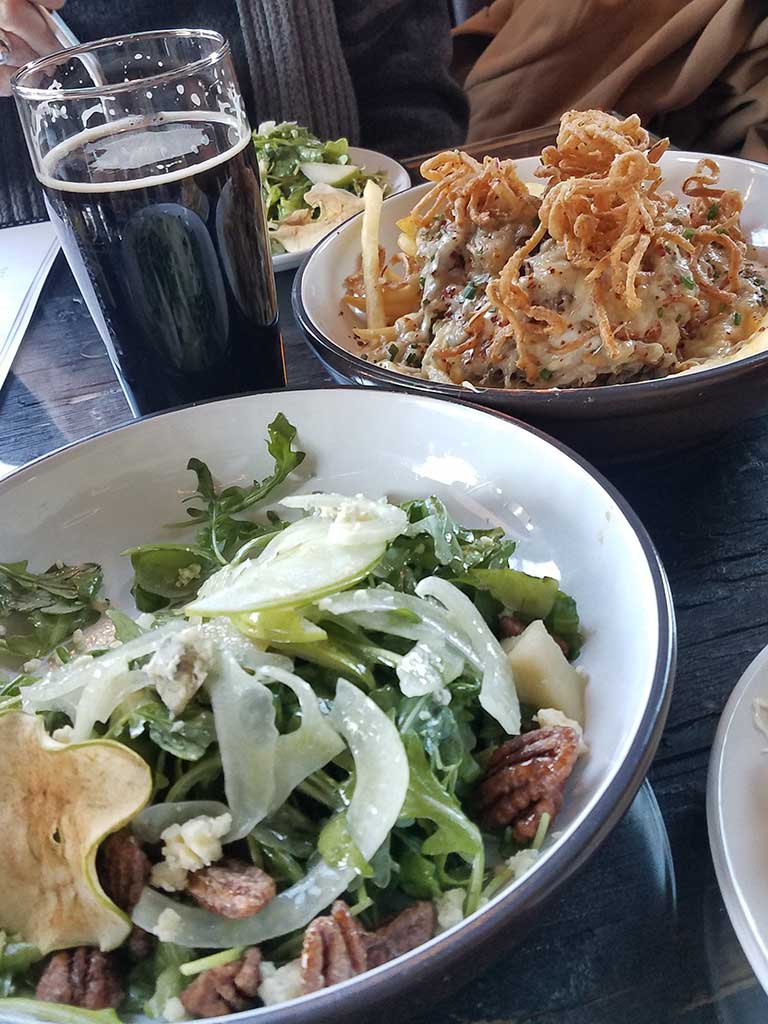 Their Pear and Apple Salad of fennel, arugula, bleu cheese, pecan, cider-molasses vinaigrette is sharable and delicious with balance and harmony. A Bissell Brothers Substance or a glass of Joel Gott Sauvignon Blanc would have been perfection.
The New Farm to Table is interesting. But the old model of introducing a nice beer tap takeover, with the opportunity to compare old favorites with new finds, will keep a loyal audience interested and returning much more frequently. The current business model of grow it, distribute it, and sell it yourself is admirable. And it will no doubt add to the acquisition of a lot more Tekke rugs.
VINLAND (now deceased)
Formerly at 593 Congress St., Portland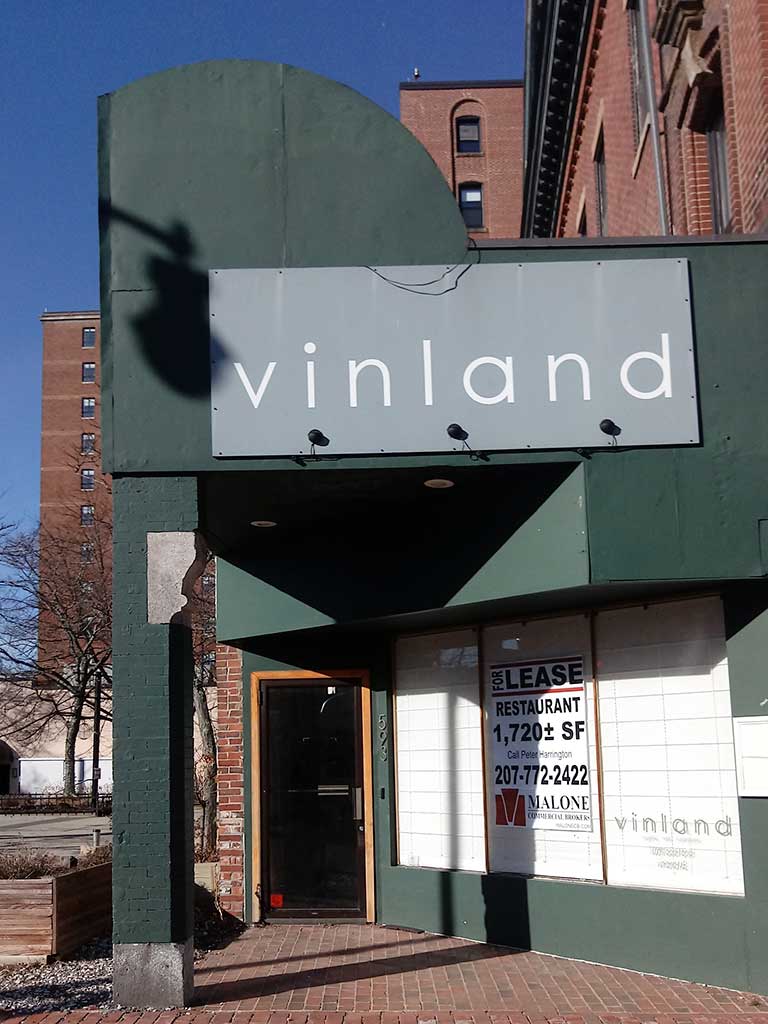 The space is vacant and rentable at $19.46 per square foot (1,720 square feet). Per square foot Vinland represented, in its short time (2013-2020), the New Farm to Table movement as a major revolutionary force. The movement standing on its head.
First, there was the manifesto. The menu's lengthy screed aimed directly at the heart of consumer culture. Perhaps they sought to make the place resemble a metaphysical tourists' Adventureland. Only using locally grown Maine ingredients, of course. It must have been excruciatingly tough to be inside owner-chef David Levi's head, much less a segment of our allergy centric food obsessed public.
We knew before going that you could leave your food preferences at the door. No problem. You did not get to make the choice, the chef did. There were some spectacular dishes. The oat cakes! Oh, the oat cakes!
"The reviews were mixed and passionate," from The New York Times. They were. David was a tightrope walker at every dinner service for years. The thing that I really miss most was the check at the end of the evening. Not the price, that was always painful, but the format. It was presented inside a book written by a 50's beat poet; not a famous one like Ginsburg, but one that you had to search to remember like Gary Snyder.
Imagine the Vinland Food Truck
I do not write this as an obit. Rather, consider it as a path forward to the best of New Farm to Table. Vinland could be resurrected as the newest, greatest, hippest food truck ever.
The iconic birch sides would remind you of the restaurant. When combined with gleaming solar panels for a roof, the effect would be both esthetically and ecologically stunning. Imagine chef David in the small kitchen with his signature Karate Kid bandana and dark long sleeve shirt. It's already conjuring up nostalgic memories. A small five item menu could change daily, and be expensive, reflecting the ingredients.
For an ideal brunch, pull up a retractable beach chair with a view of the Vinland Food Truck and the Western Prom. Order up some glorious oat cakes, and text either Car Hop or Door Dash for a can of Austin Street 6 Grain Milk Stout.
Or order a bottle of The Oddity, a dry wine from the Royal Tokay winery, growers of ultra-late harvest wines that have a legendary history of keeping dying popes alive.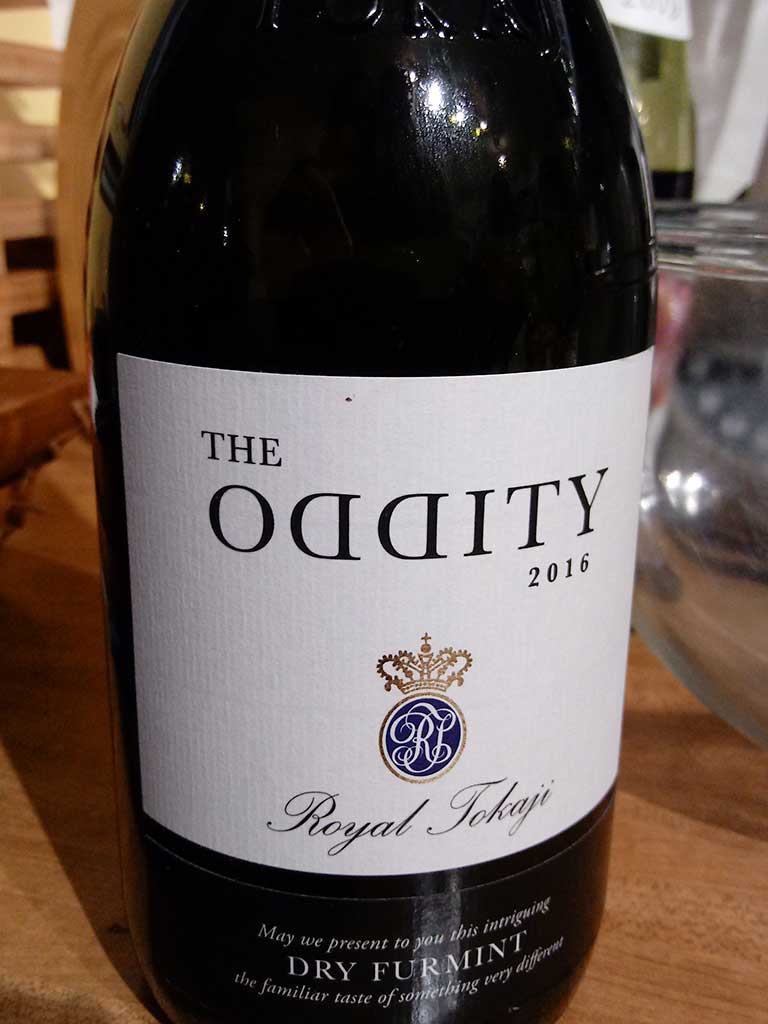 The ferment grape in this case is bone dry. It is a perfect pairing with David's oat cakes or his many mushroom dishes. The Oddity offers up "the familiar taste of something very different." Welcome to Vinland reimagined.
And now… New Farm to Table Wine Selection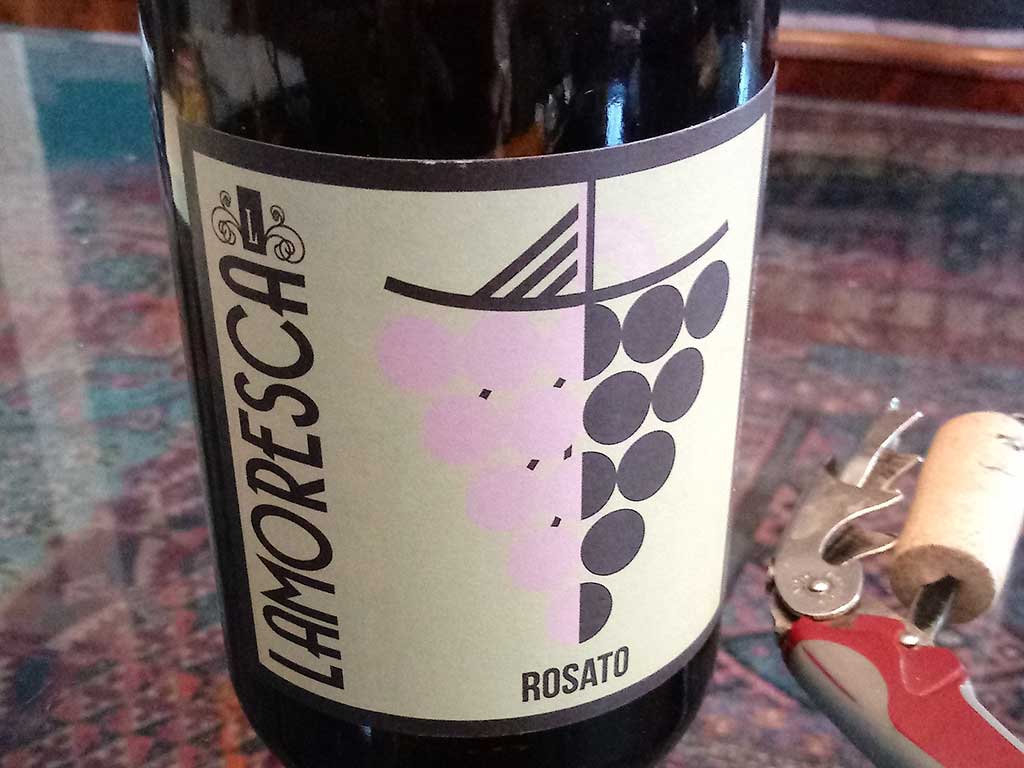 As you know by now, I choose my wines based purely upon tens of thousands of wine and food memories. Not to mention, several hundred wine books and decades of scribbled notes. Lamoresca Rosato came from a case of wines purchased from Cocktail Mary on 229 Congress Street, all gloriously mixed up.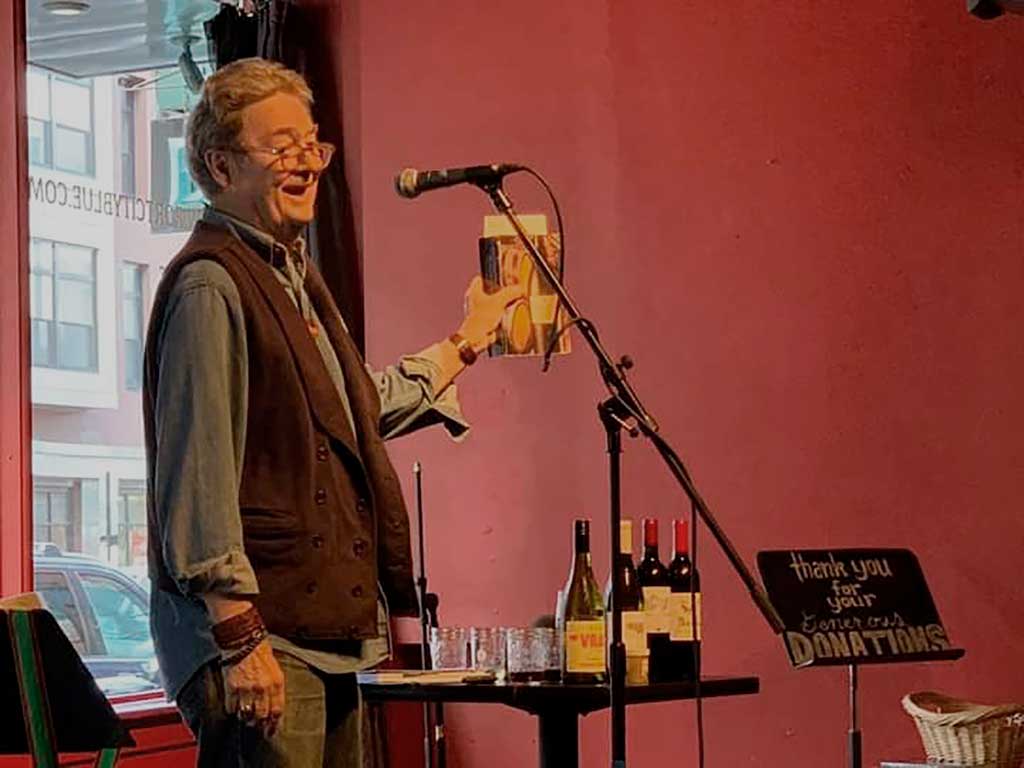 The question of the evening was what accompanies El Corazon takeout Mexican food? Lamoresca Rosato is from a small farm in the middle of nowhere in Sicily. It is made with the famed nero d'avola grape featuring little technical intervention. As a light, fizzy low alcohol wine with strawberry notes it was an unexpectedly perfect pairing with pico de gallo, chile relleno, and guacamole.
Now, that's new farm to table adventure!
Layne has been a professional in the wine business for many decades as a teacher, importer, writer, competition judge, and winery CEO. He was awarded the Master Knight of the Vine for his pioneering work in the Oregon wine industry. Visit http://winemaniacs.wordpress.com/blog.