La Vida Local
Irregular Notes on West End Life
by Rosanne Graef, Past President – WENA
Today's Topic: A West End Christmas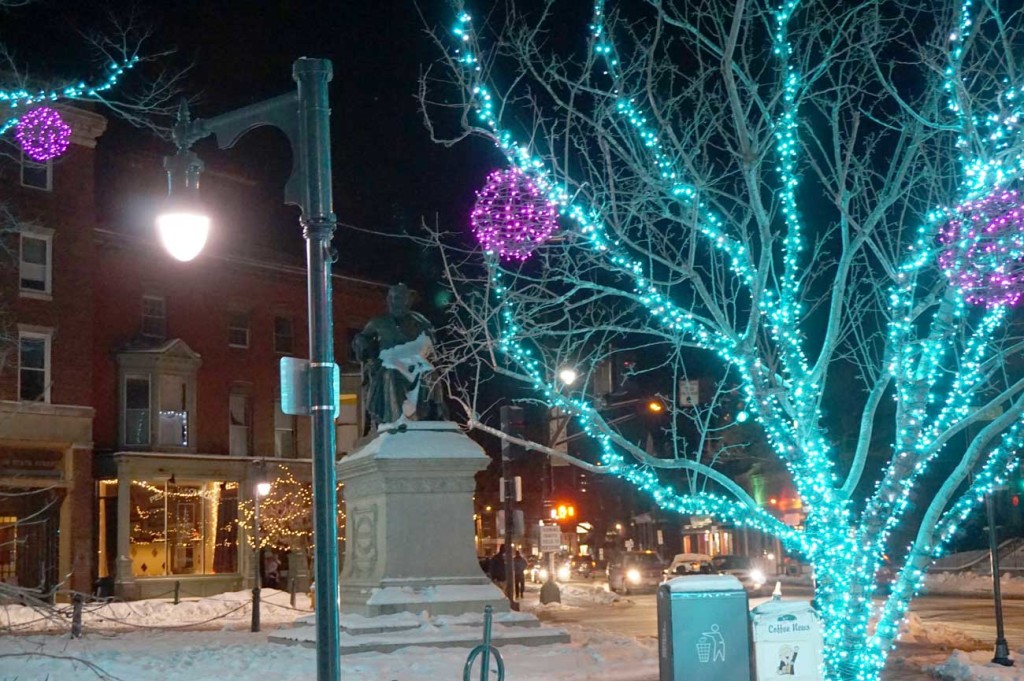 You don't have to be in Portland very long to notice the references to Henry Wadsworth Longfellow that appear all over the city. Schools, streets, restaurants, parks, stores, all tip their hats to Portland's world-renowned 19th-century poet.
But the West End has the main event, as far as HWL tributes go, in Longfellow Square and the seated statue of its namesake. Longfellow's relaxed figure and his gaze down Congress Street in the direction of his childhood home present a kind and friendly face to visitor and resident alike.
Born in Portland in 1807, Longfellow became one of the most beloved and oft-memorized poets of the English language, with such favorites as The Village Blacksmith, The Children's Hour, My Lost Youth and The Song of Hiawatha among the writings of his long career.
Following his death in Cambridge in 1882, funds for Portland's monument were raised by the Longfellow Statue Association and through the donated pennies, nickels and dimes from children throughout New England. A list of their names rests in a container in the base of the statue.
Although Longfellow Square is lovely in any season with various floral displays, winter is especially welcomed as it brings the arrival of Pandora LaCasse's light-wrapped trees and delightful sculptures.
Of course, Henry gets into a wintry mood himself and dons a jaunty striped scarf and a few presents appear under his chair, as well as one beribboned box on his lap.
This seems especially fitting since his poem Christmas Bells, set to music by John Baptiste Calkin in 1872, as I Heard the Bells on Christmas Day is a moving and popular carol. However many do not ever sing or even know of  the fourth and fifth verses that refer to the American Civil War that raged as Longfellow wrote the poem:
Then from each black, accursed mouth
The cannon thundered in the South,
And with the sound
The carols drowned
Of peace on earth, good-will to men!
It was as if an earthquake rent
The hearth-stones of a continent,
And made forlorn
The households born
Of peace on earth, good-will to men!
After thinking about that devastation, Longfellow penned these final two verses:
And in despair I bowed my head;
"There is no peace on earth," I said:
     "For hate is strong,
     And mocks the song
Of peace on earth, good-will to men!" 
Then pealed the bells more loud and deep:
"God is not dead; nor doth he sleep!
     The Wrong shall fail,
     The Right prevail,
With peace on earth, good-will to men!"
As we approach the longest night of the year, once again it seems that we humans have made slight progress in restraining ourselves from making other people, ourselves and all living beings suffer. Nor can we seem to choose to avoid destroying and polluting our surroundings. 
It's natural to feel overwhelmed and sad when we look at what's happening in the world, just as it's natural to lose ourselves in the activities and nostalgia of the season. But if we truly do want peace on earth, it starts with our own willingness, desire and actions to be compassionate, friendly and kind.
So when every time you're tempted to make that snarky comment, think of Henry and be nice.