On Wednesday, September 2nd, over 30 neighbors gathered for a design charette, a community meeting to discuss how to improve Bramhall Square. Neighbors from the West End and Parkside discussed ideas for the square's current and potential identity, design and activities.
Many neighbors agreed that the recent revitalization of nearby Congress Square Park may serve as a useful blueprint for Bramhall Square.
Congress Square Park was slated to be sold to the adjacent Westin hotel to build a ballroom, but the public fought the sale. Now, with the help of an independent nonprofit, Friends of Congress Square Park, the square hosts regular events, has received private grant funding to improve amenities and programming, and has a new identity as a downtown hot-spot.
Could Bramhall have a similar future, if there is enough interest from neighbors? This is the hope that lead Liz Trice to organize the charette.
Liz is the owner of Peloton Labs, a co-working space that is adjacent to Bramhall Square. She wants to bring life to the neglected urban space, and hosted the charette to begin the process.
First A Little History
Bramhall Square is at the intersection of Congress, Bramhall, Vaughan, Deering, and Cumberland. At 171 feet, it is the highest point in Portland – higher than Munjoy Hill.
Originally it was the intersection of Back (Congress) Street and Deering Avenue, the only two land routes off the peninsula. It has always been an important convergence spot.
In 1790 the first federal execution (of Thomas Bird) was held in Bramhall Square, and was attended by over 4000 people – more than the total population of Portland at the time.
In 1870 President James Munro was greeted by a larger crowd, and in 1825 Marquis de Layfayette was welcomed by a crowd of over 15,000 in celebration of the 50th anniversary of the country.
The square's namesake, George Bramhall, moved to Portland in 1680 and bought 400 acres of land from George Cleeves. Bramhall was killed during the French and Indian Wars in the late 17th century. He was a tanner by profession and set up a tannery in the area.
The Charette
Neighbors started the event by discussing the problems. The square has no parking, appears neglected, has a lack of seating with only one bench, has little of interest to attract visitors, is dark and shadowy at night, and is surrounded by empty storefronts.
Not a good start for this urban space.
The next step was to list ways to improve the space's design, to beautify it and bring fun activities to the square.
Many agreed that a sculpture or fountain would be a good addition. Other popular ideas included better lighting, a mural or other public art, more outdoor seating, free wi-fi, and planters. Many of these amenities were included in the revitalization of Congress Square.
Some more colorful ideas included a treehouse lookout, a fireplace bread oven, chess boards, moveable furniture, and even a large glass barrier to separate park visitors from noisy street traffic.
In addition to amenities, neighbors discussed events. Neighbors are interested in live art, neighborhood gardening day, cultural celebrations, interactive art and other programming.
The charette also included conversation on the types of businesses people would like to see fill the empty storefronts that surround the square.
Food businesses topped the list, but also mentioned were gallery space, artist live/work space, and a social justice coffee shop.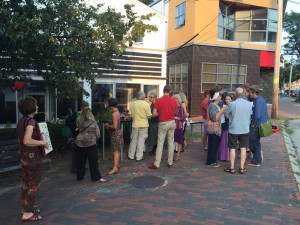 Next Steps
The charette was a good start, but without resources what can the neighborhood expect to be accomplished. To that end, the conversation will continue as charette attendees bring the discussion to the West End and Parkside neighborhood associations.
Also, an action team was formed, and they will look into Community Development Block Grants for funding, and will actively work to bring together neighbors and other interested parties to generate interest, energy, and vision for Bramhall Square.
The best way for people to keep up with what's going on is to visit the Bramhall Square Facebook group.
A lot of problems, many ideas for solutions, but a long road ahead for Bramhall Square. This story is definitely to be continued…