1oth Annual Indie Biz Award Winners Announced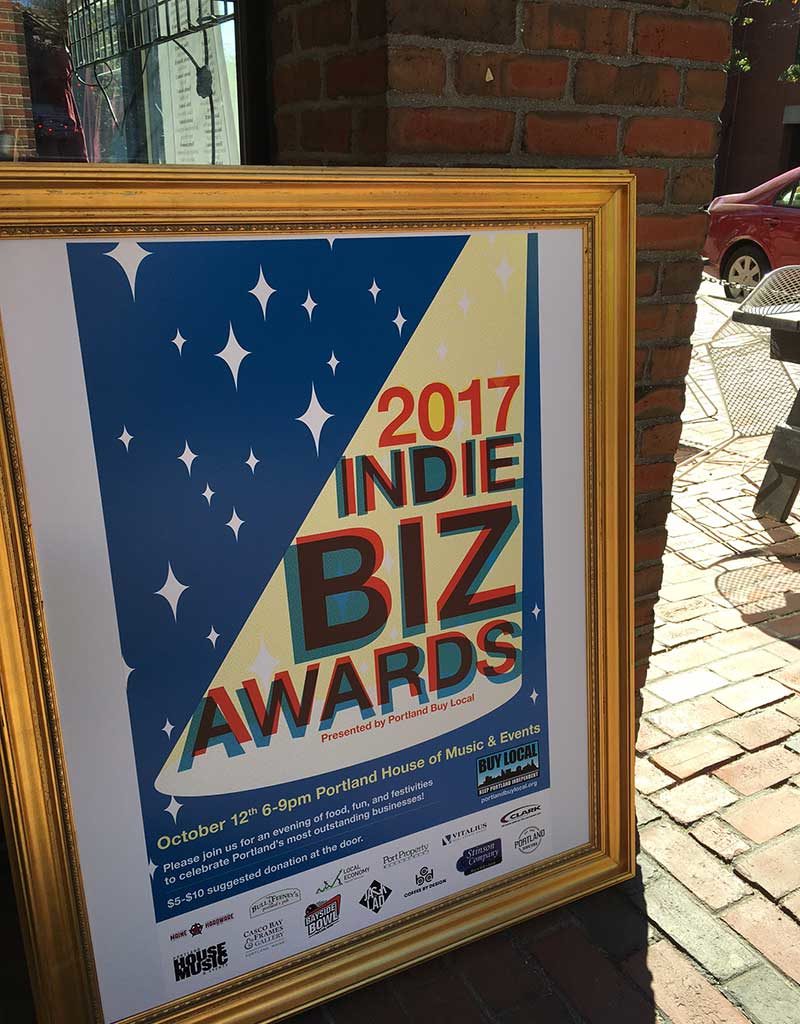 Portland Buy Local held its 10th annual Indie Biz Awards on Thursday, October 12th. The awards celebrated Portland's local, independent business community and were attended by approximately 300 people.
There were eleven categories for the awards, ten of which were nominated and voted on by the Portland public, and one (Buy Local Champion) was selected by the PBL Board.
And the winners are…
Best New Business – Rosanna's Ice Cream. Awarded to a business that has been open less than a year, an up and coming independent business that is a new "go-to" for their buzzworthy services.
Flavor of Portland – Portland Food Co-op. Awarded to a good or beverage-centric business that deserves recognition for their excellence in providing delicious and distinctive tastes to remember.
Creative Crusader – Portland House of Music. A visionary in the Portland Arts scene, this creative business, collective, gallery, museum, venue, or artist made Portland take note in 2017.
Environmental Hero – Portland Trails. This business serves as an inspiration for sustainable business practices, products, or services.
Portland's Best Kept Secret – Stinson & Co. Shhh! This hidden independent gem of Portland is too outstanding to be kept quiet for long.
Portland Ambassador – Portland Downtown. This local business is supporting our essential tourist economy by providing visitors with exemplary Portland services, goods or experiences.
Portland Icon – Longfellow Books. This beloved independent business or non-profit has had such a monumental influence on the city itself, that it's hard to even imagine Portland without them. This business embodies the character, originality, spirit and lifestyle of Portland.
Made in Portland – Sea Bags. This Portland-based business produces a product made right here in Portland that exemplifies quality craftsmanship, innovation and dedication to our local economy.
Business to Business – Cloudport. This business offers unique and/or exemplary services to other businesses in Portland and beyond.
Better Together – Portland Farmers' Market. This business or organization brings people, groups or businesses together, and functions optimally by collaborating with other entities.
Buy Local Champion – Stacy Mitchell, Institute for Local Self-Reliance. This award honors an individual citizen who has demonstrated leadership and innovation in growing Portland's independent and local economy.
More information can be found at http://portlandbuylocal.org.