Marijuana is already a successful and legal business in Maine. The current medical marijuana law has been developed over fifteen years, as bureaucrats, lawmakers and citizens fought to restrict, expand, or replace it.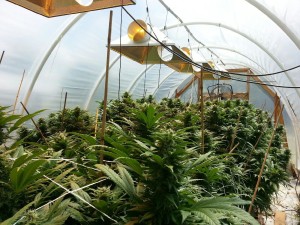 Few know the whole story–or the current lay of the land–better than Hillary Lister. Hillary spent years on the front line, organizing and advocating to build a law that worked.
Hillary is now an independent consultant who helps guide patients and caregivers through the legal minefield that is the marijuana business. Hillary is an actor in the new pot economy.
To the downtown Portlander, the dispensary on Congress Street is likely the most visible part of this economy, but people all over the state are earning a living with marijuana.
Many patients do not shop the dispensary. They receive their medical grade marijuana from caregivers, a vast and decentralized group of individuals, who are providing a much desired service and in some cases earning a reasonable living.
But if you will indulge a plant metaphor, the caregivers are just the sprout. The pot economy has deep and growing roots.
There are consultants like Hillary; retail shops that sell glass pipes, vaporizers, and incense; indoor garden supply stores, and a small but growing sector of nonprofits, trade groups, and political action committees. Policy and educational groups inevitably sprout up where money and policy intersect, and it is no different with the pot economy.
The current medical marijuana law is simple in that it sets clear guidelines on how much marijuana a patient can carry, how many plants a caregiver or dispensary can grow, and who has the right to grow, distribute or use the product.
But from there things get a lot more complicated, sometimes requiring someone like Hillary to walk a patient or caregiver through the process.
Despite its complexities, Hillary wants to protect the current law against the possible threat of recreational legalization.
"The current law has been developed… to fit what is happening in Maine," said Hillary.
According to Hillary, current Maine law should be lauded. There are protections for patient privacy and rules for both small and large distribution models.
Also, any marijuana use, medical or recreational, is already largely decriminalized. It is only a civil violation to possess as much as 2.5 ounces of marijuana, and the penalty is as little as a $350 fine. Additionally, it is only a misdemeanor to grow up to 99 plants.
"Maine has the fewest possibilities to charge someone with growing or possessing marijuana," sums up Hillary.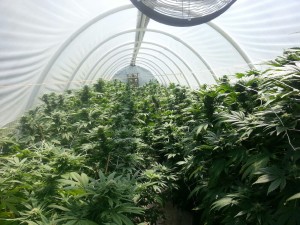 Given lax legal punishments and a growing money-making industry, one could say that the current medical marijuana law has been a success. It is not surprising that many want to protect the law, and to promote the interests of this new home grown economy.
"I hope any legalization effort would acknowledge what is already happening in rural and small economies. It is pretty unique what is going on in Maine," notes Hillary Lister.
Her worry, along with many others involved in the current system, is that large businesses from outside Maine may stand to have the most to gain from recreational marijuana legalization.
"Investors from all over the country are already investing in Maine to be ready for it," said Hillary.
Indeed, with marijuana legalization, the devil is in the details. With any new law, some will benefit and others will not.
"The trade-off in other states [that have legalized marijuana] has been greater regulation and greater need to track anyone involved with it," said Hillary.
She points to the new blood testing rules in Arizona, Colorado, Washington and other states. A police officer can stop a motorist and give them a blood test for THC, an active substance in marijuana. If tested positive, the motorist is charged with Operating Under the Influence.
The problem for Hillary, and many rights-based advocates, is that THC is detectable in the blood for days after it is consumed. It is now possible in some states for a driver to get an OUI charge for smoking pot three days prior.
In addition to new enforcement tactics, legalization also leads to financial regulation, the bane of the small business owner.
According to Hillary, after legalization, "If you don't have lawyers, you're going to be gone after through taxes."
With legalized weed there have come new financial rules for banks and tax collectors. Financial institutions are required to file "suspicious activity reports" on marijuana related businesses. A Reagan-era tax code, 280E, allows for penalizing businesses that support a federally controlled substance, even if it is legal in the state of operation.
Legalization efforts will set up new taxes, regulations and enforcements, but not necessary any new protections for marijuana users and growers, whether medicinal or recreational.
Any legalization effort that tampers too much with the current medical model, may go up in smoke, if those who currently profit from the herb cannot find common ground with tax and regulate supporters.