POLICE BEAT
Hate Crime Arrest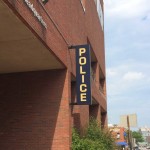 A tip leads to a hate crime arrest of a Portland man.
Portland Police made an arrest on February 3rd for the bias motivated attack against two students from Casco Bay High School.
Jamie Hoffman, twenty years old, of Portland was arrested for Interference with Constitutional and Civil Rights, two counts of Assault, and Criminal Threatening with a Dangerous Weapon. These charges stem from the incident that occurred on Friday, January 27th.
According to Police, Hoffman verbally accosted with racial slurs a group of black high school students that were waiting for a bus after school. Two other students came to their defense and Hoffman assaulted them. Still other students came to their aid. Then, Hoffman displayed a screwdriver in a threatening manner towards the group. This resulted in the felony charge for Criminal Threatening with a Dangerous Weapon.
Detectives interviewed Hoffman before taking him into custody at the Portland Police Department. He was also arrested for warrants charging Failure to Appear for Burglary to a Motor Vehicle and Theft.
Police say witnesses helped the investigation. By coming forward they provided invaluable information that led detectives to identify Hoffman as the suspect. Police accredit the swiftness of the arrest to the assistance of students from the Portland Public Schools and members of the public that heard reports of the crime through the media. Crucially, these concerned students and neighbors came forward with needed information.
Police have forwarded the case to the Maine Attorney General for possible action under the Maine Civil Rights Act.